Apple needs to reconsider the 15 minute window to edit or unsend a message in iOS 16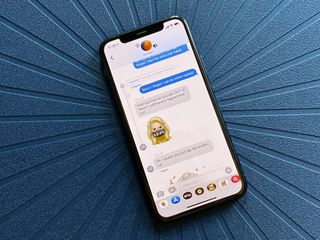 (Image credit: Christine Romero-Chan / iMore)
Apple's Worldwide Developer Conference (WWDC) 2022 has now come and gone. With it, we saw the next major updates for software across all of Apple's devices: iPhone, iPad, Apple Watch, and Mac. We even got some hardware announcements with the new M2 MacBook Air and the 13-inch M2 MacBook Pro, though it's a mystery why the latter is still around, honestly.
One of the major new features in iOS 16 is the fact that we can now edit and unsend messages. Oh, and we can also mark entire conversations as unread, you know, to help remind us to respond when we actually have time. However, it seems that Apple has given the edit and unsend feature an overly generous time frame of 15 minutes after sending to make a change. Honestly, I think that is just way too long.
Apple occasionally offers updates to iOS, iPadOS, watchOS, tvOS, and macOS as closed developer previews or public betas (opens in new tab). While the betas contain new features, they also contain pre-release bugs that can prevent the normal use of your iPhone, iPad, Apple Watch, Apple TV, or Mac, and are not intended for everyday use on a primary device. That's why we strongly recommend staying away from developer previews unless you need them for software development, and using the public betas with caution. If you depend on your devices, wait for the final release.
Apple ironically beat Twitter to the punch
One of the biggest feature requests from users (including myself) on Twitter has been an edit button. I often wish for an edit button because I usually see a stupid typo I made in a tweet after I already sent it out, and I end up having to delete it and tweet again. But of course, this is the internet age, where many people see such a tweet and can screenshot it if they're fast enough. The internet remembers all — even if you delete (or edit).
The problem with editing a tweet would be the fact that someone who said something particularly offensive would be able to edit it later with something completely different than what was originally said. But again, on Twitter, there can be dozens, hundreds, or even thousands of eyes on a particular tweet, and the chances are high that someone could take a screenshot before it was altered.
In Messages, however, it's very different. Usually, you send a message to a single person (unless all you do is group text all day long). If a message is sent to one individual, and the original message ends up being edited to something completely different, then there would be no evidence of what the original message said. If there's any animosity between the two people, the first message could have been very damning, but if it's edited, the recipient wouldn't be able to find out what it said before the edit. The same can be said if the message was completely unsent. Of course, this probably won't be an issue if the recipient is already on their favorite iPhone and check messages immediately. Still, if they're unable to get to it right away, the sender has an incredibly large window to make changes.
Changes need to be made to the Messages' edit and unsend feature in iOS 16
Realistically, 15 minutes is a very long time when it comes to communication, and messages can be twisted and completely rewritten in that amount of time.
At the moment, with the first beta, edited messages will say "Edited" underneath the message, like the "Delivered" or "Read" indicator. However, there is no way to read what the original message said, unless the recipient is on a previous version of iOS, as the edit feature is not supported. If a message is "unsent," those on iOS 16 will see a message indicating that a message was rescinded. Again, if the recipient is on iOS 15 or earlier, the message will still be there.
While this is a feature that I probably will often use to correct all of my dumb typos due to typing too fast, there needs to be some changes.
For one, the 15-minute window should really be reduced — that is an awfully long time. I think maybe a maximum of five minutes should suffice. That's enough time to catch any typos or add in details that you forgot.
I also think that the original message should still be viewable somehow. Could you imagine if there were messages between two people that ended up in a court battle? There would be no record of the original unless the person remembered to take a screenshot, though that could also be digitally altered.
This is all subject to change
We are still very much in the early stages of the betas, but this is a change that I hope Apple seriously reconsiders. Or even just give us the option to change the edit/unsend time frame to something less. I'm sure there are some people who would be fine with 15 minutes, but I definitely would prefer less. After all, I usually know within the first few seconds after I send a message if I need to edit it.
Get the best of iMore in your inbox, every day!
Christine Romero-Chan was formerly a Senior Editor for iMore. She has been writing about technology, specifically Apple, for over a decade at a variety of websites. She is currently part of the Digital Trends team, and has been using Apple's smartphone since the original iPhone back in 2007. While her main speciality is the iPhone, she also covers Apple Watch, iPad, and Mac when needed.

When she isn't writing about Apple, Christine can often be found at Disneyland in Anaheim, California, as she is a passholder and obsessed with all things Disney, especially Star Wars. Christine also enjoys coffee, food, photography, mechanical keyboards, and spending as much time with her new daughter as possible.

This is interesting as unsend in ios 16 gets a 15 min grace period whereas the mail app only gets 10 seconds.

How can a 15 minute unsend window or any window be too long? What bad can happen if you edit a msg after 14 minutes? Given of course you don't have an answer yet, or such. Not everyone deals msgs with lightspeed.

In case you didn't notice, this is a beta. It has to be tested to see how it works. Remember last year's beta? Did the shipping product show any changes? Did you use Safari tabs in the beta?

No one would get hurt by 15 minutes editing time-frame. It's quite the opposite. Get real and grow up. For instance, Telegram has UNLIMITED time editing for the last message sent and unlimited time to delete any messages in the conversation. It's a feature that can save friendships, relationships, jobs and so on. It's a feature anti-conflict. So let it be. Indeed, if anyone would feel "offended" for real, for any reason a screen shot could be saved immediately. I don't see any problem. Editing and deleting messages should be possible at any given time. I can take back my "I love you" statement even after 3 months if I want to :). Who bothers about it? Only my ex, maybe :)

I don't think your argument makes sense here. You can't take back an "I love you" after 3 months or even 3 minutes. All you can do is edit the reciepts, which is what this feature does. It doesn't change what you said, it's more like "covering up" what you said, or denying that you said it later on. It also can't save anyone's relationship because it's essentially lying/pretending.

Your argument makes 0 sense, especially with apple pushing out and talking about getting out of an abusive relationship. Let's say someone is harassing another person, they can send the message and then "wait" to edit it and be like " I don't know what you're talking about, I never said that." I get where you are coming from in a normal situation (and honestly unsending is not something I feel the need for but some might), but 15 minutes is a long time to be able to edit/unsend something.

I mention this exact kind of scenario in the article

Well, obviously it's great for those abusive situations and that's fine. It's still a sort of 'throwing out the baby with the bathwater' kind of situation though. They've completely ruined the whole app for a few edge cases wherein it might be a good thing. Also, even in abusive situations, the *record* of the text messages is often the very thing that can convict the abuser in court. If text messages are now not carved in stone and can be edited after the fact, then how can any court rely on the testimony from same? I still can't see why this isn't just a terrifically bad idea.

You're right. I did mention that you won't be able to view the original, unedited message in iOS 16. I think if Apple is going to go this route, it should at least have the original message still be viewable somehow. At the moment, from my testing, there's no way to see the original message.

IMO, anything above *zero* minute is "too long." Why must everything become like everything else? The whole concept of messages is real time messaging. It's not email. It's not snail mail. Message chat is a record of a *conversation*, in real-time, with all errors included. That's how it's supposed to work. You're not writing a novel.

I agree. I don't want to get into a text conversation that will take 3 hours for 6 messages each.

The people who run that website www.damnyouautocorrect.com agree with you. I doubt many others will. There is nothing wrong with being able to correct typos so that the real meaning of your message gets through. Having a record of meaningless errors does nothing positive and it doesn't help avoid a lot of negatives. Besides, that's not going to be the option in the future with our software. The argument here is whether 15 minutes is too long. It probably is if you hope they don't read it before you change it. Otherwise, there's northing wrong with improving accuracy of our communications.

I doubt many others will agree with me either, but they are wrong all the same. There are already ways to "get the real meaning of the message through" (appending with asterisk etc.), and it's not "a record of meaningless errors" at all. It's a record of the conversation you had. If a person is so bad at texting that their conversations are really in fact "records of meaningless errors" then they shouldn't likely be texting and the correction feature won't help them at all. Conversations between people, in real time is what texting is all about. Errors included. You can't edit a conversation you had in real life, why should you be able to edit the record of a conversation had over text? To take out the errors is to turn it from a conversation into a series of statements and positions, i.e. - "a letter," which nowadays would be ... "an email". Text is text and should remain so, email is email and should also remain so. I repeat ... Why does everything have to be the same? Why can't text be text and email be email?