Apple Pay reportedly coming to Bank of America and Wells Fargo ATMs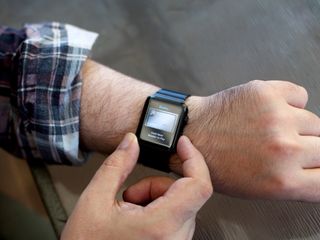 (Image credit: iMore)
Apple Pay may soon make its way to ATMs from Bank of America and Wells Fargo. Both companies are said to be working on a project to make the contactless payment system compatible with ATM transactions, allowing customers to view bank balances, withdraw money, and more.
Engineers from both banks have been hard at work on such a program, according to a new report from TechCrunch
When it's supported in stores, restaurants, and other outlets, Apple Pay can replace a customer's use of their credit or debit card. It would be useful if banks would make it possible for Apple Pay to come into play for other card-releated transactions as well.
Source: TechCrunch
Joseph Keller is the former Editor in Chief of iMore. An Apple user for almost 20 years, he spends his time learning the ins and outs of iOS and macOS, always finding ways of getting the most out of his iPhone, iPad, Apple Watch, and Mac.
Mag-stripe and PIN have served us well at ATMs for fifty years. Most of us cannot remember when there were no ATMs. Early ATMs were trusted devices, on private networks, installed on bank premises, and operated by bankers. Mag-stripe and PIN were secure, low risk, in that configuration. Modern ATMs run Windows, use public networks, are installed in diners, hotels, movie lobbies, malls, and convenience stores. Very few are operated by bankers. In this world, Mag-stripe and PIN are not secure. Time for mobiles and biometrics at ATMs. The falling cost of information technology means that we can get a modern level of risk for a relatively small investment. We have tried biometrics at ATMs in the past with mixed results. This was because the biometric reader and reference were at the bank. Apple Pay demonstrates that the mobile is a better place for the reader and the reference. Sent from the iMore App

Love this idea! Can't believe it hasn't been done already. This would completely eliminate the threat of skimmers at ATMs. I hope this catches on and spreads quickly.

I'm really excited for this. I hope chase bank is next. Sent from the iMore App

This is great but it would be nice if Wells would set up TouchID for the app too.

Supposedly it's coming soon to their app. The update that came out a couple of days ago mentioned it. Sent from the iMore App

seems a good idea. That said i've come to conclude that at least my atm and major credit card still are going to physically be with me all the time because these things don't work all the time and obvisously aren't accepted everywhere. Just yesterday Sprouts Grocery store wouldn't send an apple pay transaction through. It's normally fine and it's one of the few places it works flawlessly without me even having to enter a pin.

Chase is working. That is three of the biggest. A little competition should speed up introduction. Sent from the iMore App

The application of NFC to the ATM really adds only proximity and requires a change to the hardware. Holding my phone to the contactless reader will be easier than dipping my card. On the other hand, we could do all of this with broadband, GPS, and software. What is more, we could do everything on the mobile inside the car, opening the window only to grab the cash. If one is not comfortable with using GPS to demonstrate that the holder of the phone is really at the ATM, we could display a QR tag on the ATM that has to be scanned on the mobile. The power of the mobile is incredible. We have come a long way from Treo. Sent from the iMore App
Get the best of iMore in in your inbox, every day!
Thank you for signing up to iMore. You will receive a verification email shortly.
There was a problem. Please refresh the page and try again.