Apple Pay said to be landing in the UK on July 14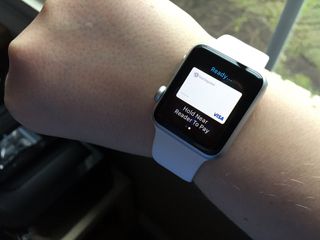 Apple Pay will reportedly go live in the United Kingdom on Tuesday, July 14. Apple has apparently informed retail staff in the UK to expect the system to go live on that date and supermarket Waitrose is reportedly distributing internal material with a July 14 date for Apple Pay as well. From 9to5Mac:
Apple announced Apple Pay availability in the UK at last month's WWDC conference. Additionally, as with all contactless payment systems in the country, Apple Pay will be limited to transactions of up to £20, though this limit could rise in the future.
Joseph Keller is the former Editor in Chief of iMore. An Apple user for almost 20 years, he spends his time learning the ins and outs of iOS and macOS, always finding ways of getting the most out of his iPhone, iPad, Apple Watch, and Mac.
You mean supermarket 'Waitrose' right?

Presumably there'll have to be some form of update for iOS 8.4 since there isn't any  Pay options in iOS 8.4 that rolled out to the UK on Tuesday some time before the 14th to enable  Pay. Sent from the iMore App

Maybe they'll do an 8.5 update just for the UK. They did that in China with iOS 7.5 I believe to remedy local cellular issues. Sent from the iMore App

8.5 would be a major update in iOS 8 terms that would suggest a lot of features, I would guess for just adding  Pay to UK handsets would be more of a thing for a minor point update maybe 8.4.1 for the UK and anywhere else that's going to get  Pay would be more appropriate. Or maybe have a carrier update for the various UK carriers to enable  Pay even. Sent from the iMore App

Right. I got confused. It wasn't 7.5 last year but 7.0.5. So yes 8.4.1 would make more sense. Anyways we'll see. Sent from the iMore App

It may not even need an iOS update - if you change your region to US - apple pay appears on the passbook app. So it could already be in the code, just not 'centrally' enabled yet!

Actually really looking forward to trying this. Please tell me I can just touch my Watch or iPhone to the debit card terminal at whatever participating retailer I'm at just like using the debit card itself? I don't have to try and explain to the staff how I'm planning to pay etc? I just want it to be as seamless and simple as it sounds Sent from the iMore App

And what if you have to in the beginning? You know, it's just...a human being. How hard will it make your life, exactly? You'll get your fast check out eventually, give it time. You gotta love when technology turns people into pricks. And I include myself, sometimes.

I hope that the £20 limit is lifted quickly with software though as its next to useless at such a small amount Sent from the iMore App

They're increasing it to just £30 in October! Not the best but at least it's better than 20 quid...

£20 seems ok for the likes of Starbucks, KFC e.t.c. Don't forget that for regular Contactless payments using your actual Card are limited to. Under £20. Limiting to £20 will make sure everything is working fine for the first 3 months of it being live, give it until next January and we could see the limit restriction being lifted for  Pay at  Pay stores or anywhere that accepts the standard NFC Contactless payments, since there is the Touch ID requirement to authorise payment. Sent from the iMore App

£20 is the limit because it's designed exclusively for contactless cards which have zero security. Apple Pay is just piggybacking on an existing system. From what I've read, removing the limit completely (and so making Apple Pay like a real credit card) will require new payment hardware in stores. Given how contactless is still something of a rarity, I can't see that happening.

So. For Scandinavia; when?! Sent from the iMore App

It's not "could rise", its "will rise". In September (according to MasterCard) it increases to £30. Certain retailers (such as Boots) have said they plan to remove the limit at that point, as the ApplePay process proves that the customer was present.

Have I mis-understood Apple Pay then? Even if I've used my fingerprint to validate that it's me, can't I pay for things over £20/£30 with it? Do I have to revert to my debit/credit card and tap in my PIN?

The stores have a limit of 20£ for all contact less payments. Including swiping your credit card. If you want more than that then you have to input a pin. However that number will raise to 30£ in October. After that we can only speculate that apple will work with banks and retailers to remove the limit completely. That will take time though. Sent from the iMore App

Hmmm then maybe I'm less interested in Apple pay than I thought then, have to say I'm somewhat old-fashioned in that I tend to use cash for small transactions. It takes away all of the convenience if I spend £20.01 and then have to go rummaging through my pockets for a card. Don't get me wrong I'm not criticising Apple Pay, more just that the banking system is stuck in the past - if I've validated who I am through my fingerprint then I should be able to pay any amount contactless; I assumed the small limit was only for the unvalidated contactless transactions

Yea apparently newer hardware just needs a software update so fingers crossed some of the big retailers will be ready to do it. I FULLY agree with the limit for contactless in general I've actually returned my contactless card because I think they are so insecure, but  pay is the complete opposite being very secure Sent from the iMore App

There will be no update to iOS the UK Apple pay software is probably already in there. Apple will just need to enable it in their servers. Sent from the iMore App

Think your right because on my apple watch it's got the Apple pay button but can use it yet but it's not on my iPhone Sent from the iMore App

Where on my apple watch will I find this ? Sent from the iMore App

It says in the article "Apple has begun enabling its mobile point of sale systems in England-based stores to take NFC payments" Does that mean the rest of us in the U.K (Scotland, Wales, and Northern Ireland) may have to wait longer or should I just assume it was ignorance on the part of the writer from 9-5Mac? Sent from the iMore App
Get the best of iMore in in your inbox, every day!
Thank you for signing up to iMore. You will receive a verification email shortly.
There was a problem. Please refresh the page and try again.