Apple TV and accessibility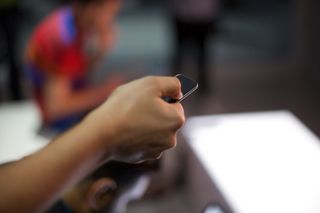 With its focus on apps, gaming, and the Siri Remote, I'm excited about the new Apple TV—and I don't even have a high-def TV at home to plug it into. I'm tempted to rectify that, however, with the advent of the new box, as it's sure to be a staunch upgrade from the dreadful UI of my AT&T U-Verse box. From an accessibility perspective, channel surfing and getting program information is difficult, thanks to small text and cluttered interfaces.
Fortunately, hope lies with the new Apple TV. As with the Mac, iOS, and watchOS, Apple's newest platform—dubbed "tvOS"—is built for everyone. There are accessibility features galore in tvOS. They span a wide range of needs, all of which aim to make the viewing experience as rich and enjoyable as possible for persons with disabilities.
tvOS and accessibility
Here's an overview of tvOS's accessibility features.
Apple has integrated its critically-acclaimed screen-reading technology to the Apple TV. It works pretty much the same way it does on an iPhone or iPad. A triple-click of the Menu button on the Siri Remote activates VoiceOver, and you can use the touch part to move through options. Note that there is an initial setup process, but after that, VoiceOver will read aloud everything on screen as it should.
Zoom on the new Apple TV magnifies content "up to 15 times the native size," according to Apple. Zoom is enabled via the Siri Remote, and Siri will speak the content in focus.
Bold Text does exactly what it says: it gives text in the Apple TV a more pronounced, higher contrast look.
As with Bold Text, Increase Contrast exists to bump up the contrast of certain UI elements. In the Apple TV's case, turning on this option will tone down the transparency of the background of certain screens. In addition, there's also an option for a higher contrast cursor.
Reduce Motion simplifies the animations that are shown when moving through apps on the Home screen and launching them.
Siri can be used as a alternative means of navigating the Apple TV UI. You can use it to search for things, as well as launching apps.
Deaf and hard-of-hearing users can enable closed-Captioning to better enjoy movies and TV shows. It's also possible to stylize the appearance of the captioning with different styles and fonts.
Available from the Siri Remote, the accessibility shortcut gives users quick access to their most-used accessibility features. You can access VoiceOver, Zoom, and more by a triple-click of the Menu button.
Some thoughts on the new Apple TV and accessibility
As I alluded to at the outset, I'm optimistic that the new Apple TV's redesigned interface will be a huge improvement over what I'm used to with my U-Verse box. Judging by Apple's marketing materials and the keynote demo, the Apple TV looks great, both aesthetically and mechanically, and hopefully is fun to use.
In terms of accessibility, the issue that I've always had with using televisions is using the on-screen guide to find stuff to watch. As I wrote earlier, the problem is that these interfaces are busy and use relatively small fonts. It's hard for me to focus on any one thing, and I find that I squint often to read. Part of my struggles can be attributed to the standard-def TV I'm watching on, but the majority of the blame is on the software.
I think Siri is going to be game-changing for accessibility on the Apple TV. If it works as well as advertised, I can foresee myself using voice to drive the UI so that I can save my vision for the actual content. Overall, though, Siri on the Apple TV has the potential to be a lifesaver for those with physical and motor impairments, for whom using the remote may be difficult.
Gaming on the Apple TV is also interesting to consider from an accessibility angle, and is a topic unto itself. My questions here concern if third-party developers can or will make games accessible to the visually impaired. As well, I wonder about controllers: how usable will they be for people like me with physical and motor delays, and if there will be any adaptive controllers (for example, one with bigger, easier to push buttons) to compensate. Another idea is Switch Control. Will Apple leverage it to control the Apple TV UI and/or games? Perhaps that's not technically feasible right now because you need sensors, but still there are lots of possibilities here.
This is all conjecture, of course, on my part because I haven't seen the new Apple TV. Nonetheless, the accessibility features that are built into tvOS and the questions I have are exciting. Like Apple's other products, the new Apple TV has an accessibility story of its own. It just needs to tell it.
Master your iPhone in minutes
iMore offers spot-on advice and guidance from our team of experts, with decades of Apple device experience to lean on. Learn more with iMore!
Steven is a freelance tech writer who specializes in iOS Accessibility. He also writes at Steven's Blog and co-hosts the @accessibleshow podcast. Lover of sports.