AirPods Pro 3: Everything you need to know
AirPods Pro 2 have been around long enough that we're now looking forward to the next generation, AirPods Pro 3. Here's what we know about them.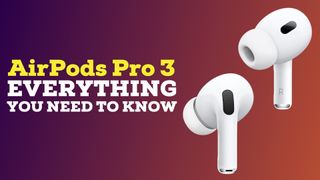 (Image credit: Future / Tammy Rogers)
Though the introduction of the original AirPods showed a significant change in audio approach for Apple, the AirPods Pro were seen as a perfection of the formula by many. Now, with the AirPods Pro 2 approaching a year old, what might Apple have in store for the AirPods Pro 3?
The last generation of AirPods Pro had some pretty impressive upgrades, from the implementation of Active Noise Cancellation and Transparency Mode to a more ergonomically designed case. With rumors of a new AirPods Lite to launch alongside the AirPods 4, we're expecting big things out of the next AirPods Pro.
Before we get AirPods Pro 3, Apple is apparently planning a USB-C update to its current AirPods Pro 2 model, which it might unveil at the iPhone 15 event on Tuesday. Future AirPods Pro 3 models will also feature USB-C, but they'll also be a much more substantial upgrade.
AirPods Pro 3: Release Date
The AirPods Pro 2 launched in September 2022, with the first arriving three years prior. On this timeline, it seems very unlikely we will see the AirPods Pro 3 launching in the next year or two. You can see the release months of all AirPods below:
First Generation AirPods released in December, 2016
Second Generation AirPods released in March, 2019
First Generation Airpods Pro released in October, 2019
AirPods Max released in December, 2020
Third Generation released in October, 2021
Second Generation AirPods released in September, 2022
In a prediction made by top industry analyst Ming-Chi Kuo, they stated that Apple's next regular AirPods would begin mass shipments in the latter half of 2024 or the start of 2025, with the AirPods Max to follow. With no inclusion of the AirPods Pro and no reputable reports on a proper release date so far, it seems likely we may not see a release until at least the latter half of 2025. It could be even later than this.
AirPods Pro 3: Price
Both the AirPods Pro and AirPods Pro 2 were released at a price of $249/£249. In the modern market, alongside the AirPods Max, this places them at under half the price of the AirPods Max but $70/£80 more than the cost of standard AirPods 3.
The AirPods 3 were $20/£10 more than AirPods 2 so there's a chance that the AirPods Pro 3 will cost a little more, but it all depends on the Apple range of products around launch. The first-gen AirPods Pro were discontinued when the AirPods Pro 2 launched, which is a little different from the way Apple typically works. AirPods Pro 3 may be intended to entirely replace AirPods Pro 2 when they launch.
This being said, there are rumors of AirPods Lite that are intended to replace the last generation of AirPods, meaning there is more competition between audio devices for Apple. There's a chance that the AirPods Pro 3 will have some great upgrades and will be a little more expensive — making the AirPods Lite a more attractive package.
AirPods Pro 3: Features
Given that Apple is swapping to USB-C, the AirPods Pro 3 should be following suit. Not only does this mean it will be compatible with any USB-C wires you have, but it has the potential for faster charging. USB-C, as a format, is more efficient with the same amount of physical space, allowing it to deliver more power.
There are even reports Apple could make the switch to USB-C with an update to AirPods Pro 2 later in 2023.
Given AirPods Pro have some unique features not present in AirPods, Apple will likely further commit to these. Like the last AirPods Pro, the AirPods Pro 3 should be compatible with Apple Watch chargers and will likely have a built-in speaker in the case itself to aid you when you lose it.
The AirPods Pro used a H1 chip and the AirPods Pro 2 used a H2 chip so it's not inconceivable that we will see a H3 chip in the next generation of AirPods Pro. If not the H3, we could see a modified version of the H2 chip.
Given the H2 chip has some fantastic Active Noise Cancellation (ANC) capabilities, we can expect the AirPods Pro 3 to further commit to abilities that make them work well on the go. The last set had adaptive transparency mode which lets you hear the world around you whilst reducing sounds over a certain threshold. We anticipate the advancement of these technologies in the next AirPods Pro.
Apple and Audio expert
"The AirPods Pro 3 are still the latest addition to the AirPods lineup, so it's unlikely we'll see anything soon. In the meantime, however, expect competitors like Sony and Sennhieser to really step-up their in-ear game, and give Apple a lot to think about"
AirPods Pro 3: Size
The buds themselves were exactly the same size and weight between the AirPods Pro 1 and AirPods Pro 2. Given this, we imagine the AirPods Pro 3 buds will be similar in size and weight.
The Charging case did change between the two. The first model was 1.8 x 0.9 x 2.4 inches and weighed 1.6 ounces whereas the AirPods Pro 2 case came in at 1.78 x 0.85 x 2.39 inches and 1.79 ounces. To put these numbers in perspective, both cases are a similar size but the AirPods Pro 2 are a little heavier.
Generally speaking, it seems unlikely the size will change too drastically as they are designed to slide into your pocket or bag with relative ease. Part of what makes the AirPods Pro so popular is how light and easy they are to carry. You can simply take them out of your pocket, flick open the case, and get listening.
AirPods Pro 3: Battery Life
Partially thanks to the beefier H2 chip, the AirPods Pro 2 had a better battery life than its predecessor. Where the AirPods Pro 2 managed to get around 6 hours of listening time out of a single charge, the AirPods Pro 1 got 4.5 hours of listening time from a charge. This increase is a noticeable one in day-to-day use.
When combined with the charging case, the AirPods Pro 2 gets 30 hours of listening time where the AirPods Pro 1 got around 24 hours of listening time. If the AirPods Pro 3 gets the H3 chip, we can expect a similar upgrade in battery life, with an extra hour or so of listening time. If the case is equivalently strong for battery, we could see about 35 from a full charge. This being said, though the AirPods Pro 2 had better battery life than its predecessor, it is not a guarantee with a new chip. A more powerful chip could mean the device needs more power to function.
The swap to USB-C could meaningfully change battery life. For instance, if it takes less long to charge them, they could opt for a more robust battery as charging your pods more frequently slowly degrades battery life.. We'll have to wait for the next Apple USB-C device to come out to guess how it might change the battery.
AirPods Pro 3: Rumors
With the AirPods Pro 3, we're expecting Apple to double down on many of the features that made previous models stand out. For this reason, we could see the advancement of ANC to adapt better to the environment around you — this will only be made better with the possible introduction of the H3 chip.
As well as having better internals, there's a chance the AirPods Pro 3 will have more durable buds, increasing both its dust and water resistance. The current model comes with water resistance, making them good for sweat from your ears or rain while walking, but not for submerging in a pool. Given how impressive the Apple Watch's water resistance is, there's room for improvement here — even if they are still very capable.
With some fans complaining of poor mic quality from the AirPods Pro 2, we hope that Apple has heard this feedback. For this reason, we hope that the AirPods Pro 3 will have better mic quality and smarter software to filter out background noises. Apple is well known for how intelligent its software is so this doesn't seem unlikely.
AirPods Pro 3: Q&A
Will the AirPods Pro 3 be smaller?
It seems unlikely the AirPods 3 will be too drastic a change from their predecessor.
Will the AirPods Pro 3 have the H3 chip?
Given the last generation of AirPods upgraded from the H1 chip to the H2 chip, it's quite possible we'll see the H3 chip in the AirPods Pro 3.
Will the AirPods Pro 3 have wireless charging?
Though nothing is confirmed yet, it seems very likely that the AirPods Pro 3 will have wireless charging as the last two have had it.
Will the AirPods Pro 3 come in different colors?
Although the AirPods Max did get different colors, we don't think the AirPods Pro 3 will follow suit. All of Apple's AirPods have a very clean and distinctive white look to them and we have no reason to believe Apple will change that look.
Master your iPhone in minutes
iMore offers spot-on advice and guidance from our team of experts, with decades of Apple device experience to lean on. Learn more with iMore!
James is a staff writer and general Jack of all trades at iMore. With news, features, reviews, and guides under his belt, he has always liked Apple for its unique branding and distinctive style. Originally buying a Macbook for music and video production, he has since gone on to join the Apple ecosystem with as many devices as he can fit on his person.
With a degree in Law and Media and being a little too young to move onto the next step of his law career, James started writing from his bedroom about games, movies, tech, and anything else he could think of. Within months, this turned into a fully-fledged career as a freelance journalist. Before joining iMore, he was a staff writer at Gfinity and saw himself published at sites like TechRadar, NME, and Eurogamer.
As his extensive portfolio implies, James was predominantly a games journalist before joining iMore and brings with him a unique perspective on Apple itself. When not working, he is trying to catch up with the movies and albums of the year, as well as finally finishing the Yakuza series. If you like Midwest emo music or pretentious indie games that will make you cry, he'll talk your ear off.