The great Apple mash-up: which two products would you fuse together?
Contributions from
published
Fuse it up.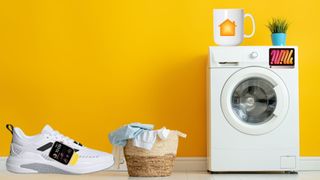 (Image credit: iMore)
It's no secret that many of us at iMore have been spending our lunch breaks and evenings playing The Legend of Zelda: Tears of the Kingdom, and there have been no regrets. But that's not stopped us from wondering how to use the game's powerups in real life.
From using the Ultrahand ability to pick up our cars to park them with ease, to using Recall for our pets when they misbehave and dive into a pond with the ducks.
The game has made us wonder what devices we would want to fuse with the ones we use daily. It could be an iPhone with a Game Boy or a pair of Joy-Cons with an iPad.
So we've devised different ideas for joined-up contraptions that could work out in the real world.
Apple Watch & my sneakers
John-Anthony Disotto — How-To Editor
I've thought long and hard about an actual fusion that could make all the difference for a section of Apple's user base. And I think I've found it.
Why wear an Apple Watch on your wrist when you can just put on your shoes and have everything tracked within them? I know, there was that Nike AirTagesque thing back in the day that was made redundant by the Apple Watch in the first place. But who's to say we can't go back to when tech and style hadn't fully found their synergy?
Imagine the Nike Air Mags from Back to the Future but with the technology of an Apple Watch built-in. The shoes of the future are able to help your running without wearing anything on your wrist. And while you're at it, Apple, throw in a display above the laces so people can look down while they run, adding to the ever-growing issues of trying to navigate the sidewalk without bumping into an iPhone user.
I'm no salesman, but I've just devised the million-dollar idea. I don't even run, but I want an Apple Watch in my shoes!
Bath & an iPhone
Tammy Rogers — Staff Writer
Do you ever put some tunes on before you hop in the shower? The phone goes off when you're on the loo? Want to answer a call while you're brushing your teeth? Now, imagine that you could do all those things, and more, with an iPhone mixed with a bathroom. Meet iPhone Bathroom.
Play music to sing along to while you shower, answer a text while you're on the bog, and mumble your way through a toothbrushing group call, all built into your bathroom. Even better, control different things within the room with a built-in touch-screen and Siri-enabled voice control.
Hey Siri, start the shower at 98°F – the show bursts into life.
Hey Siri, turn the towel warmer on – your towel is warm before you even finish washing.
Hey Siri, get me a bath going – Siri knows all your preset bath preferences and runs you a toasty hot bath ready to relax in.
Taking your iPhone into the bathroom brings more risk of it getting wet and needing an expensive repair – going into your iPhone bathroom not only negates that risk but also makes your bathroom more functional and helpful.
HomeKit & Coffee
Karen Freeman — Contributor
Honestly, I just want to be able to say, "Hey Siri, make my coffee" before I get out of bed and then walk downstairs to pour myself a cup. Programmable coffee makers have been around for decades, but I wake up at different times each day, and I want my coffee fresh.
And yes, there are smart coffee machines, workarounds, and HomeKit-enabled smart plugs that would probably get me there. But those aren't the most elegant solutions.
I really want Apple to make its own coffee machine, or perhaps even better: Apple could partner up with a top coffee machine company like Breville, Bonavita, Technivorm, De'Longhi, JURA, or similar. This way, rather than reinventing the wheel, Apple could add its special touch to an already excellent coffee experience.
Washing Machine & iPad
Daryl Baxter — Features Editor
I've always been annoyed with using a washing machine. Not with the job of loading in clothes and everything else, but learning what every setting does and being anxious about whether the right mode was chosen.
So let's have Apple's tablet join up with every washing machine out there. Once fused, the iPad will learn exactly what the washing machine can do, and have videos to help explain what each mode does.
The myth that 'you can't do work on an iPad' will cease to exist once it joins up with a washing machine.
When Hyrule met iMore
It says a lot when a game is making you subconsciously dream up different appliances and devices fused together throughout your day - and that's what's been happening at iMore over the past week.
Tears of the Kingdom is an incredible game, and while we tested it on a Mac in 4K, it's the gameplay that matters most rather than the discourse about its graphics. Its 'Fuse' mechanic has made us come up with random contraptions, both in the game and for our devices in the real world.
Joining up ideas and devices is something that should always be tried and tested, as it can result in new ideas and new ways of using certain things in everyday life.
With WWDC 2023 getting ever closer and Apple's rumored VR headset almost upon us, we'll be covering as much as Apple announces and showcases across the week, and who knows - there might be some fusion ideas that we're about to see at the keynote on June 5.
Get more iMore in your inbox!
Our news, reviews, opinions, and easy to follow guides can turn any iPhone owner into an Apple aficionado
Your source for all things Apple