Asphalt 8: Airborne is the first of several Gameloft games coming to new Apple TV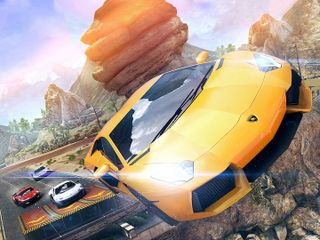 The new Apple TV set-top box is being promoted as a gaming machine, and well-known publisher Gameloft plans to release several of its popular mobile titles to work with the new device. It begins with the launch of the arcade racing game Asphalt 8: Airborne for the new Apple TV.
Gameloft says that the Apple TV version of Asphalt 8 will include "exceptional graphics and sophisticated visual effects". It adds:
Gameloft's next Apple TV game will be Dungeon Hunter 5, which will be released sometime next week. Over the coming weeks and months, more Gameloft titles will be added to the new Apple TV, including Dragon Mania Legends, Gangstar Vegas, Modern Combat 5: Blackout, My Little Pony – Friendship is Magic, Siegefall, Trivial Pursuit & Friends and UNO & Friends.
○ Apple TV 4K Review
○ Apple TV buyers guide
○ Apple TV users guide
○ Apple TV news
○ Apple TV discussion
○ Buy at Apple (opens in new tab)
○ Buy at Amazon (opens in new tab)

Get the best of iMore in your inbox, every day!
I have been writing professionally about technology and gaming news for 14 years.
This is the WORST game ever. On Startup i had to wait 14 minutes because Aslphalt was downloading more content. Shortly before the first game I'm now stuck with a 28 minute 38 seconds download bar.
Apple TV is on Wifi ac with 120k speed.

I had similar, but initial game download after launching took about 15 min then I was ready to play - seems that each new track takes about 1.5 min for me to download, but once it's cached its a very quick play. It's just breaking up the content, you download a game on your iPhone and it will take 30 min but, you just have to wait w/o launching, with this you have to launch and wait for the download. But all that aside, I was very impressed with the game play.. very cool and graphics looked awesome on the TV. We have been wearing it out at my house.

I'm loving this game. Looks amazing on my 55" TV. I generally don't play action games, but since I'm testing out what this Apple TV 4 can do, I gave it it try. Can't stop playing :) Sometimes my heart is actually racing after the game. Can't figure out the flat spin, but I'll get there. I had some load time the first time I launched, but I don't recall anything significant, maybe a few minutes. You've got to hit "next" a bunch of times at the end of the game and to start another game but it's super quick and then a short delay (3-5 seconds) before the game starts (it says "loading" but I assume it's pulling it out of the cache and not downloading it?).