Audiobooks.com offers unlimited book listening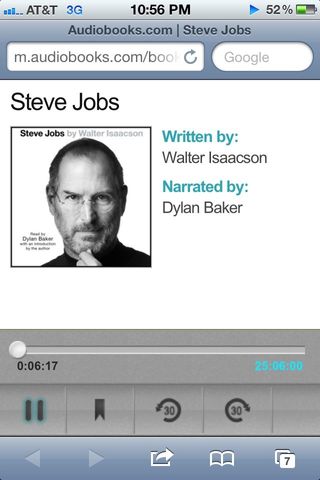 Audiobooks.com (opens in new tab) is a new service for book lovers that allows you to listen to as many audiobooks as you want. The cloud-based service offers more than 10,000 titles, including the biography of Steve Jobs.
Listen to unlimited audio books on-demand
Easily switch between listening devices—pause your audio book on your iPhone at the gym and find your place instantly when you continue listening from your laptop at the office
Instantly access more than 10,000 best sellers, top new releases and classic favorites
Never have to worry about storage restraints because the content lives on a cloud
Audiobooks.com may not have an app in the App Store, but their website is optimized for mobile and works like a charm.
A subscription to Audiobooks.com will run you $24.95/month, which is actually good deal when you consider how much audiobooks cost. Not to mention, the subscription is commitment free, so you are welcome to cancel at any time.
Former app and photography editor at iMore, Leanna has since moved on to other endeavors. Mother, wife, mathamagician, even though she no longer writes for iMore you can still follow her on Twitter @llofte.
Still too much for me, maybe 14.99 to listen to 5 book. Doubt I'd even reach that anyway.

Personally, I think $25 is way too high. Think about how many audiobooks most people can get through in a month. For myself and others I've talked to, it's usually just one because the only time available is to and from work. I think they need to come down in their pricing. Audible.com offers what I believe is a better deal. You get one credit per month for only $14.99 per month. And one credit is enough for almost any book they have.

Audible (great app BTW) needed some good competition to keep them honest. I doubt I'll switch though since cloud based just eats up data allowances and drains batteries faster. It's not like I will want hundreds of books on my device at a time, no harm in having the few I'm currently listening to downloaded to the device.

I agree. Too expensive. I get through 2 books a month on my commute to and from work.

I agree, $25/month is too much. They need more plans to choose from.

$25 a month?? really? what are they smoking... way too much for that service...

More and more libraies are now going digital. Sometimes you have to wait but it doesn't cost you $25/month either.

Way too much $$$. Also streaming sucks when you have a long commute with no wifi.

make it $25/year and we'll talk
$300 is insane

What they need to do is offer an under $10 plan with with a limit of two downloads per month. That will shake up the industry and provide some competition.
Otherwise I will stick with my library offerings.

It doesn't even matter if they've gone digital, just check out the CD audiobooks they have and rip them to iTunes. As many free audiobooks as you want with only a couple hours of effort to rip them.
And before you ask, yes, I do delete them once I've finished listening to them.

When iPad 2 comes out, and tons of people buy it, the numbers alone should make Mr Facebook make an app for it. Just does not make good business sense not to have one.

Wonderful submit, very informative. I wonder why the other specialists of this sector do not realize this. You must continue your writing. I am confident, you've a huge readers' base already!|What's Going down i'm new to this, I stumbled upon this I've found It positively helpful and it has aided me out loads. I hope to give a contribution & aid other users like its aided me. Great job.

I'm developing a blog site and I was thinking of modifying the template.Yours looks pretty decent! You could visit my site and tell me your viewpoint!

Please excuse Eli, but with this jump on the kid campaign, the Rabett wonders what Zimmerman does for a living.

I don't know why it took so long to implement such a basic feature, but it is good to have.
Thank you for signing up to iMore. You will receive a verification email shortly.
There was a problem. Please refresh the page and try again.