Updated: BeeJiveIM, AIM, and IM+ -- Push Apps Now in iTunes Store!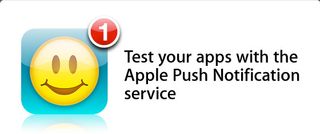 (opens in new tab)
Pinch yourself. You're not dreaming. It took longer than we'd hoped, but push IM apps are finally starting to appear in the iTunes App Store.
BeeJiveIM [$9.99 - iTunes link (opens in new tab)] with Push and AIM [$2.99 - iTunes link (opens in new tab)] are the first out of the goat, and hopefully more will follow.
Update: IM+ with push notification for IM, Skype, and Twitter is also now live in the App Store.
If you get your push on, tell us how it works for you, and what if any tweaks you make to the push settings to control your level of interruption. And if you notice more push apps going live, let us know!
[Thanks to Bruce everyone who sent this in!]
Get the best of iMore in your inbox, every day!
Rene Ritchie is one of the most respected Apple analysts in the business, reaching a combined audience of over 40 million readers a month. His YouTube channel, Vector, has over 90 thousand subscribers and 14 million views and his podcasts, including Debug, have been downloaded over 20 million times. He also regularly co-hosts MacBreak Weekly for the TWiT network and co-hosted CES Live! and Talk Mobile. Based in Montreal, Rene is a former director of product marketing, web developer, and graphic designer. He's authored several books and appeared on numerous television and radio segments to discuss Apple and the technology industry. When not working, he likes to cook, grapple, and spend time with his friends and family.
AIM Free Edition is also Push enabled... seems a little strange. It has some throttling, and even worse. If I receive 3 Push Notifications, then I open AIM, I get 3 instant AIM sounds playing... very annoying.

Hallelujah! I really really really hope this works! I'm running my aim in aim and everything else in beejive. Can't wait to see this thing working'

aim free version works fine, the sound pushes are annoying - however, once u enable push in aim settings, it works like a charm, on the free version!

Yeah using aim (free edition) and it seems to be working well. Too bad I still have to close what I'm doing to respond.

Beejive crashed constantly. I deleted and reinstalled and it seems to have fixed the issue. Gotta admit, love the push. I wonder how annoying it will get after you are constantly logged in and you start getting unlimited IM messages. Just wondering!

Is anyone else having the problem with the app store where it will say you have X many updates but when you go into the app store it says everything is up to date? Currently my badge says 10, but when I go in to the updates section it says all are upto date. Which, I know is not true. This is something I've only noticed since 3.0

AP Mobile has been doing push for days now.

i am using unlocked iphone 2g and not recieved a single push notification :( why is this will push only go through at&t network?

also, is beejive really worth 9.99?

@Rene, was that Bruce Campbell who sent you the tip?
And yes, Beejive is worth the money.

beejive is currently having problems with yahoo. but they are sorting it out ASAP. i hope fast. I NEED MY PUSH!

you can always go into settings and tap on notifications, click on beejive and turn alerts off.. so you wont get the pop up, but the badge and sound will still alert u that you have a msg.. just like when an email fetch, u get the badge and sound.

Christin, the only App Store problem I'm having is that App Store on my phone will tell me no updates at the same time that App Store via iTunes on my laptop will tell me there are updates.

I have AOL free version and gave it a good set of tests between computers and other iPhones. So far, a max of maybe 3 seconds day between send and the arrival of the notification. Overall, two thumbs up for Apple.

It's work very good.i loved.but.they have some problems to reconect

I don't use AIM and BeeJive costs WAY too much.
Palringo for the win!! Come on! Get push! :(

Push works fine but the app crashes everytime I try to link to address book. Anybody else having the same issue?

Beejive crashed on me a couple of times too after getting the alert.

Beejive has a bug: don't assign any of your contacts from the IM networks with your phone contacts, Beejive crashes and you are not able to view the person's card (but can still chat).
Push seems to be working flawlessly, even tried locked under 3G and the messages were being delivered.
I created a new WLM address just for this use, I don't want everybody in my list to reach me 24h.

It's awesome that push has gone live.
Rene are you posting from your iPhone?
I'll tell you this I don't ever want to be the first one out the "goat"
I don't want to even be in the goat.
No but seriously. Being as it took so long I bet Apple gets real selective with allowing the number of push apps. I just don't think Apple has the bandwith to follow through 100% or it would started a year ago as promised. Just my thoughts.

Do you have to be a developer to get the aim version for the push notification because my notifications arent working.. What do I need to do to get push on aim or beejive?

@Adam: Beejive is expensive because it's the best IM application on the market, I've seen the others and they just don't have the looks and the features Beejive offers.

@Landon are you unlocked im having same issues not a single push notification im am so sad....

@Landon: for me:
1. Update Beejive to 3.0/Install it from the App Store
2. Run it
3. Accept the request to use push notifications
And that's everyting, just quit the app without logging out and you'll receive the notifications.

Beejive works perfectly I get the notification instantly seriously.

Aim free works great!!! Also check out txtfree there push is working great still testing to make sure I can make AT&T suck it when I cancell my $20 txt plan simply ffor the no mms on 3.0 launch

beejive works amazingly with push...no need for aim though so no thoughts
but appl hit a hr with push...just cant wait for myspace push**

I keep getting a "pin.mismatch" error when logging in

I got my iPhone 3GS today and the push for beejive is INSTANT! And the app opens so quickly that it doesn't even feel like i'm closing applications. One thing I might ask for is a locked landscape mode for beejive... or just landscape buddy lists (kind of odd that they don't have this enabled). You have to go into your chat, flip it to landscape, and then flip back out for your buddy lists to be in landscape. And I wish that when you opened the app it went right into the conversation you were received the IM in... less clicks. But the push works great :)

BEEJIVE Works Perfectly! 10/10 Rating !! amazing!

GUys i wanted to add ONE thing about Beejive..
If you try to COPY something and paste it, i don't know how to paste it because there is no Typing Bar like normal chat.

yes. beejive is easily worth the cost of admission. you will delete everything else

Nevermind i figured it out =)

beejive is the IM app. push works great for me. beejive is alot smoother and a little faster. I like the new backgrounds they added.

You can't IM pictures in Beejive... but i think you can in IM+ =(

I have something strange happening with push on Beejive. I would get the notifications from one of my friends flawlessly, but the other friend I don't get any notifications! It seems to be account specific....
Any ideas?

Have sent and recieved SMS. Sent a pic and waiting for a reply. Push works...FAST! Waiting for a picture to be sent. My friend had to reply to a text first saying he could recieve these kinds of messages from me from now one. Is that normal? Still not sure how this works. Is this just iChat on the phone with PUSH? I wonder if they see my name like in a normal SMS or a phone number. Wish I new more people with BeeJive other than my wife who is sleeping. Contemplating waking her up, but think it might be wise to let her sleep! Yikes!

Phonemilk,
You can send pictures. In the chat tap on the persons name and a dropdown menu will slide out, letting you send pics, voice memo (recorded from in-app), email the conversation aaand, I forgot the last thing. But the functionality is there.

Freaking awesome. So much faster than email push from Beejive. (added by Mobile using Mippin)

yahoo won't work for me.....other than that, MySpace, Facebook and AIM/MobileMe work just fine!

For some reason aim is saying my friend can't receive messages when I try to send him a text. He has an iPhone 3G.

So excited about the Beejive update! But I can't log in... just get the spinning wheel endlessly. Interested that it mostly seemed to be working for commenters here... hoping bugs get ironed out quick, otherwise it's useless!

it is kind of strange...I received one gchat, but the other only went to my gmail account gchat and not to beejive...otherwise, quite nice!

I am not a reviewer.. Works perfectly for me.. Tested msn and aim so far.

I've noticed that sometimes the push seems to get overwhelmed if it gets a bunch of IMs from one person really fast. It quits pushing until i go into the app and delete the chat.

@Christin
I have that same proablem, just click on the update tap again and it will show up :)

Free aim doesn't push for me. my iphone's unlocked but I couldn't imagine that would have something to do with it because it would work on the ipod touch too.

AIM (free) is working well for me as well. However, on the 1st Gen iPhone it's really slow. The keyboard locks up and delays when there is a lot of background activity, like receiving messages. Are people having a better experience on the 3G or 3GS? I bet the speed makes a difference. The fact that you get the push sounds and then log in to the app and get them again is kinda annoying, but I understand what the reason is for that. The app can download the messages until its ran so it sees that there are "new" messages still.. whatever.. I'm loving it and considering lowering my text plan now!

I was skeptical on paying the money for BeeJive as well. In anticipation for PNS and because they had a sale, I bought it last week for $10. It logs in so much faster than the other guys, it was definitely worth it and now there is push too! I have the AP app as well but does anyone else have other push apps they like?

Unbelievable how fast the push is sent to the phone. It is there in a split second. This really is a game changer for the iPhone. Finally real IM on the iPhone!!

Cross BeeJive off the list, now bring on ESPN with PNS!!

thank you push notifications! and thank you apple!!! i love beejive

Beejive push is working great for me!

Can't seem to get push on Beejive working my end. Everything set to on but nothing coming through. Any ideas?

Can't seem to get beehive push either... Shall we set something up on SETTINGS before??? Help please!

Soooooo excited about this!! Now my iPhone is complete :-) Ok, wait, still waiting for TomTom then my iPhone is really complete :-)

I wish I could see the stupid look on the faces over at AT&T when everyone downgrades their texting plan. You know they are gonna recover the costs somehow.

2G, Unlocked. Push doesn't work. All is on, but notifications don't come.

Anyone had any word on why it wouldn't be working? No solutions on the Beejive forums yet.

Here is information about 2g situationhttp://brambourgonjon.wordpress.com/2009/06/18/push-2g/

doesn't really work for me on beejive (icq). 1 of 10 Messages are getting pushed.
it's still crap

Looks great - but having issues with Yahoo accounts - getting an error: "Connection failed on all fallback ports" and it closes. So right now I can't log into Yahoo.

@Wesley
really, because I've been using palringo for a long time and it does everything I could possibly want and more.
Plus I heard beejive doesn't even IM pictures. That's pathetic when you are PAYING for the app. Palringo does that for free.

Push does seem to work great and quite speedy. As for BeejiveIM... It's a good app, but not a $10 app. Competition will bring that down in time.

And... What about battery life ? Anyone has tested how long the battery last ?

Beejive crashed constantly, it's not working with Yahoo accounts, sometimes push works with Google accounts but push never works with MSN.
(3G)

@ Adam. Beejive does send pictures in addition to voice memos and sounds. Also, the next version will give you the ability to send videos as well. of course, this will only work with the 3GS. Palringo can't really compare.

Performance for me has been dicey at best. Granted, before push I didn't use any chat apps (why would you?), and I just downloaded Beejive on Sunday, but so far I've seen my push sounds not working, chats that Beejive is telling me failed actually reach my recipient, Beejive stealing my web sessions (Facebook), and my buddy list not being up to date.
Like I said, I'm new to Beejive, so maybe that's just the way it works, and I must also add that I'm doing my testing in a 1 to 2 bar area @ my desk, so my test conditions may not be ideal.

Gave in and bought beejive. Push has worked great, though like others I have been unable to log into yahoo, and it crashes every time I go to landscape mode.

being using since the release yesterday...perfect with gchat, really fast...battery is great...

you made me buy it!!! lol and it is awesome "can you dig it?" (insert adam sandler voice here)

I'm liking BeeJiveIM. Only one crash so far... Nice configuration options. I wish other apps would provide this many options.

I am dealing with a issue using AIM with PNS and AIM on PC. It works fine when using the iPhone, but if I happen to be at my computer using AIM, the App doesn't know it and continues to send notifications as I receive responses on my PC! AIM doesn't see that I am signed on in two locations, either. What's the work-around for this? Do I have to go into my settings and disable PNS each time I happen to be on my computer?
I also used IM Fowarding prior to this and that worked fine, automatically determining if I was logged on my PC versus near my phone...PNS is redundant in this instance and less intuitive...am I missing something??

I love it. I'm gonna try with alerts on and off. I heard they didn't change PNS from how the SMS alerts are.
With the alerts on , I think it only shows the recent Alert from that application. I guess theoretically , if I get 20 PNS from AIM I won't have to exit through 20 alerts.
I'm still gonna see though.

anyone else having a problem connecting now? it says cannot connect to host

AIM works rather instantaneously. It's very nice. :)

mine crashes constantly...worst 10 bucks i ever spent

@Moe Palringo does all of that... >_>
Except for send videos which of course neither does Beejive yet.
And Palringo is a great program, it is very stable, keeps you logged in when you go to other apps, allows for group chats.. Why do you people think beejive is so amazing? I think it sucks.

I don't know what's going on with Beejive. I've been getting a lot of unresponsiveness in the app (I actually think this is server side) and several crashes. I've also had several premature disconnections. Definitely not the $15 app I paid for. Here's to hoping that they get on these problems quick and get them fixed.

You poor iphone fanboys. Blackberry has all major IM clients that work perfectly in the background. :P

So which one is better bejive or im+??

@ mazinkaiser - so bb has one advantage over iPhone. Big whoop. :-)

i used beejive and i love it, but for soem reason i cannot send or recieved any pics or sounds messages thru beejive, whixh is anyone. does anyone knows how to fix that? i have already uninstalled and installed and it didnt work.

Unfortunately, being in a casual raid guild, I've not had the pleasure of tanking Yogg's face off. This thinking of stacking stamina with Monarch and Black Heart, instead, I think.