Best apps for planning your last-minute Valentine's Day trip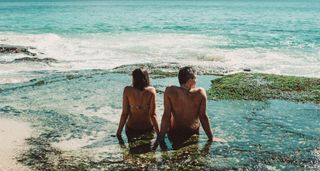 (Image credit: @kilarov345/Unsplash)
Who doesn't love to take their sweetie (or loving family) to an exotic locale? Wintertime is a great time to get away, whether you're celebrating the various winter holidays or simply have some extra time off from work or school. If you're leaving town this season, I've compiled a list of apps that will make your trip a little bit faster, easier, and a lot more fun.
Planning
Kayak is a great travel planning service for getting a whole package together. You can search for flights, hotels, and cars, all with the same destination and dates. Results can be filtered by popularity, price, amenities, and lots more. My favorite feature of Kayak is the discovery map. You can enter certain criteria, like how long your trip is, your preferred month of travel, how much you want to spend, temperatures, and geolocation features like beaches or skiing. You can then check on flights, hotels, and transportation for filtered locations. So, if you don't know where you want to go, but you know you want to get out of town, Kayak can help get you there.
TripAdvisor is an excellent source for reviews of trips. Lots of people rate their flights, hotels, and even destination experiences. TripAdvisor will use the data collected from travelers to offer suggestions and recommendations for the best options for you, including how soon you should book to get the best deals for the holidays. You can also sign up for alerts to let you know when prices have gone down for flights and hotels. If you can wait just a little while longer, you might get a better deal.
Orbitz has this amazing rewards program so you can earn cashback from your trip. Book a $200-per-night hotel and earn $10 that you get back instantly. You can sign up for Platinum benefits, which include big discounts and TSA Pre-check. With Orbitz, you can quickly find hotels, flights, and transportation nearby or for another destination. You can also look up hotspots in the area you are visiting if you're looking for something to do.
Another great app to help you plan your holiday trip is Expedia. You can search for and book flights, hotels, and even shop for limited-time deals to save big. It also remembers what you were last looking at so you can pick up planning wherever you left off. Once you have your flight and hotel booked, Expedia can help you find things to do, and it will send you reminders when your trip is coming up too, which is nice. And for Expedia members, you earn double Expedia Rewards points each time you book through the app, so those savings should rack up in no time at all!
TripIt is my personal favorite travel app, mostly because every hotel, car rental, dinner reservation, or airline flight I book automatically gets added to my itinerary. This isn't exactly an app for planning your trip, but it is the best travel app around because it keeps your travel plans organized in one place.
Transportation
Uber provides one of the cheapest ways to get around town fast. If you are visiting an urban area, you can get a ride in a matter of minutes. Because this is based on the ride-share industry, prices are competitive when they aren't surging. It's also simple to use. Once you are signed in, all you have to do is accept the ride offer — no need to carry cash or have someone run your credit card. It's all done through the app.
While most people are already familiar with Uber, there is another popular competitor, Lyft. And the best thing about Lyft is the fact that rides are usually a dollar or two cheaper on Lyft than Uber, so if you want to get the same ride for less, then Lyft is the way to go. Lyft has several different ride sizes to suit your needs and budget. It's a great app to have in addition to Uber, so make sure to give it a download.
When it comes to flying, App in the Air has you covered. Enter your flight number and keep your entire flight trip organized from start to finish, including check-in time, boarding time, estimated take-off and landing, reported delays, gate numbers, and more. You can also get notifications sent to you for status updates on specific flights. If you just want to keep track of your family's travel status, you can search for flights by location, arrival time, and number. Save flight information to get alerts if anything changes.
Flighty - Live Flight Tracker
If you travel a lot year-round, then Flighty is the perfect app for you. Flighty is a beautifully simplistic and clean app that lets you track all of your flights and get notified whenever there's a delay or other important info you need to know. It features 25-hour "Where's My Plane" tracking, so you can make sure that your flight is on time. It even has predictors for flight, weather delays, and even holidays. There are unlimited flights and notifications with 24/7/365 global coverage. You get pilot-level information and data, TripIt sync, email forwarding, and more with a Pro subscription. Honestly, if you do a lot of traveling, the subscription is well worth the price.
If you've decided to skip the car rental and don't want to spend money on ride-shares or taxis, the cheapest way to travel (besides walking or biking ... or hitchhiking) is public transportation. With Transit, you can find out when the next bus to the beach leaves or what time you have to be at the train station to get downtown by dinner. You can plan your travel route by public transportation from point A to point B, with travel times and which stops you should get off at to transfer.
If you opted to drive instead of fly, then you may need to fill that tank up with some good ol' petroleum if you are driving a non-electric vehicle. GasBuddy is a must if you want to save some dough while filling up! With Gasbuddy, you'll be able to see all of the nearest gas stations to you, and what their current prices are. This means you can see what the cheapest option is within a few miles, and head straight to that one instead of driving around, wasting even more gas. And if you create an account, you can submit gas prices to help others out who are also in the GasBuddy community. GasBuddy also helps you earn GasBack points to pay less at the pump and find parking too.
How to get there
My favorite mapping service comes from Google. It has all the features you need to get from one place to another, with recommendations for stops in between. Thanks to integration from Waze, you can get real-time traffic alerts and suggestions for faster routes, mid-travel. If you don't know the area very well but need a place to stop for gas, food, or a cup of joe, check nearby locations with Google Maps and take a quick detour without losing your final destination directions.
It used to be that we never left home without a paper map in our pocket or glove compartment, but thanks to mobile devices, we have the world's maps at our fingertips. Sometimes, maps don't work, though, especially if you're somewhere with weak cell service. Maplets is a database of virtual paper maps. Download a map before you leave for your trip and you will always know where you are. You can get visitors maps, ski paths, hiking trails, subway and bus routes, and more. It's the safest way to ensure you'll always be able to find where you are and where you need to go.
Places to stay
If you are looking for the least expensive place to sleep, Priceline is where it's at. You can get great discounts on weekend rates, find deals on off-season trips, and more. The Express Deals offer super deep discounts, up to 60% off, if you're willing to risk it. You won't know who you are booking through until you've already agreed to the deal, but you could save more than half-off your stay. You can also bid on rooms by naming your own price. If the hotel bookers need to fill rooms, they might take your offer, no matter how low it is.
Airbnb is like the Uber or Lyft of places to stay. People offer up their houses or apartments to travelers at (sometimes) discounted rates. You can choose to stay alone, with the owners of the place, or other travelers, and the amount of money you save depends on the amount of privacy you need. When you have a big group, you can all stay in one house together instead of having to rent multiple rooms in one hotel. One great benefit of Airbnb is that you have the ability to stay in unique locations that wouldn't otherwise be available to travelers.
If you're willing to take a risk, HotelTonight is one of the best ways to travel. Every day at a specific time, the app offers extra discounts on last-minute bookings. The app is also full of useful information from the company's travel staff. Pictures come from actual stays instead of nicely lit professional photographers. Recommendations include why HotelTonight travel staff like a particular place, and you can even search for hotels based on criteria like "Luxe," "Hip," and "Basic" to find a room that suits your style.
Things to do
So, you've made it to your holiday destination but now you're wondering what to do before the family festivities begin. Trip Scout, if you're near a tourist destination city, has you covered. It's a travel guide in your pocket. Instead of paying big bucks to have a stranger take you on a tour, rushing you around from one place to the next, and forgetting where you're supposed to go next, Download one of the guided tours and visit popular points of interest at your leisure. Trip Scout is designed with local flavor in mind. Each city has been curated by people that actually live in the area and know what spots are the best. Want to know where the locals hang out or where the best microbrewery in town is? Download the city guide and get a list of sites to visit, an offline map to help you get where you're going, detailed information about the location, and more. Some of them even have audio tours to keep you entertained. Not all cities are supported, but you can put in your request if you're hoping to see a city guide for a particular city.
The app is free to download, but each guide costs anywhere between $1.99 and $9.99, depending on what content comes with it.
If you're traveling and you play Pokémon GO, you've got to take your game with you on the road. Imagine all of the new types you'll collect while visiting Aunt Sherrie in the mountains or your brother at the beach. Pokémon GO is fun for the entire family, so you can take the kids on a Poké walk if they start to get stir crazy, or hit the bars with the grown-ups for a little gym battle fun. Chances are, even if you don't play, the people you are visiting do, and they'll want you to join them in some Pokémon fun.
Harry Potter: Wizards Unite
If Pokémon Go isn't your thing, and you prefer magic and wizards, then give Harry Potter: Wizards Unite a go. It's from Niantic and WB, and it is another AR-based game like Pokémon Go, except you are dealing with the wonderful wizarding world of Harry Potter. You'll find Foundables that you must return to the wizarding world by casting magical spells to free them from Confoundable magic, and battle in Wizarding Challenges to test your magical prowess. Brew potions, battle the Dark Forces with one of three professions, and rescue Harry Potter and friends in this fun and challenging AR game.
If there is any type of entertainment you need to find in a town, you'll find it with Yelp. The peer-review service covers all manner of businesses, from retail shops to restaurants. You can even find out where the best off-road bike trails are. Most locations are also reviewed by people that have been there before, so if you're wondering whether that tourist spot is worth the trip, find out from people that have visited it before.
Whether you're in the car for half the day or on a plane for a few hours, music will help keep you relaxed and upbeat. Spotify is great for keeping the tunes rolling, but it also includes time-wasters like podcasts and stand-up comedy albums. You'll be entertained for your entire travel time, and you can use pre-made playlists to set the background music for your family get-togethers and late-night parties.
Your favorites?
Are you traveling this holiday season? What are your favorite apps to get you where you're going? Let us know in the comments below!
Updated February 2020: Updated for Valentine's Day.
Get the best of iMore in your inbox, every day!
Lory is a renaissance woman, writing news, reviews, and how-to guides for iMore. She also fancies herself a bit of a rock star in her town and spends too much time reading comic books. If she's not typing away at her keyboard, you can probably find her at Disneyland or watching Star Wars (or both).