The best AR experiences for photography right now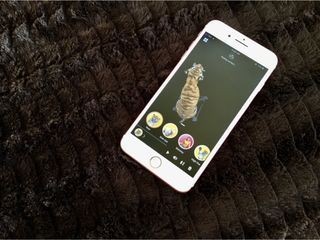 Augmented reality seems to be everywhere these days — from your Snapchat account to your video and mobile games, and now even your mobile photography!
Here are the best AR experiences and apps available for your photography right now!
Bemo
Why you can trust iMore Our expert reviewers spend hours testing and comparing products and services so you can choose the best for you. Find out more about how we test.
If you're looking for an app that lets you truly experiment with AR and your natural surroundings while incorporating photographable, modern characters, designs, and a ton of fun, then it might be worth it to download and play with Bemo!
After you sign up and create your account with the app, you can start creating and placing different AR figured around your surroundings. The app then lets you record or photograph your Augmented reality masterpiece, caption it, and share it across social media or send it to friends and family.
Bemo has a ton of different AR characters and features to choose from: you get everything from animal faces, floating body part emoji (including a butthole that poops on whatever unsuspecting AR victim you see fit and a shaking cow udder for some reason...), stick people with a plethora of emotions, floating pineapples, rock n' roll cotton candy, wine with a moustache and a monocle, crowns, underwear, airplanes, and so, so much more!
Giphy World
With Giphy World, the rules are simple:
Tap an AR GIF to add it to your scene or tap and hold it to draw it in the air
Show off and share your scene by tapping the share button
Then you can record a video or share your scene to link a friend into your Augmented reality world
Giphy World is unique in the sense that it doesn't only allow you to play with individual AR designs or characters, but rather entire scenes of AR ridiculousness and topical, meme-able, internet-popular nonsense — you get sticker packs like 'You have Got to be Kitten Me' and 'Welcome to the Internet'.
'Nuff said.
Holo
If you're looking for an augmented reality platform that steps more towards the realistic then the bizarre and cartoony, then take a peek at Holo — not only is it insanely entertaining, but the hyper-realism of the "holos" (AR drag-and-drops) are pretty dang cool.
The app works like any other Augmented reality and photography app: pick your character, drop it into existence, let the fun ensue! But with Holo, you don't drop cartoon avocados and floating clowns — you drop real-life animals, superheros, belly dancers, men in gorilla suits dancing with bananas, and so, so much more!
Holo gives you category options like featured characters, popular, animals, and #HoloWeen which gives you some gems like the Bae-badook and dirty boy (... yeah, I'll let your mind fill in the blanks there…)
What are your top AR picks?
Is there a particular app you love using that incorporates both photography and Augmented reality?
Let us know what your top picks are in the comments below and we'll be sure to check 'em out!
Get the best of iMore in your inbox, every day!
Cella writes for iMore on social and photography. She's a true crime enthusiast, bestselling horror author, lipstick collector, buzzkill, and Sicilian. Follow her on Twitter and Instagram: @hellorousseau