Best HomeKit Candelabra Light Bulbs 2022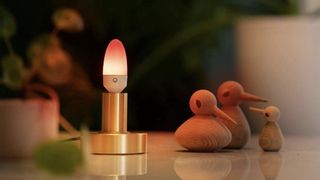 (Image credit: LIFX)
Candelabra light bulbs, those tiny light bulbs that hide in chandeliers and ceiling fans, are some of the hardest to find when it comes to smart lighting. Their compact design definitely makes things harder to produce, which limits options and makes them more expensive. We have tracked down all of the HomeKit enabled candelabra bulbs around to help bring Siri and automations to your small light fixtures.
(opens in new tab)
Philips Hue White Ambiance
Just white II

Philips Hue is a household name due to its fast response times and reliability, and its e12 light bulbs continue this legacy. As its name suggests, the Hue White Ambiance bulb does not support colors. However, it does produce up to 50 thousand shades of bright white light. In addition to HomeKit, these bulbs support Amazon's Alexa and Google Assistant, making them highly flexible. It's considered the best Best HomeKit candelabra light of the year.
Colorful candle

The LIFX Candle Color is the only HomeKit e12 size bulb around that can display more than one color at a time thanks to LIFX's Polychrome Technology. This colorful wonder has 26 individual color zones, making it capable of producing true candle-like effects, keeping it true to its name. The LIFX Candle also supports up to 16 million different colors, perfect for setting any scene that you desire.
(opens in new tab)
Simply white

If color isn't your thing and you still want to consider LIFX, go with the company's smart white candle. It's a perfect solution for any room and also works with Amazon Alexa and Google Home.
(opens in new tab)
IKEA 403.652.67 Tradfri E12 Bulb
Cost effective

Ikea's Tradfri light bulbs are some of the cheapest smart lighting options around, especially if you already have the necessary gateway. The 403.652.67 e12 bulb is a cost-effective white only light bulb that outputs up to 400 lumens of brightness, making them a suitable replacement for most candelabra bulbs. The low price of this bulb doesn't mean low quality, as this bulb's rating is for up to 25,000 hours of usage.
(opens in new tab)
IKEA 903.182.83 Tradfri E12 Bulb
Familiar form

The Ikea 903.182.83 e12 light bulb brings classic light bulb design to the smaller form factor. Instead of using a candle shape, these bulbs come in a round globe, dispersing light more evenly around your space. These light bulbs also support various light settings, such as soft, warm, and cool whites, as well as full dimming capabilities.
Smart and small
Why you can trust iMore Our expert reviewers spend hours testing and comparing products and services so you can choose the best for you. Find out more about how we test.
The best HomeKit candelabra light bulbs in our book are the Philips Hue White Ambiance (opens in new tab), which provides up to 50 thousand shades of bright white light. In addition to HomeKit, it supports Amazon's Alexa and Google Assistant.
If you are in the market for a light bulb that offers tons of colors, and cool effects, then look no further than the LIFX Candle Color. This excellent light bulb can display multiple colors at once through its 26 individually addressable zones. Plus, it can simulate things such as a candle flickering. This bulb also supports standard white lights and solid colors, too, giving you plenty of options to play with.
Looking for a more affordable option? Then check out Ikea's 403.652.67 (opens in new tab) e12 light bulb. These bulbs are the cheapest HomeKit option around, and yet they are still highly capable. Just keep in mind that you will need Ikea's Tradfri Gateway to get them connected to HomeKit. Whichever e12 smart bulb you choose, you are sure to be setting the mood and turning them on and off with ease in a matter of minutes.
You should also take a look at our favorite HomeKit accessories of the year.
Christopher spends most of his time writing and dreaming about all things HomeKit and the Home app. Whether it is installing smart light switches, testing the latest door locks, or automating his households daily routines, Christopher has done it all.
Thank you for signing up to iMore. You will receive a verification email shortly.
There was a problem. Please refresh the page and try again.