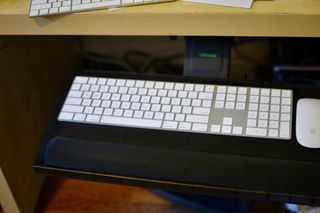 Whether you prefer mechanical, ergonomic, compact, or Bluetooth connected, there's a keyboard out there that's right for you. If you don't like Apple's Magic Keyboard, there are some great alternatives out there that might suit you better.
Alternatives to Magic Keyboard
If you're not a fan of Apple's Magic Keyboard, which comes included with all iMac computers, but want something that has some of the same features, like quick access to Launchpad, there are a few alternatives that are a comfortable transition.
Logitech Easy-Switch K811
Logitech's K811 is my favorite Magic Keyboard alternative because it has three Bluetooth pairing channels. That means, you can pair it with your Mac, iPhone, and iPad (or Apple TV, or another Mac, or whatever you need a keyboard for). It's got a backlit keyboard and uses the Mac layout with keys that are specifically mapped to Mac functions, like Mission Control, Launch Pad, screen brightness, and more. It costs about $90 and is slim enough to store away if you only use it on occasion.
See at Amazon (opens in new tab)
K811 not for you? Check out our other suggestions for alternatives to the Magic Keyboard.
Best alternatives to Apple's Magic Keyboard
Ergonomic
If you type a lot, you're probably looking for something that you can ensure is the most ideal position for your wrists. There are a few great ergonomic keyboards on the market that are meticulously designed for ideal wrist positioning.
Microsoft makes a unique keyboard that has taken all curves, tilt, and cushioning into consideration. It splits the keyboard in half and angles the keys so your reach is minimal and your wrist doesn't have to sit in any awkward angle at all. It curves upward at the middle so your fingers can naturally move toward the center keys without any effort. The cushion padding attached to the front of the keyboard facilitates the correct wrist positioning so you're not leaning upward while you type.
Wirecutter considers it the best ergonomic keyboard on the market.
It comes with a separate number pad and costs about $100.
See at Amazon (opens in new tab)
Mechanical Keyboard
Mechanical keyboards have physical switches that cause that electrical current to be produced and sent to the computer. They have a unique tactile presence that most newer keyboards don't have. If you prefer a mechanical keyboard, there are a few on the market that work great with Mac.
The Das 4 is one of the most popular mechanical keyboard on the market. It's got a significant audible click and satisfying tactile feel. It also features a number pad and over sized volume knobs. The media controls are ideal for gamers and heavy productivity types alike. It also comes with two USB 3.0 ports so you can charge up your devices while working (or playing). It comes in two different styles, one with smart clicks and one silent one. It costs about $170.
Das Keyboard is not your style? Check out our other recommendations for mechanical keyboards for Mac.
Best mechanical keyboards for Mac
Compact keyboard
If you're often on the road and don't like the way Apple's MacBook and MacBook Pro keyboard feel, you can grab a compact, portable peripheral that you can pack alongside your lappy for a typing performance that fits your needs a little better.
1byone Foldable Bluetooth Keyboard
This little ditty is designed for mobile devices, like iPhone and iPad, but works great with Macs. It folds up into a small package 5.8"x3.5"x0.7". When opened up and ready for work, it folds out into a standard size keyboard. It features a standard set of function keys, which double as shortcut paths to such things as cut/copy/paste, audio controls, and returning to the Home screen. It also supports functions for Android and Windows, so if you're a multi-brand household, you can use this foldable Bluetooth keyboard with different devices seamlessly. It's also fairly inexpensive at only about $30.
See at Amazon (opens in new tab)
This tri-fold compact Bluetooth keyboard too weird for you? Check out our other favorite compact options.
Best compact Bluetooth keyboard for Mac
Your favorite?
What type of keyboard suits your style best? Do you have a favorite brand you go back to time and again? Let us know in the comments and tell us why you love it.
Lory is a renaissance woman, writing news, reviews, and how-to guides for iMore. She also fancies herself a bit of a rock star in her town and spends too much time reading comic books. If she's not typing away at her keyboard, you can probably find her at Disneyland or watching Star Wars (or both).
I've got that sculpt keyboard. It's really amazing for it's looks and comfort. Type on it all day and it's a joy. I love when people see it and have this "wtf is that" face because of that huge split in the middle. I just wish the magic mouse looked better with it (hoping Apple has a change of heart and sells the space grey magic mouse from the iMac Pro separately). Microsoft's touch mouse is pretty cool, but it is heavy. My wrist actually started feeling a little sore from it when I used it as my main mouse before switching to a lighter gliding Magic Mouse.
Get the best of iMore in in your inbox, every day!
Thank you for signing up to iMore. You will receive a verification email shortly.
There was a problem. Please refresh the page and try again.