Best Overhead DVD Players 2020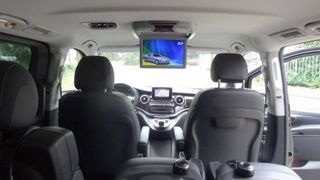 (Image credit: Mercedes Benz)
An overhead DVD player is a great way to keep your children and passengers occupied during a long road trip. With better picture quality than DVD players that fit over the headrest, an overhead DVD player can give you a much better viewing experience. Overhead DVD players are also a lot more secure as they are permanently installed into the ceiling of your car. Here are our top picks.
Summary
Overhead DVD players create a fun and exciting environment in your vehicle. If you are planning to adventure on a long road trip, or have children who become wiggly during drives, then an overhead DVD player may be just what you need. Although these entertainment systems feature screens that are much smaller than the entertainment system in your home, you can still find some that come with screens that are big enough for everyone to enjoy like the 14-inch Power Acoustik PMD-143H Ceiling Mount DVD Overhead (opens in new tab).
The Rockville RVD10HD-GR Flip Down Monitor DVD Player (opens in new tab) is a great choice for any car or SUV as it comes prepared for bumpy journies with its built-in anti-skip technology. If you're looking for a more affordable option, the PYLE PLRD92 9-Inch Flip Down Monitor and DVD Player (opens in new tab) delivers high-resolution picture quality and is also compatible with wireless headphones. Overhead DVD players are an excellent way to keep your passengers entertained on-the-go.
Get the best of iMore in your inbox, every day!
Camille Sanghera is a freelance writer who loves using the power of words to give individuals and objects a voice. When she is not content writing, you can find her running trails with her dogs or writing novels and e-books. Find her on Instagram at @projectpvo.