Best silicone bands for Fitbit Alta HR 2022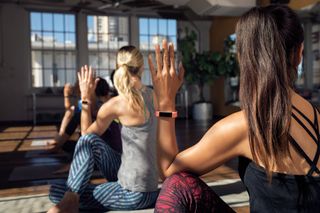 (Image credit: Fitbit)
When fitness trackers first hit the market, they were honestly a little bland. Most of them came with black bands, and there weren't a whole lot of ways you could customize them or jazz them up. Thankfully, we live in a world where Amazon exists, which has quite literally opened up a whole new world of options for customizing your gear. A replacement silicone band is an affordable and practical way to give your Alta HR a fun new look. It should be noted that Fitbit has retired the Alta HR, replacing it with the new Inspire and Inspire HR models. No worries, though; if you don't want to upgrade, you can still find the best bands for the Fitbit Alta HR for every occasion.
Sporty silicone straps
The best silicone bands for the Fitbit Alta HR is worth investing in. Customizing your gear is always a fun thing to do because it makes it so much more personal. If you want to customize your Fitbit Alta HR's strap to match your outfit, then the AK Fitbit Alta HR Silicone Bands can help. This pack offers a generous 10 different colors of bands.
If you're more of a fashionista, you may prefer to have more color options. In that case, we suggest you go with the AK Fitbit Alta Bands, which come in colored multi-packs featuring interesting patterns.
We're also big fans of our overall staff pick, the TreasureMax Fitbit Alta HR Silicone Bands. In a range of single colors like the classic black version above, these offer a simple, practical, and affordable way to replace your existing band.
Amy-Mae has been writing about consumer technology since before the iPhone was even a twinkle in Steve Jobs' eye. She started out in magazine publishing with the UK lads' mag 'Boy's Toys' then moved online with startup Pocket-lint.com as the first full-time member of staff, helping grow the site to one of the UK's largest gadget sites. Amy-Mae then moved to Mashable when it only had a staff of around 10 people. After working her way up to a senior role there, Amy-Mae left in 2014 to have her daughter. Since then Amy-Mae has continued to contribute to Mashable and The Daily Dot, keeping up-to-date with the latest consumer technology and social media trends. For iMore.com, Amy-Mae gets to her explore her love of home cooking, concentrating on all things kitchen tech.
Get the best of iMore in in your inbox, every day!
Thank you for signing up to iMore. You will receive a verification email shortly.
There was a problem. Please refresh the page and try again.