Best Streaming TV Services for Cord Cutters in 2022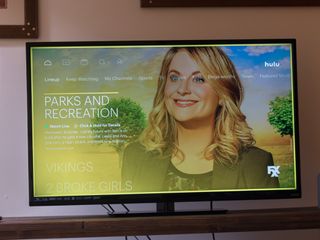 Cable providers have long held a monopoly on what we get and how we receive our content. In recent years, companies have been able to work with some of the bigger channel distributors to make a break from traditional cable packages. Most recently Hulu updated its on-demand services with a live TV option and YouTube is rolling out its own live TV option, including support for local broadcast networks like ABC, CBS, and Fox.
If you've been thinking about unshackling yourself from the cable package limitations, here are the best options for cord cutters right now.
See more on streaming TV at CordCutters.com!
See what channels each service has available
(opens in new tab)
Hulu with Live TV
Why you can trust iMore Our expert reviewers spend hours testing and comparing products and services so you can choose the best for you. Find out more about how we test.
Hulu has added live streaming of cable and broadcast channels to its already enormous on-demand programming. Hulu with Live TV now offers approximately 50 channels for which you can watch live and on-demand shows for a starting price of $39.99. You can also add Showtime to the mix for an additional $14.99.
Hulu with Live TV is currently supported on iOS, Android, Apple TV, Xbox One, and Chromecast, with support for more devices coming in the future.
It comes with support for a handful of broadcast channels in certain areas, like ABC, CBS, Fox, and NBC, but if your region doesn't support it, you might not get support for the big four. You can also watch sports from ESPN's lineup and two Fox Sports channels, as well as NBC Golf and Big Ten.
In the base price, you'll get 50 hours of DVR recording so you can watch TV shows and movies that are otherwise only available live, at your leisure. You can pause and rewind live TV, but can't skip through ads unless you upgrade to the Enhanced DVR package or switch to the ad-free subscription, which will eliminate those commercials altogether.
Hulu with Live TV is currently the most content-rich streaming service thanks to the on-demand titles you've been able to watch all along.
YouTube TV
YouTube is hitting the cord cutter market running with a streaming service for watching live basic cable and broadcast network channels. Currently, it features about 40 channels, including the four major networks, ABC, CBS, NBC, and Fox. It also comes with the ESPN lineup, and even manages to include Fox Sports 1, NBC Sports, Big Ten, and CBS Sports, which covers much of the major sporting events.
For $35 per month, you can watch live content on iOS, Android, Chromecast, Google Cast on smart TVs, or the web. Though Apple TV is not currently supported, Google says it will support more devices later this year. You'll also get a free Chromecast when you sign up, after your first paid month, so you'll be set, even if Google never adds support for YouTube TV on Apple TV.
In the base price, you'll get a DVR recording and cloud storage feature with unlimited hours for up to nine months. You can pause and rewind live TV, but can't skip ads.
Currently, YouTube TV is limited to just a handful of cities, and even if you live close to a supported region, you might not be able to use it.
You can see if you're area is supported before signing up.
Sling TV
The first thing that may excite you about Sling TV is its starting price of $20 per month, but there is more to life than just its price tag.
Sling TV is accessible through an app for Roku, Apple TV, Amazon Fire TV, Chromecast, iOS, Android, Android TV, Windows, macOS, and Xbox One, so chances are you don't have to invest in a device to enjoy the service. Plus it comes with some great channels which include AMC, TNT, ESPN, CNN, History, HDTV and the Disney Channel, so you're bound to find something to keep you entertained.
Sling TV does have a few drawbacks. There is no DVR, so most channels don't let you control playback, and right now you can only stream to three screens at a time, so if you are a family with lots of TVs on all the time that could be problematic.
See at Sling TV (opens in new tab)
DirecTV NOW
DirectTV NOW certainly sounds like an impressive deal; you can get 60 channels for $35 a month or up to 120 channels for $70 per month.
You can even get local shows depending on where you live. Certain regional sports programs, as well as regional divisions of networks like NBC, are available in the major cities plus you can add premium channel like HBO and Showtime for only an extra $5 per month.
It's available on Apple TV, Fire TV, Android, iOS, LeEco Android TVs, and Chromecast for Android Phones. For a limited time, DirecTV is offering a free 32GB Apple TV 4K with a four-month prepaid subscription. Not a bad deal considering the 32GB model costs $179.
See at Direct TV (opens in new tab)
Need more cord-cutting ideas?
With the holidays coming up we've found some of the best gifts for cord-cutters if you need some inspiration!
Updated February 2018: These are still the best TV streaming services avaiable for cord-cutters!
Get the best of iMore in your inbox, every day!
Lory is a renaissance woman, writing news, reviews, and how-to guides for iMore. She also fancies herself a bit of a rock star in her town and spends too much time reading comic books. If she's not typing away at her keyboard, you can probably find her at Disneyland or watching Star Wars (or both).
DirecTV Now has its own drawbacks: no DVR yet and only two screens at a time.

There's also the CableTV pricing structure that has me turned off. I signed up for Playstation Vue so I could watch my local NHL team (Hurricanes). The frame rate drops when watching on the Vue app, but I can use the account to log into Fox Sports Go where it runs much more smoothly. Sling TV comes in cheaper with the Blue Package (includes regional Fox sports station), but I can't use it with nearly as many "sign in with your cable provider" apps, so I think the extra $10 is worth it for the time being. I'll most likely cancel my service when Hockey finishes, and sign back up when the next season starts. I have zero interest in switching to a service like DirecTV Now where my bill suddenly shoots up after a year or if I cancel and renew.

The bill doesn't shoot up after a year for DIRECTV now. Sent from the iMore App

It states specifically on their site that as long as you don't cancel or change your plan you won't lose the introductory rate. I imagine when they figure out how to tie in the NFL package with it that might be considered a change to the plan, therefore you will lose the introductory rate, but you are right we will see.

I have prepaid for 3 months of DirectTVNow as of yesterday. It is a product that the bugs have to be worked out of. Worst case scenario I receieved an apple tv for 105 dollars of directtvnow service and I can sell it to come out on top. Another reason I jumped on board is because it is only 35 dollars a month and if they work the bugs out (like they have been doing) 35 dollars a month for the service will be a steal for 100 channels. You get to keep the introductory rate as long as you continue to subscribe month to month so getting onboard before the intro rate disappears was important to me. HBO is a 5 dollar add on with this service so I cancelled my HBO now service which is 15 dollars a month. Currently my tv entertainment bill is about 180 dollars a month including internet and if this works out with directtv now and hbo go my bill will be down to 130 a month.

I have been using both DIRECTV Now and PlayStation Vue on the 4th gen Apple TV. DIRECTV Now's price is much better and you get more channels, but you currently can't stream NBC on the Apple TV app and there is NO DVR! That is a huge reason why I prefer PlayStation Vue over DIRECTV Now. PlayStation Vue also supports app sign in for pretty much every channel app, but as for DIRECTV Now you can only log in to about 8 channel apps at the moment. Both services don't support single sign on which I hope changes. One big drawback with PlayStation Vue is that they lost the streaming rights to Comedy Central, MTV, VH1, BET, Nickelodeon, and others. If you watch those channels then DIRECTV Now has you covered. PlayStation Vue has CBS, NBC(you can stream on Apple TV) and NFL Network channel and you can add the RedZone package which you can't get on DIRECTV Now. If you want more channels for a cheaper price then I would go for DIRECTV Now, but if you want a really good cord cutting experience with DVR then PlayStation Vue wins at the moment. I do believe that eventually DIRECTV Now will gain more functionality and might end up being the better service.

Can anyone confirm sign on to any affiliate apps with DTV Now?

Yes, DTV will let you login to websites.

DirecTV Now is best option for me. Since I have ATT wireless with Unlimited Plus it only costs me $10.00/month with HBO.

How about some ideas for cord cutters in Canada ??

Our Xfinity contract was up this last month and we were seriously looking at going cable-less for the first time. Ran into one big drawback for those of us with nice sound systems. None of the these streaming services other than Netflix (which isn't recent shows though like Hulu or Sling) offers surround sound of any kind even though the shows were broadcast with it. We ended up re-signing a new contract. Another two years at actually $20 less than we paid for the same package for the last two years and roughly the same cost as when we first bought the package 4 years ago except they've quadrupled the internet speed in that time at no charge.

I like "the cord". Fast internet, all the channels I want, plus we can watch on any device in the house. On as many devices as necessary. I can be watching multiple games (TV and tablets) wife is watching a movie, daughter is watching something else on Netflix and Skyping with friends.

No mention of your "Philio" thing? That sounds best for people who watch zero sports, and don't want to pay the ESPN tax.

Once the FCC axes Net Neutrality I can see the telecoms blocking access to theses. Or charging a ridiculous amount to do so. They already charge too much for just broadband when you don't get cable tv (or the Internet phone. Seriously, guys? I'm going to pay for phone service when I already have cell phone service now?)

It's not blocking access. Part of what they've already done to slow this down is the 1TB CAP. If you want the Unlimited that they took away, then it's another $50 a month. So they're getting your money either way. So Net Neutrality didn't stop that. It also didn't seem to stop them from slowing down Netflix unless Netflix paid them. Double dipping in effect. I do still have Home Phone Service, but I changed it many years ago to VOIP, using a OOMA box. So I still have the same phone number I've had for a very long time in another town. Then my Dad Moved into my house, and I had his Home Phone Number that he's had far, far longer also transferred to my OOMA box, and he was in yet another town. Phone Prefixes these days are pretty meaningless. They no longer work to tell you in what town a person is calling from. So I have to pay for the OOMA Premium service having 2 phone numbers, but it's only about $15 a month. With one line, you don't have to get it, but you do have to pay the monthly phone taxes which depending on where you live is around $4 a month. Even though I and my Dad both have iPhone 6's and could probably drop the Home phone service. Most everyone knows our Cell Numbers by now. I'll have to give it some thought. When I got my house about 5 years ago, the first thing I did was throw up a large Antenna to get all my Local Channels LIVE and for free. I'm on my roof looking around at other houses and I don't see anyone else with an Antenna. Then I have a TIVO for a DVR. These days there are other DVR options like SimpleTV, or Tablo, even ChannelMaster DVR+, which is one where there's no subscription charge. Tivo has a number of times, maybe even now, you can get a Roamio with LIfetime service Included for a really good price. When I got mine, I paid $299, that was with Lifetime service. it might be $399 now. I'd have to go look. Have that in my Family room and cheaper Tivo Mini's in the Bedroom. It's almost like having the full Tivo in every room. I can start watching in one room and finish in another room. Getting most of my TV from an Antenna means I'm not wasting my Data Cap on that stuff!!! Besides the quality is better as it's not as compressed. I get the Major channels in HD and 5.1 surround sound, so ABC, CBS, NBC, FOX, CW, PBS, along with MeTV and AntennaTV and some others. My TIVO is always busy recording stuff. My Dad had Satellite TV service. He wanted to get that at my house. I told him to hold off, I didn't really want it. Wait and see how he likes what I have. That's why my TIVO is always recording stuff. A lot of the old shows on AntennaTV and so forth he's watching. You throw all that in and Netflix and all it's great Original content. I sure don't have time to watch it all as it is. It's already TV overload. I'm sure not going to pay someone else for a channel Bundle. It'sd almost no different than your cable company, other than you're now paying someone else. Really, what you can't watch, you can't miss. If there's something you really have to see, you can in geneal get a season pass. LIke I'd get "The Walking Dead" on Amazon. A new Eposode is on AMC on Sunday night, and I'd watch it on Amazon on Monday Night and commerial free. Plus I own it and can watch over and over. I'm also a fan of GOT on HBO. These days, you wait for the season to end or almost end within 1 episode and then you sign up for 1 month of service for $15. Then Binge Watch the whole season in HD. Makes it kind of a good deal at $15. Whatever time in that month you have left, catch up on some other things if you want, then Cancel and the following year, another $15. So there's real things you can do, to actually save money. If you're doing a lot of streaming for TV, especially with more then 1 TV at a time, you'll blow through that 1TB cap. I'd rather save that for more important stuff. Like Netflix!!! Online Gaming, etc.

Hey Renee - as choices are much more limited up here in Canada... and you are here as well... it would be great to get a Canadian version of this article.

You should redo this article as there are more choices available now. FuboTV especially, which I think is fantastic for sports streaming, and to get local channels.

SlingTV does have a cloud based DVR. It is also the only service to offer NHL Network. I think the interface is the best I've used yet.

Still none of these offer surround sound even though the shows are broadcast with it. Until that happens, "cord cutting" is going to be a no-go for me. 1/2 the experience is the sound when you have a good audio system. Yeah my system can "fake it" reasonably well......Star Trek Discovery on the ABC app was only in stereo and I ran it with DTS:Neural:X but all my cable stuff from cable channels and networks is still much clearer and better quality sound.

I prepaid 4 months of DirectTVnow this past November for the free 4K Apple TV. It was the longest 4 months of my life. The service was just terrible. Constant buffering, constant loss of signal. It was unwatchable. Do a google search and you will see DTV has been suffering with quality issues from their beginnings. I am now back with SlingTV where I have zero issues.

Directv Now sucks. Shows that aired weeks ago are still not available to stream. I signed up and prepaided for 3 months to get the free Apple TV. Which is a good deal, I admit but I don't use Directv Now because it's so bad. I've been using YouTube TV and have been pretty happy with it. I plan on cancelling Directv Now as soon as the 3 month prepaid term is up.

question: We are snowbirds..I"ve not been able to get a clear answer on this from Youtube. With Youtube LIVE TV, if I set it up while at home with local channels and local football team (Packers), will I be able to access those same local channels and local games (which are not blacked out here in GB)? I want to be able to do this remotely, and I know about the logging in from home every three months. That won't be an issue...I can have my stepson do that from our Apple TV app here at home. Any guidance?