Best Valentine's Day apps for couples: OpenTable, Avocado, ProFlowers, and more!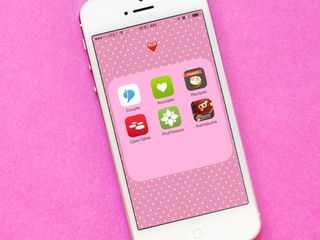 Valentine's Day is almost upon us and for those out there with significant others, it's a time to enjoy each other and remember what brought you together in the first place. There are lots of apps to help you make this Valentine's Day the best one yet. Here are my favorites for Valentine's Day 2014!
Avocado
Avocado is a social network for couples that's completely private and viewable by only the two of you. Invite your partner and then enjoy a digital place to share notes, photos, and more. Avocado comes standard with a calendar to help you remember important dates for the two of you while the list feature lets you create checklists of anything you want. Use them for vacation getaway ideas, date nights, and more.
If you want a private place to share thoughts and memories with your significant other, Avocado tops the list.
Couple
Couple and Avocado are similar but unique by design. Both carry similar feature sets and give you a private place to communicate with your significant other through messages, photos, and videos. Avocado does planning and calendar views better while Couple does media streams and real time chat better. Both are great options so just choose the one that best suits you and your partner's style.
If you're looking for a private place to chat regularly with your partner, check out Couple.
ProFlowers
ProFlowers is one of the easiest ways to send flowers to loved ones and comes from the same makers of Ink Cards. Just select from one of the beautiful arrangements they have available and enter in your info. Some orders even come with teddy bears, chocolates, and other items. Upon checkout you can set the delivery date as well so your flowers arrive just when you want them to. In comparison to other services, I've found ProFlowers to be extremely reasonable in price. They guarantee all flowers for seven days.
If flowers are on your Valentine's Day checklist this year, ProFlowers is the easiest way to acquire them.
Foodie
If you're choosing to stay at home and cook a romantic dinner for your partner this year, Foodie has a lot of great ideas on romantic meals for two. From snacks to appetizers to main courses, Foodie has lots of ideas for you to choose from so you can enjoy the perfect meal without ever having to leave the house. All recipes are also paired with beautiful photos and easy to understand steps from start to finish.
For those that are dining in this Valentine's Day but want recipe ideas, Foodie is what you want.
OpenTable
Not all of us are great in the kitchen and if you're heading out for Valentine's Day, OpenTable can help you find the perfect spot. Not only that, most restaurants also let you book the table right through the app. Some of them even have viewable menus.
If you need to book a table for Valentine's Day dinner, get OpenTable.
Pocket Kamasutra
While dinner and flowers are great, the whole point of Valentine's Day is to spend time with the person you love most. And if you're lucky, Valentine's Day also includes time for sex! If you're looking for an excuse to try something new, what a better day to try it than Valentine's Day? Pocket Kamasutra has hundreds of positions and lots of tips and tricks to help couples spice up their sex life. You can even track your progress and mark off the positions you've tried or mastered already.
If you're looking to spice up your Valentine's Day in the bedroom, look no further than Pocket Kamasutra.
Your picks?
If you're planning a Valentine's Day to remember for your special someone, what apps — if any — have you been using? Let us know in the comments!
iMore senior editor from 2011 to 2015.
@Ally Me and the misses have been using the Couple app regularly for about 7 months now. It has definitely added a "spice" to our relationship for sure. Its like a private getaway for us to discuss and share things that we never used to through iMessage. I reccomend it to all. :)

Nice recommendations! Happy Valentine's Day! Sent from the iMore App

I think the app "Amare a couples game" deserves to be mentioned in this article.
Its an app that gives you 14 romantic challenges to complete, they are not all easy, but its great fun.
So if you want to turn up the romance - check this app out
https://www.imore.com/e?link=https2F2Flinks%2F1...

LoveByte (http://lovebyte.us) is also a suitable app for couples who may spice up their relationship by suggesting to each other fun date activities via the form of a scratchcard. :) The recipient will have fun unveiling the sweet surprise and spend quality time together offline!
Get the best of iMore in in your inbox, every day!
Thank you for signing up to iMore. You will receive a verification email shortly.
There was a problem. Please refresh the page and try again.