Best Valentine's Day apps for single people: Tinder, Grindr, porn, and more!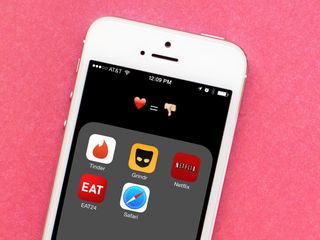 If you don't have a special someone to spend Valentine's Day with this year that doesn't mean it has to be a wasted holiday! From getting takeout and spending Valentine's Day holed up at home to getting out on the town and meeting other singles in your area, there are apps, and porn, to keep your time plenty occupied. So regardless how you want to spend your Valentine's Day, we've got the apps you want...
Tinder
Tinder has quickly become one of the most favored dating apps amongst women because it's not as spammy as many of the others. For folks that value privacy and don't want random messages cluttering their inbox, Tinder boasts great privacy controls including only letting mutual likes message each other. This should greatly reduce the amount of 'hookup' messages you receive and immediately junk.
If you're serious about looking for someone but don't want the junk and hookup messages that typically come with it, check out Tinder.
Grindr
If you are a male that prefers the company of the same sex, Grindr is one of the best male dating apps available. Lots of people use it and the odds of you finding someone locally are greater than with other services. The design is also much less annoying and cheesy than that of many other dating apps.
Whether you want a quick hookup, something more, or just someone to vent to about how much this holiday sucks, Grindr is a favorite amongst the gay male crowd.
Eat24
Eat24 is a takeout app that's loaded with tons of restaurants and menus. It also integrates Yelp reviews so you can check out what other people are saying. It isn't available in all areas but if you live in a pretty populated urban area, I'd be willing to bet you'll find restaurants that are using it.
If you want to stay off the grid this Valentine's Day, Eat24 will make sure you don't starve.
Netflix
Who wants to actually go to the movies, or go out at all, on Valentine's Day? No one unless they're with a date. That's where services like Netflix come in. Spend your evening watching movies or catching up on your favorite shows uninterrupted.
If you want to occupy your time on Valentine's Day from the comfort of your own home, Netflix is a must-have.
Free (requires subscription) - Download Now

(opens in new tab)
Porn!
There aren't actually porn apps for the iPhone or iPad but there are tons of websites that work just fine. So if that's your thing and you have firmly decided you need no one else to have a good time, load up mobile Safari on your iPhone and iPad and simply type in the search bar iPhone/iPad porn. You'll get plenty of results that'll keep you busy for the evening. You can even enable private browsing if you want so no one would ever be any the wiser.
If porn is your thing, mobile Safari is all you need.
See also:
Your picks?
If you're single this Valentine's Day, how do you plan on spending it? Are you going with the stay at home approach or are you heading out with your other single friends? Let us know in the comments what apps, if any, you're planning on using this Valentine's Day!
iMore senior editor from 2011 to 2015.
Bookmarked! Thanks Ally Sent from the iMore App

First off, Porn. LOL. Second, Netflix is going to be my date tomorrow. House of Cards season two FTW!

Valentine's Day... BAAAHHH! Humbug. Sent from the iMore App

Great article and good read! :)

Porn is all I need on any holiday.

It's simple really, tomorrow is Friday, which means it's also payday, which means I don't care what other label is plastered to it. It's a day, just like any other. But Netflix is great. Sent from the iMore App

I'm kind of disappointed there were no porn site recommendations in this article. Where are the journalistic standards! Sent from the iMore App

Youporn has a mobile website for all your porn needs

iMore, you've just gone wayyyyy up in my ratings just for making a section on porn.

Even though I'm sure we are all adults, I couldn't help but laugh at little at the porn review. Haha either way Happy Valentine's Day to all, single or couple. It's my birthday so I've never really had to worry about these things. Kinda been my cop out haha

First the article about smart phones and sex lives and now porn on Valentine's Day. God I love Mobile Nations. Posted from my TARDIS!

ahahaha guess porn will do it

Take a cup of coffee and enjoy alone;)
Get the best of iMore in in your inbox, every day!
Thank you for signing up to iMore. You will receive a verification email shortly.
There was a problem. Please refresh the page and try again.