CBS launches app for streaming full episodes of shows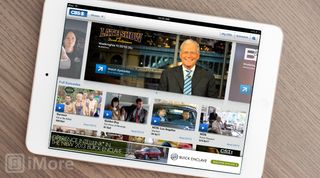 CBS has launched a new app for iOS that streams full episodes of several primetime, daytime, and late night shows. Programs such as NCIS, The Big Bang Theory, and The Late Show with David Letterman are all available. CBS says that episodes of daytime and late night shows will be available within 24 hours of their initial airing, while primetime episodes will be available after eight days. The CBS app also has "second-screen" experiences for select shows.
CBS is the last of the major US broadcast networks to offer its own streaming app. NBC and ABC have each had an app for years, and FOX launched theirs last fall. CBS has historically been slow to embrace the internet, but this offering is a step in the right direction. While the eight-day delay is less than ideal, CBS is finally providing users with content on a more flexible viewing options than in the past. The CBS app is available for free right now on the App Store as a universal app for both iPhone and iPad.
Source: CBS (PRNewswire)
Get the best of iMore in in your inbox, every day!
Joseph Keller is the former Editor in Chief of iMore. An Apple user for almost 20 years, he spends his time learning the ins and outs of iOS and macOS, always finding ways of getting the most out of his iPhone, iPad, Apple Watch, and Mac.
Is it AirPlay compatible?

No AirPlay - but does play via display mirroring.

Not ideal but better than nothing.

will that work in canada?

I wouldn't expect it to... but if it does, enjoy it.

was wondering the same...

Awesome, now if I miss an episode of Big Bang I can catch it later, now if only AMC would embrace that for their shows.

Especially for The Walking Dead! That would be the best because there are times when I make sure I am home in time to watch it.

Cool app! You made me wanna fly to US now! There's simply too many apps not available in my country App Store!!!!

Finally! Now if SyFy and Travel channel would do the same my iPad would be the perfect TV center.

Nice to finally have it. Curiously, though they say the eps are in "HD" when I tried viewing the most recent Survivor ep, via my 4g mobile hotspot, it looked awful blocky to me..... But still, nice to have.

I just read an article in length from another source the CBS is making a huge leap to developers to develop new apps at a very fast pace for more of this content for IOS devices.
I use several of their news and live radio apps now on my iPhone 4s and like them very much. They are current and work very well with frequent updates.

Step in the right direction. But I hate having a new app for a new channel. They should be consolidated in something like Newstand but for television.

That something like NewsStand but for TV would be called "BoobTube" :)

And there you have it. The "appification" of TV has become a thing, even with legacy broadcast networks. And maybe the small screen (iPad) is the new television set. Everyone in the household can watch what they want, whenever they want, and there will be less contention over the big-screen TV in the living room. If everyone has their own iPad, which of course is Apple's goal. And maybe Apple will want to first work out all the details of delivering TV, through iCloud, to our iPads first. Then, when that's up and running, they might consider building an actual 50" to 60" TV set. Or will it just be a huge Cinema Display connected to a Siri-equipped Apple TV?

Apple has those details for delivering TV... called iTunes and season passes & per episode buys.

Except for the whole contracts-with-content-providers-and-other-deeply-entrenched-legacy-television-industry-insiders thing.

Downloaded. It is a nice and simple app. It is nice to see a few full episodes without having to be subscribed to Warner Cable or any other cable company for access. Now I don't have to worry if I miss the latest episode of CSI Las Vegas. :)

AirPlay Mirroring is not really the same as AirPlay out, that is until the next generation of iPad is more 16:9 like our TVs are. But, I'll take this app any day, if just to watch more NCIS. It's about time that CBS finally came up with an app (since the other networks already had theirs for quite a while). My wife has been asking how to watch missed episodes of her favorite soaps, and it hasn't been the same since we retired our Windows Media Center PC (which offered a lot of internet streaming channels with the TV tuner).

Sweet! Now I can watch reruns of The Big Bang Theory on my iPhone (that is, when I'm not watching it new on CBS, rerun on TBS or any of the million local affiliates that air older episodes). :)

WOW! Thanks so much for the heads up! This app is wonderful. My wife an I really love the CBS shows. It is nice to be able to watch then on our iPad now. We get frustrated when some of the shows we love are not on netflix and hulu plus. Now we will be able to watch an episode of "how I met your mother" if we missed it when it aired. We love that show!!!

Shocking to see just how short the actual tv shows are. I'm watching an episode now, and it's 43 minutes in length. Correct me if I'm wrong, but by my calculations that leaves 17 minutes for commercials.

Yep. And a half hour sitcom clocks in at around 22 minutes...

That's 43 minutes with the commercials in the stream... I like my iTunes season pass for my must watch shows - no commercials at all :)

What a great article. I like how networks are moving more seriously to Tablets and Smartphones. Not only does it help revenue but it helps bring wanted content to their viewers who may or may not be able to watch their show on a television at the time. The best part is now I can watch reruns of the latest episode quite easily without having to hunt for it online which means they get more viewers more easily.

Too bad CBS blocks streaming to other countries like Canada. Ironic that I can get CBS through Cable or Dish but I can't stream. Guess they want to be sure to get their hands on my hard earned $$$. Haha.

I'm glad these networks are starting to wake up and allow streaming on the iPad.

Sweet! Most of my favorite shows are on CBS. Looking forward to giving this app a test drive.

Does this make you login to the Cable Provider ?
This is awesome.

I would love to see Person of Interest on-demand and was hoping that this new app would give access...but...alas...no POI.
Thank you for signing up to iMore. You will receive a verification email shortly.
There was a problem. Please refresh the page and try again.