Comic: Social Justice Battledroid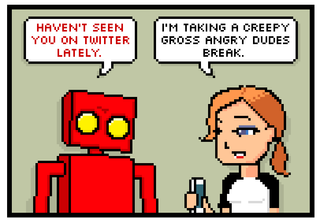 Happy Saturday, iMore! Because Rich is awesome, he's letting us run some of his Mac-themed comics from the Diesel Sweeties archive on weekends. Bonus comics, woo! We hope you enjoy.
Read more comics from the Pixel Project on iMore.com.
Get the best of iMore in your inbox, every day!
Pixel lover and cartoonist. Still have my original Apple IIgs. See more at clango.org or follow him on Twitter @rstevens.
Hahaha, if only. Like I've heard many times over the years: Whoever invents a way to successfully punch people in the face via the internet is going to be rich.

1st panel made sense, last 3 no clue. I'm either old or anti-social, probably both.

Normally I defend these comics. This one is basically saying, "Kill people who you disagree with, because they threatened to do the same to you". Not literally saying that, but you get the point.

Wow I can't even follow this crap fest...

The last 3 were pretty good. You seem to be getting better at these.