Common Movies Anywhere problems and how to fix them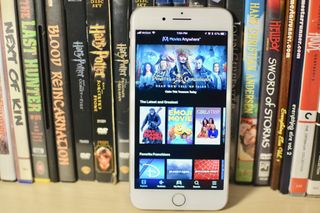 Movies Anywhere is a service that allows you to get all your digital movies from participating studios on the major platforms. This allows Android users to free their digital movies from iTunes purgatory, gives Apple TV users a chance to watch their Amazon movies, and allows multi-platform users to get their movies on all their devices. It's a great idea, but it's a new service, and as with all new services, Movies Anywhere has bugs and issues that it's trying to work out. Here are the current issues facing Movies Anywhere.
My movies aren't showing up
Movies Anywhere was originally Disney Movies Anywhere, just for Disney, Marvel, and Star Wars movies. Now, Disney has managed to talk other major studios to joining them on this venture, but it's a long way away from getting every studio onboard. These are the studios currently supported on Movies Anywhere:
Disney
Sony Pictures
20th Century Fox
Universal
Warner Brothers
Hopefully, more studios will see the benefits of Movies Anywhere as these five studios have, but until then, our digital libraries on Movies Anywhere are going to be ever so slightly incomplete. If you're preparing to buy a movie on Google Play and want to ensure it's Movies Anywhere-eligible, look for the Movies Anywhere logo on the listing alongside the badges for closed captions and Family Library. Currently, iTunes does not have an identifying logo, but you can be sure to purchase an eligible movie if you buy it through the Movies Anywhere app first (though you may not be able to buy it in 4K).
Eligible movies not syncing
When you're first connecting accounts, it can take a while for your movies to sync, especially if you've got an extensive library. Movies Anywhere has some syncing issues between supported retailers, and while unlinking and re-linking accounts has helped some users get things syncing quickly, we do not recommend it.
Here's an example of why we don't recommend it: If you need to move your Movies Anywhere connection from one Google Play account to another, you'll have to wait six months between disconnecting from the old account and connecting to the new one, as Movies Anywhere only allows you to connect with one account each participating digital retailer for 180 days.
If you just bought a movie, give it half an hour to sync. If you're still having issues, contact Movies Anywhere support for help.
What's wrong with the Android TV app?
Movies Anywhere is available for Android TV right now, and it will allow you to browse your library. Unfortunately, it is not streaming any movies or bonus content, which makes it pretty useless. Hopefully, the app will be fixed soon, but until then, Movies Anywhere supports Apple TV and Chromecast, so you'll have to use one of those, instead.
Special Features and missing/mislabeled
Some movies, especially movies from Disney Movies Anywhere, seem to be missing many of their special features, and many special features are unlabeled, leaving you just a screenshot to guess by. The database will hopefully be cleaned up and properly labeled as time goes on, but if you notice anything amiss with your special features, make sure to contact Movies Anywhere support so that they know what they need to fix.
Your experience
How was your experience with Movies Anywhere been? Let us know your comments and concerns in the comments!
Get the best of iMore in your inbox, every day!
I have a common Movies Anywhere issue that is not listed here. I keep seeing ads for them disguised as content. Can that PokemonGo block thing be updated for this? I'm not saying it's every article, but I don't come to iMore to get help with a service I don't plan to use.

I only moved two of my libraries over - Amazon Video and Disney Movies Anywhere since they were the smallest. 4 of my movies from DMA are not appearing either on the website or the app. I've reported it to Movies Anywhere but response time is very slow. Right now I don't have the confidence in them to move my VUDU or iTunes libraries.

Go ahead and link them all. DMA will be fine, just give it time. It's not like your iTunes or Vudu movies disappear from inside them. I have titles in both iTunes and Vudu from unsupported studios. All movies with supported studios appear fine. Seems as if MA, Amazon, and Vudu were the fastest, with iTunes taking 30-45 minutes to sync up. Even during the syncing, all titles area available in the original store in which you purchased them in.

You're right that it will eventually work out. Just surprised that I'd have trouble with DMA and more surprised at the poor customer service. I already figure I'll have some problems with VUDU and iTunes but again, you're right that at least my titles will be in the original store so I can always go back to VUDU and iTunes. Definitely will take some time to search out a movie until all the studios are on board - before I just had 3 to look at now with MA it's 4. But thanks for helping me keep it in perspective!

Is there a way to merge movies with my family? For example, my brother and I would like to share movies but how would we link our itunes, etc accounts so that all of our movies from our separate itunes libraries are available to both of us?