Contest: Enter to win a Pebble Steel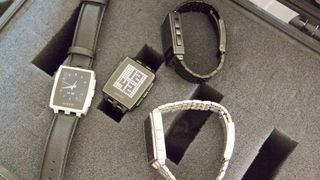 Pebble announced their new premium device today dubbed Pebble Steel. Available in Black Matte and Brushed Stainless, the Pebble Steel builds upon the original device adding more smartwatch style. With Gorilla Glass, an anti-fingerprint coating and interchangeable bands — the Pebble Steel is a smartwatch that anyone would love to show off.
If you're not quite ready to pull the trigger one buying a new Pebble Steel just yet, you can enter for a chance to win on from Smartwatch Fans right now. Actually there's not only one chance, but THREE. So head over to the contest page here for all the details on how to enter.
Get the best of iMore in your inbox, every day!
Editorial Director - High Yield
Getting his start writing about BlackBerry in 2008, Adam is the Editorial Director of High-Yield content at Future. Leading an outstanding team, he oversees many of the articles the publisher produces about subscriptions and services – VPN, TV streaming, and antivirus software. From buying guides and how to watch content, to deal news and in-depth reviews. Adam's work can be seen on numerous Future brands including TechRadar, Tom's Guide, T3, TTR, Android Central, iMore, and Real Homes.
I'm in. I could so use this!

As a backer of the first pebble, it would be awesome to have this for my formal occasions!

Thanks for the heads up. Would def like to win this device. In the need of a smart watch lol

I'm not sure if I'd really get into the idea of wearing a watch again but I'll give it a try

Pebble has me wearing a watch again. I'm proud to be an early backer and would love to win the new version.

Would love one of these, that black matte is beautiful

I would love the black one!!! Sent from the iMore App

The matte black one looks nice. Hope I win. Thanks!

The STEEL is REAL. I'm all in for the WIN

Awesome giveaway! I would love to win one. Keep up the great work. Sent from the iMore App

Really digging the Black Matte design.

Now this looks really cool when you compare it to original Pebble... So want one...

I haven't worn a watch since I got my iPhone 3G... I wouldn't know how to behave w/a watch on my arm again. xP Sent from the iMore App

I want a Pebble! Sent from the iMore App

Beautiful, apple quality Sent from the iMore App

This is exactly what I've been waiting for; a classy, metal, sophisticated looking smart watch that doesn't make me look like a huge nerd.

I'm in Sent from the iMore App

I want one!!!! It looks very nice!!

Wow that looks nice! Black Matte looks sleek! :D

Very nice! I want one yesterday! Sent from the iMore App

So nice. Hope to get my hands on a matte black one.

Awesome stuff! I wanna join the cause :) Sent from the iMore App

I'd love one of these new smart watches! Sent from the iMore App

I'm so glad bestbuy didn't have the black pebble in stock when I was trying to get it this past Christmas. I'm going to get this one for sure. Even better if I get it from imore

Awesome I want this watch so bad!

This an elegant and intelligent timepiece. It marks a new era.

Pebble Steel in Black Matte looks awesome..

These are so beautiful!!! If I could afford to buy one I would but I am a very hard worker and have to many bills. I would love to win something!!!

wow that is a nice watch it'll be good for when I go to junior high this year.

I love these giveaways. Thank you imore