How to create amazing music playlists on your new iPad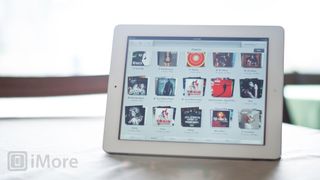 Creating amazing playlists of your favorite songs, right on yournew iPad ensures you're always listening to great tunes that sound great together. Whether you synced your music over from your iTunes library, re-downloaded it using iTunes in the Cloud, or gone all in on Apple's music-locker service, iTunes Match, playlists let you keep it organized and harmonized.
How to create a custom playlist
Launch the Music app on your iPad
Go to the playlist tab and tap New in the upper right hand corner.
You'll be prompted to enter a name for your playlist. Name it whatever you'd like and then tap Save
Now you can tap any of the tabs along the bottom to look for music you want to add to the playlist. Simply tap the plus sign next to an album or song name to add them to your playlist.
Once you are done adding music, tap Done in the upper right hand corner.
If you need to edit your playlist (delete or add songs), simply go into the playlist and tap edit in the upper right hand corner.
How to delete playlists
If you don't want a playlist on your iPad anymore, you can easily delete it directly from your device.
Find the playlist you don't want anymore.
Hold your finger down on it and a black "X" will appear in the left hand corner of the playlist. Tap it to delete it.
How to create a Genius Mix
iTunes can automatically generate playlists based on your current song selection. These are called Genius Mixes, as they use Apple's Genius recommendations engine.
You can simply pick a Genius Mix to start listening to it and you'll automatically hear great music that sounds great together. You can also create your own Genius mix by picking any song in your iTunes library to play. Once the song starts, just touch the Genius icon next to the song tile of the current track. If there are ample songs in your library, iTunes will build a new Genius playlist based on the current song.
Additional resources:
iMore senior editor from 2011 to 2015.
I have been exploring for a little for any high quality articles or blog posts in this sort of space . Exploring in Yahoo I eventually stumbled upon this site. Reading this information So i am glad to express that I have a very excellent uncanny feeling I discovered exactly what I needed. I most unquestionably will make certain to do not omit this website and give it a look regularly.

There is a Muslim academy in Mansfield on Church street. It is at the sight of old St Mary's. Many of the teens who attend al-Noor Academy will be seen waiting for the train to take them home in Boston, Sharon or points further north. The funny thing is watch the teen girls carouse, when they want to tease each other they rip off their head scarvesapparently this is very embarrassing to them. They boys merely laugh. When I walk through the park near the train station I usually have my dog Sasha with me. She is very shy with strangers so I dont linger but like many children of foreign born immigrants they have warmed up to our national love for dogs. They arent that talkative with strangers thoughbut they are teens and every teen has that same special set of instructions-trust no one over thirty, dog or not.I have read that there is a cultural opposition toward dogs amoung muslims and non muslims from the middleast and central south asia. The kids though may have left the old world mentalities, in the corner wtih grandma. They speak English so I dont have to worry about trying out my rudimentary Arabian (salem-malkim).But like all teens they kept to themselves. There are is a family that runs a couple of the gas stations in town and had sons who fought in the war against Israel in Lebanon a few years back (they were reservists and still citizens of Lebanon). I spoke to them they are like all soldiers and service personnelthey hate Army food and foxholes. They also expressed not blaming Israel over fighting against the Hezboallah terror cells in south Lebanon and blame the terror groups for ripping Lebanon apart over the last forty years. I told them my friends were shooting those same terrorist positions from the decks of the USS New Jersey back in 1984-1986 after the terror attack on the US Navy's barracks in 84. These young men werent even born yet and tesitiied that their parents fled Lebanon due to the Hezboallah. It's all about the common ground. Dogs, army rations and what our parents and grandparents had to leave to get safe. I told them my grandparents left Italy in 1920 when the facists took over that country. My father never met his grandparentsthey stayed behind and assisted his cousins and uncles fight against Mussolini and later the Germans.They understoodit's common ground

You can put Newsstand in a folder if you put it in one directly after having created a new folder. Try it and feel empowered. Regards The Mac Man

Stop saying it isn't as smtooh, it's just faster than the iphone browser. I honestly think that if the iphone were to scroll as fast as android OS in the browser, iOS would checkerboard. Nobody wants to scroll 5 times to get to the end of the page when u can do 1 scroll.

Great site. Lots of helpful information here. I am sending it to several pals ans additionally sharing in delicious. And certainly, thanks for your effort!

Great, thanks so much! When do you think the Residence will get the IDX-MLS integration?

, that has always been the URL to donlaowd iTunes from. I know there has been talk of iTunes.com' as branding for some sort of cloud based music service but Apple have owned and advertised the domain for years now. It's nothing new, so you can't read into anything into it.(Steve Lawrence has made 645 comments)

Hmm i hope you do not get offended with this question, but how much does a blog like yours earn?
Get the best of iMore in in your inbox, every day!
Thank you for signing up to iMore. You will receive a verification email shortly.
There was a problem. Please refresh the page and try again.