Cydia no longer giving new users the option to save SHSH blobs [Jailbreak]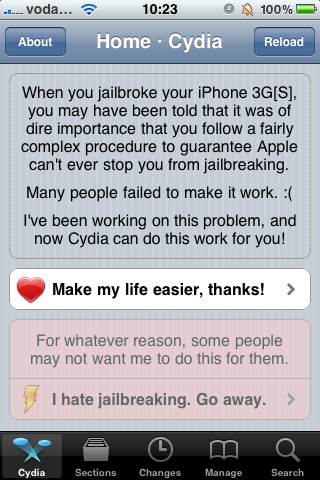 In the past Cydia has given the option to "Make my life easier" which automatically saved SHSH blobs on the Cydia server, but since the release of limera1n and greenpois0n, this option has disappeared and your saved SHSH blobs are not shown on the Cydia front page. The Cydia server is still up and running, and any SHSH blob that you saved previously is still saved. Also TinyUmbrella, which uses the Cydia server, still works perfectly and should be used to make sure your 4.1 SHSH blobs have been saved.
My guess is that with the huge flood of jailbreaks and Cydia downloads during the past couple weeks, Saurik decided to turn this feature off for the time being in order to save bandwidth. Fear not, your blobs are still safe and this feature should return soon...
[TinyUmbrella, image via ipodtouchfans]
by Farbod
Get more iMore in your inbox!
Our news, reviews, opinions, and easy to follow guides can turn any iPhone owner into an Apple aficionado
Your source for all things Apple
I was wondering what happened to that!!! I liked logging in and seeing what shsh's were saved and it wasn't showing anything. I just thought they were just doing it all in the background. I hope they put the visual cue back up when they re-activate it though!

Cydia sucks, bring back rock.

Is it because the new jailbreak was at the boot level for A4 devices?

Rock was unsafe, cydia > rock.

I have saved my ssh.. Use tiny umbrella to do so.

I'm not a Cydia fan, and I miss everything about Rock. Even though it's 'unsafe' I would still use it to this day.
Everything in life is unsafe. Getting in your car, getting on a plane, getting on a train.. drinking with iPhone in hand..
Cydia needs a massive overhaul, soon. With like, a feature.

I have jailbroken my iPhone just for that (in case I need to downgrade in the future). I thought something changed on iPhone 4 that made this useless, but it seems they were just cautious on overloads.
By the way, Saurik should dedicate some time to improve Cydia's interface... the same iFrame for the apps, the lack of a filter making the changes list look like a winterboard horror gallery, the disgraceful "Reloading Data"... all of this should be gone by now...

Yea sure rock was "unsafe" yet much faster! ill take the speed over a roulette where a restore is worst case scenario.

Rock was faster for a reason. It installed a garbage version of mobilesubstrate and didnt use apt to install packages. Which is why rock apps were/are such a disaster (I still refuse to install any ex-rock app). Also the main reason why rock was faster was because it ONLY used a centralized repository.

Apt doesn't work, period. The one time that I did a restore in Rock, it worked flawlessly. Most packages on Cydia/Rock install a bunch of garbage crap anyway - so, saying that was a huge issue with Rock doesn't sit right with me. Cydia does the same exact thing.

Saurik is working on an update to Cydia with the guys who did Rock. It definitely needs an overhaul. BTW if you want Cydia to speed up a bit, go into sections and hit edit. Turn off all the theme crap, soundboards, etc. It seems a little faster and cleaner on my end.

Gosh(!) it's almost insanity looking at the non-retina-display images now that I can glare into a 960x640 voluptuous display:) For all those on the edge about iPhone 4 / iPod Touch 4, the retina display makes all the difference in the world and any minor issue beyond that seems like nothing. Rarely run into dropped calls also.

would anybody know why i continue to get a 3194 error trying to restore 3.1.2. I've inserted the "74.208.10.249 gs.apple.com" in the proper place in several versions of itunes and i continue to get the same error.

Trezal,
error possibly due to having a new baseline, i have 05.14.02 and i am unable to unlock the handset, but can still be jail broke from original installation(factory settings),which still leaves me with ver 4.1 release 05.14.02.
have tried everything to fix it, apperantly i should of saved my SHSH,s prior to applying updates.
if u find a fix please let me know.