D-Link announces Omna 180 Cam, the first HomeKit-enabled security camera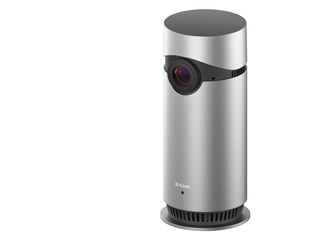 This is not a drill! The first HomeKit-enabled camera has hit Apple's online store. D-Link's Omna 180 Cam is now available for purchase online and will soon be sold in Apple stores around the world.
D-Link Omna 180 Cam HD
The D-Link Omna 180 Cam HD is a HomeKit-enabled, 1080p HD camera that offers a unique 180º field of view.
The device features motion detection, two-way audio (i.e. a speaker and a microphone), a MicroSD card slot for local recording, IR LEDs for viewing in low-light conditions, and a very svelte metallic frame.
The D-Link Omna is your pretty standard package when it comes to in-home cameras, save for one detail: HomeKit support! D-Link has successfully taken the lead on the HomeKit-enabled security camera market.
I hope D-Link's win inspires more companies to get their cameras ship-shape and out on the market soon.
The D-Link Omna 180 Cam retails for $199.99 in the U.S.
See at Apple (opens in new tab)
What do you think?
Is this the HomeKit-enabled camera for you? Are you waiting for another company to get their camera to market (we're looking at you, Withings and Canary)? Lemme know in the comments or over on Twitter!
Mikah Sargent is Senior Editor at Mobile Nations. When he's not bothering his chihuahuas, Mikah spends entirely too much time and money on HomeKit products. You can follow him on Twitter at @mikahsargent if you're so inclined.
August says their doorbell cam has the HomeKit chip in it. I suspect they will announce soon.

Yep! I'm hoping so, too. I was wondering if they were required to wait or something …

I'm more interested in the forthcoming Honeywell Lyric C2. It's also HomeKit enabled.

I ordered the camera today. I received a shipment notification and will receive it in Friday. I'll reply with my comments of the initial setup. For doorbells I have the Skybell HD. I like that doorbell. The rest of my setup is three Schlage Sense locks, two iHome outlets, three Lutron Casetta dimmers and one Caseta switch, and a Ecobee 3. Now I am awaiting someone to come up with an outdoor camera, maybe a Kuna? Sent from the iMore App

James, I'm looking forward to your comments once you get a chance to set it up and use it. I'm curious if the videos can be saved automatically to a network or cloud-based share, versus just on the SD card. Also, how easy/quick is it to switch it on/off, and can that be triggered by a geofence, IFTTT, etc. Basically if everyone in the house leaves the house, it would be nice if this camera could switch to "active" mode, or whatever it's called. And when at least one person in the house comes back home, if it could switch to "passive" mode.

Looking forward to it, James! I'll also be putting together a review soon. Excited to compare notes. 👍🏽

Ok. Received my Omna. Here is the breakdown. It's small. About the size of an old skinny soda can. Looks:
Only two inputs. A micro SD card on the bottom and a power connector in the back. It also has the camera on the front with a small light at the bottom. (You cannot cut off the light.) HomeKit Setup:
Easy to connect to HomeKit, wireless only. Again, there is no Ethernet connection. Plug it up, open the app, when the link is blinking orange go to the next screen and take a picture of the code. Done *The camera and motion sensor have independent names in HomeKit. Features:
This is where it falls short. Video: Great video very little delay. You can see the video on demand when you are connected or not connected to the network. You can also watch video that is captured to the interior SD card (not included). This camera has an extremely wide view. Again, great video. Motion: You can also set zones for motion. There are 16 zones in a four by four layout. You can turn it on in the app. HomeKit Integration:
Automation: The only automation you can set using the camera are "If this detects motion......do something with another HomeKit device" I cannot set a rule to only send notifications if I am not home. I cannot do any other IFTTT. "A sensor detects something" is the only automation where the motion sensor shows up. The camera does not show up in any. The camera can show up in favorites when you open the Home App but doesn't show up when you swipe up. The screenshot in the Home screen updates every 10 seconds if you are just looking at all of your favorites. If the motion detection is on, it's always on. However, I receive zero notifications for motion and cannot set it up to send notifications based on motion. The motion may be just for triggering recording video. I have yet to insert a micro SD card. Warning:******** The camera gets really hot. Too hot for a child to hold. Sent from the iMore App

I finally figured out how to get push notifications for motion detection. Unfortunately, as I said before, it is always on and you cannot set it to only send when you are not home. Sent from the iMore App

I can not get any push notifications at all. I have granted acces to the camera in my iPhone settings, the motion detection Is ON. Also installed a micro-SD card. Have I missed something?

Problem solved. Found the notification setting in the home app: In the favourite accessoris/Motion detection/Details. 😊

Isn't Withings involved in a nasty legal dispute with Apple? Shouldn't we be boycotting them to strengthen the Mothership's position? Sent from the iMore App

Withings doesn't make this camera. Sent from the iMore App
Thank you for signing up to iMore. You will receive a verification email shortly.
There was a problem. Please refresh the page and try again.