Daily Tip: How to set up Skype to become your home iPhone, iPad security camera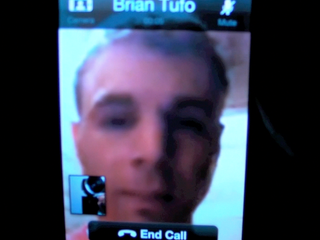 Have you ever been out and about with your iPhone or iPad and wished you knew how to just press a button and get a video view of your home? Sure there are home security solutions that can do this -- for a lot of money. But how about on the cheap? Well, if you have an iPhone or iPad 3G and Skype, you can. We'll show you how after the break!
[Thanks to Mickey Papillon for this ninja-level tip!]
Okay, if you want to set up Skype to be your cheap home security, on-demand video peeping solution, you'll have to get a few things set up.
This is an advanced level tip so we're going to assume you know what Skype is, have an account, and are familiar with using it. If not, let us know in the comments and we'll break out some basic tutorials to get you started.
Login to Skype.com and set up a second Skype account
Don't give anyone this second account ID or allow them to contact it unless you don't mind them peeping into your house either!
Setup the second Skype account on your home Mac or Windows PC in the room you want to be able to look into
Set Skype on that PC to automatically answer video calls
Open up the Skype app on your iPhone, iPod touch, or iPad (logged in on your regular/primary Skype account).
Use your primary Skype account on your iOS device to call your second Skype account at home, which will now automatically answer.
Watch the video and make sure everything is safe at home.
That's it. Again, the steps above require a knowledge of how to setup and use Skype so if you need help, let us know. Otherwise, if you try it out, how does it work for you?
Tips of the day will range from beginner-level 101 to advanced-level ninjary. If you already know this tip, keep the link handy as a quick way to help a friend. If you have a tip of your own you'd like to suggest, add them to the comments or send them in to dailytips@tipb.com. (If it's especially awesome and previously unknown to us, we'll even give ya a reward…)
Rene Ritchie is one of the most respected Apple analysts in the business, reaching a combined audience of over 40 million readers a month. His YouTube channel, Vector, has over 90 thousand subscribers and 14 million views and his podcasts, including Debug, have been downloaded over 20 million times. He also regularly co-hosts MacBreak Weekly for the TWiT network and co-hosted CES Live! and Talk Mobile. Based in Montreal, Rene is a former director of product marketing, web developer, and graphic designer. He's authored several books and appeared on numerous television and radio segments to discuss Apple and the technology industry. When not working, he likes to cook, grapple, and spend time with his friends and family.
Is there a Skype app for iPad? Dumb question, i know.

Nope, you have to use the 2x enlargement.

Wow this is an advanced tip?? Jeeezzz there is a retarded userbase here! Anyways, you also seem to prolong the number of steps required. It's essentially
1. Create a second account
2. Put it on "auto answer video calls"

Hannah, you're among fellow Apple Cult members here, remember that some are only novice brothers and sisters. If they've joined the cult, none of them are mentally handicapped. I've known a lot of very promising people that you would choose to call "retarded."

If you don't have anything nice to stay keep your fingers from moving.

Steve jobs will frown on Skype. He wants the world to use facetime. A dumbed down video chat with no features whats so ever. Even be restricted on wifi when everyone else does 3G and what many have NOW 4G.

4G does not currently exist.

What is being marketed as "4G" is really HSPA+, which is not actual 4G. It's more like 3.5G.

You'really both wrong. Sprints Wimax is true 4G.

Fail. You're wrong too. WiMAX is NOT true 4G.

If you look up the specs that the I.N.C. had originally set up you would have a better chance of being accurate. The original '4G' standard was to be 100MB (sustainable) speeds. Today's '4G' is a BIG miss!

I guess this is decent, but if you're really that concerned about your house, iCam is so much better, as it can push you if it detects motion, and will also record the motion while it's happening.
It's great, because you can turn off and/or lock your computer with the iCam server running, and it'll let you know if something's going on in front of your webcam.

http://appshopper.com/utilities/icam

I just bought iCam to try it, but it won't work. Keeps saying it needs an update and takes me to the app store which tells me I have the latest version... :( at least it looks cool hah.

That's odd...I'd try writing the dev. I've been using this for about a year now, and it works great.
Never had any issues. :-|

iCam saves the day.http://abcnews.go.com/Technology/texas-man-watches-home-burglary-iphone-...

I like using logmein, then opening up the photo booth app. That way you don't have to worry about leaving your computer unlocked, just do it from log me in

The only problem with that is that you have to choose to blank the screen, otherwise the other party can see what's going on. It's not a bad solution, but either way, it shows that SOMETHING is going on with the computer, which can alert the other party.
iCam makes nothing known to the other person.

Lomein mmmm, yummy... Oh, logmein! Sorry, I couldn't resist, I suppose I just have Chinese food on the brain today. Mmmm, apples... Damn!

Um... I guess this would work... assuming you don't already use your regular Skype account on your Mac/PC, or don't mind switching the account back and forth all the time. It seems like many of the cheap webcam apps would be simpler.

Been doing this for months in my dorm room, except I used my iPhone 4 instead of an iPad. Too bad there's no Skype app for iPad. I just got one and the 2x zoom is very obnoxious. I wish IM+ Pro would support video calls on Skype. Or even audio for that matter.

Use Orb Live to stream your webcam.

If someone had broken in to your house don't you think your PC would be the first thing to go into their van? The only thing this is good for it spying on an empty house!

Good point, yet you might see the sorry bastard that cleaned out your house, and then be able to identify the degenerate later. Actually I remember seeing just such an article a couple of months ago, a lady identified the rat-bag that broke into her house, in this way, exactly. I don't remember which Apple blog it was on, I follow so many (TiPb, TUAW, 9to5Mac, Macrumors, CultofMac, Macenstein, et cetera). Yes, I have no life apart from the cult :D

B.A.S.T.A.R.D. Since when does that get starred out? People are going to think I'm using really bad words here.

That for giving information about skype

Your method is to good for me

Is there a way to keep the Skype window from popping up on your home computer? I can't seem to find the setting...

Thanks for the article, Mr. Richie. I hadn't thought of this possibility. Of course, I hadn't really ever given any thought to checking on my home from away either, so it would stand to reason that I hadn't thought of this. Still, it's a neat idea and I'm glad you posted it.

Maybe I'm just missing it, but I opened the 2nd account on my iMac but I can't find the settings where you choose always allow video calls. Could someone help my ignorance in the matter:)

I was also going to say icam. I do use skype but not gonna bother with this when icam works in a snap.

FYI. the icam app let's you record remotely. So if you see someone just tap record to your iPhone. This skype set-up in nonsense.

I use AirCam, an iPhone app. Works fine.

Anyway I can make skype wake-up my computer from sleeping when I call? otherwise I have to leave the computer on at all times and is not very "green"

Using Remote Desktop, I can just login to Skype and 'test out' the video settings to see what is going on in the room

Here's some good news for all your iPad owners! GotoCamera, www.gotocamera.com the world's leading surveillance, monitoring, and security service with over 100,000 customers from over 180 countries, has come out with a free iPad app for their customers. All that one needs to do, is set-up an account with them and hook up a webcam to monitor their home, office or business. Once the account is set-up, you can access your cameras (snapshots and videos), view and manage your camera footage stored on the GotoCamera servers, and change your motion detection settings. The best part about this service? - It's FREE!

Thank you for some other informative website. The place else may just I get that type of info written in such a perfect method? I have a mission that I'm just now operating on, and I've been at the look out for such info.

Thanks for your write-up. One other thing is when you are advertising your property by yourself, one of the concerns you need to be aware about upfront is how to deal with home inspection reports. As a FSBO vendor, the key towards successfully transferring your property as well as saving money with real estate agent profits is information. The more you realize, the easier your property sales effort are going to be. One area in which this is particularly critical is inspection reports.

Yes sir!! See it in action in Demotivate HD, which comes out this week. It is rather impressive. I'll post a before/after in the announcement.

Team Owen You are genius creative and thoughtful. We feel privileged to work with you.Jackie and the team at Prometheus
Thank you for signing up to iMore. You will receive a verification email shortly.
There was a problem. Please refresh the page and try again.