Distant Suns 3 for iPhone and iPad - give-away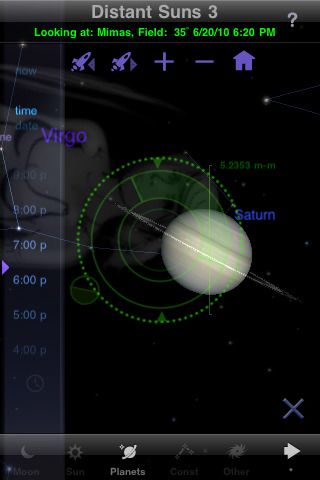 Distant Suns 3: Space Travel for the Rest of Us is a universal iPhone & iPad application that puts the universe in your hands:
View from the Earth or out in the solar-system with the new Spaceflight mode
Compass aware for the 3GS and iPad. Just aim and identify.
Over 130,000 pinpoint stars scintillating like diamond dust in the palm of your hand
Realistic ghostly band of the Milky Way
All 88 constellations with images and articles on their mythology
Viewpoint Lock keeps any planet centered
Current weather patterns on the earth, updated every 3 hours
Preference panel to change the way stars are rendered in over a dozen different ways.
The Messier catalog of galaxies, nebula and star clusters
Dozens of photos from the Hubble Space Telescope
All 8 planets (Pluto is optional)
GPS aware
Red interface to preserve your night vision
What's Up? Gives a quick one snapshot overview of where all of the important stuff is
Point and Identify mode reveals a wealth of hidden data for each star, planet or deep-sky object
Planetary data and information
In anticipation of the Perseid Meteor Shower on Thursday, August 12, the folks over at First Light have provided us with 14 promo codes to give away! Winners will be able to use the app to assist in their stargazing for the event. How do you win? Head on over to the forums and let us know your favorite planet/constellation. The contest begins now and ends Thursday, August 12 at 3 PM EST. (A US iTunes account is required to win. Apple's rule, not ours!)
[$9.99 - iTunes link (opens in new tab), NASA]
Former app and photography editor at iMore, Leanna has since moved on to other endeavors. Mother, wife, mathamagician, even though she no longer writes for iMore you can still follow her on Twitter @llofte.
Get the best of iMore in in your inbox, every day!
Thank you for signing up to iMore. You will receive a verification email shortly.
There was a problem. Please refresh the page and try again.