Fight for the forest in Animals vs Mutants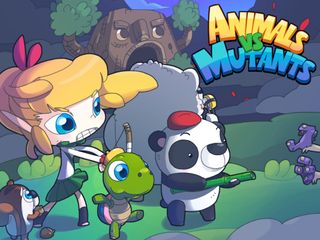 Netmarble is South Korea's largest mobile game publisher, but they've never had much of a US presence – until now. The newly-formed Netmarble US has just released its first game: Animals vs. Mutants. It's available for free on both Android and iOS.
Sure, Animals vs. Mutants is a different name for a game. But not that long ago, you'd have said the same about Plants vs. Zombies. The concept is sound – an evil scientist has started experimenting on woodland critters, turning them into malicious mutants. Only the player can rescue the remaining animals, by fighting it out on foot and summoning animal helpers to aid in the battle.
Battles in Animals vs. Mutants work much like Glu's Samurai vs. Zombies. Your male or female hero runs around the battlefield, automatically attacking any mutants who get too close. Players can summon a variety of animals to fight as well, all with unique attacks and powers.
Besides the fun of acquiring new animals from each of the 60 stages you beat, this game also offers tons and tons of loot to collect. You'll outfit your character with unique weapons and armor, and even equip various animal mounts. The mounts level up too, changing their appearance and effectiveness.
Animals vs. Mutants features a truly unique Asian art style. Kids will love the colorful artwork and cutesy characters, but adults will enjoy the loot hunting and variety of missions to complete. Give it a try and stop those mutants from encroaching on the peacefulness of the forest.
Get more iMore in your inbox!
Our news, reviews, opinions, and easy to follow guides can turn any iPhone owner into an Apple aficionado
Paul started writing about games in 2003 with his first strategy guide (Bomberman Land 2) for GameFAQs. He continued writing guides while earning his B.A. in Literature. When Windows Phone launched in late 2010, the Xbox integration lead our hero to jump on board the platform. He joined Windows Phone Central as Games Editor at the beginning of 2011, going on to review over 125 mobile Xbox titles over the years. He now leads Windows Central's Xbox One coverage, personally specializing in developer interviews, indie games, controllers and accessories, and Twitch broadcasts. Paul loves games on all platforms; he goes where the games are. Although very busy with console coverage, he sometimes contributes gaming articles to iMore and Android Central.