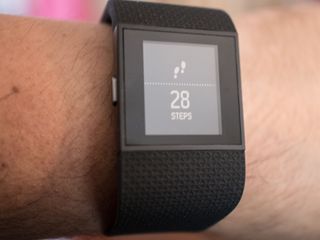 The Fitbit Surge is heading out now to select early adopters, bringing the best of what Fitbit has to offer along with a 24/7 heart rate monitor and smartwatch notifications. This isn't your standard Fitbit — the Surge is supercharged and ready to take on whatever activities you can throw at it. Rather than just giving you the standard fare of options like step count, calories burned and floors climbed, the Surge also adds in GPS tracking, multi-sport tracking, sleep tracking, phone notifications, music control and more.
We'll give the Fitbit Surge a good run or two (and maybe some yoga), then report back with a full review and all the details. For now, take a look at our quick unboxing to see what the Surge is all about. It's not yet available worldwide for everyone, but we'll be sure to let you know when you can get your hands on one.
Fitbit
○ Fitbit Buyers Guide
○ Fitbit Users Guide
○ The Best Fitbit to Buy
○ Fitbit News
○ Fitbit Forums
○ Buy on Amazon (opens in new tab)

Get the best of iMore in your inbox, every day!
Editorial Director - High Yield
Getting his start writing about BlackBerry in 2008, Adam is the Editorial Director of High-Yield content at Future. Leading an outstanding team, he oversees many of the articles the publisher produces about subscriptions and services – VPN, TV streaming, and antivirus software. From buying guides and how to watch content, to deal news and in-depth reviews. Adam's work can be seen on numerous Future brands including TechRadar, Tom's Guide, T3, TTR, Android Central, iMore, and Real Homes.
I got an email as well, but chose the Fitbit ChargeHR. My Charge HR was delivered on Friday and so far I like it. While it is a huge upgrade from my Fitbit Force (I did not have any skin issues), the two things that I dont like are the band and the charging cable. I personally like the Fitbit Charge/Force/Flex type band. The charging cable is different from the Charge/Force cable, would have been nice if they kept the same type of cable. I bought an extra Force/Charge cable, because I thought I lost the original. Now those are a waste for me. No deal breakers, for me, but would have been nice to have.

I'm getting a Charge for Christmas. It's my first fitness band (or whatever you call them). Hope it lives up to what I want, which later would obviously be a higher level Fitbit. Wonder how the Apple Watch will work out?

When I read the title of this article all I could think to myself was "should of waited for an apple watch " Sent from the iMore App

:( I didn't get the invite :(

My concern is the band itself. I like the fact that he has a buckle rather than the push pins like my fitbit flex has. This thing has come off my arm more than once and my wife flat out lost hers and I had to replace it. But my question is the band on the Surge. It doesn't look as if the band on the Surge is replaceable. Maybe the reviewer could get to that during the full review. so far, I like it.