Five Car Mounts that Won't Interfere with Qi Wireless Charging iPhones 8 and X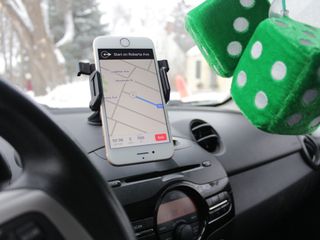 Whether you need help navigating through a new city or just want to keep up to date on the score of the game while you're driving around, a good quality car mount is a fantastic investment for your iPhone 8, iPhone 8 Plus, or iPhone X. There are plenty of different car mounts available on the market, but if you want to use Qi wireless charging on your new glass-backed iPhone, you may want to think twice about buying just any car mount.
Why some car mounts may interfere with wireless charging
Wireless charging requires a relatively low path of resistance from your charging pad to the phone's battery inside the chassis. Some car mounts require you to put a metal plate on the back of your phone (usually in between your case and phone) in order to stick to the car mount. Metal is the killer of wireless charging; it's too dense a material for the current to reach the battery, which is why the iPhone 8, iPhone 8 Plus, and iPhone X all have glass backs.
While this may limit your options a little bit when it comes to picking car mounts, you still have plenty of options. Here are our favorite car mounts that won't interfere with Qi wireless charging on the new iPhones.
iOttie Easy One Touch 3
To avoid magnets and adapters altogether, take a look at the $25 iOttie Easy One Touch. With one push of your finger, your iPhone locks into place, and with another push, releases. This improved version has extra space for larger phones, while keeping the side arms minimal and away from your screen. The sticky gel pad on the base and included dashboard pad make it easy to attach the mount to your dashboard or your windshield.
The telescopic arm adds another inch of space between your iPhone and the mount for better viewing. That arm also pivots up and down 180 degrees while allowing you to fully adjust the position of your iPhone. If you're on the road for hours on end and regularly switching drivers, the ability to adjust your car mount this much is absolutely necessary. iOttie is secure enough to withstand whatever bumps and turns your commute throws at you and your iPhone won't budge one bit.
ProClip mobile mounting solutions
For a completely customized car mount, direct your attention to ProClip. They offer a two-part car mount solution that you customize for your specific needs. Firstly, you select your iPhone model from the menu and indicate whether or not you want to factor in the case you use. You'll be given a variety of six to eight images to choose from with specs and details for each phone holder offered.
Once you've decided on your iPhone holder, you move on to the custom mounting base. Select the kind of base you want (dashboard, pedestal, and so on) and select the vehicle you drive. The bases you will be selecting from are designed to snap into the seams of your dashboard or grip the necessary panels, so no sticky pads or bolts are necessary. Eliminate the guessing by customizing every aspect of your car mount and know that it's going to fit just the way you want it to.
Pricing starts around $30 depending on which iPhone model you have.
Ram Mount Universal X
The Ram Mount Universal X is as heavy duty as they come. Made from composite and stainless steel, this mount could outlast your vehicle. On rough terrains like construction sites or off-road adventures, your iPhone will stay in place and the industrial strength suction cup will stay exactly where you installed it. The installation is quick, clean, and ideal for windshield mounting.
The arm and iPhone holder are adjustable to any angle that works for you. The spring loaded holder has rubber coated tips so your phone won't be damaged, and even the thickest case will fit. It's easy to lock your iPhone in and just as easy to remove it. In spite of the heavy construction of the overall mount, it doesn't obstruct your view in the slightest. It may be a little pricey at $50, but it's definitely worth it.
Spigen Kuel AP12T
Spigen's newer mount, the Kuel AP12T, is a facsimile of the iOttie Easy One Touch, but it comes in a little less expensive and significantly sturdier, according to Amazon reviewer "Bill".
The $19 Kuel is a dashboard mount that adheres via suction cup, and it can be oriented just about any way you like, with a telescopic arm and rotating head that lets you mount your phone the way you want to. The one-touch systems makes mounting and unmounting your iPhone easy — you just have to press it in and the arms automatically lock it in place.
The Kuel is perfect for anyone who needs a sturdy mount that won't get its jimmies rustled when you hit a bump.
Rozdon wireless charging car mount
Who says you can't have your car mount and wireless charging at the same time? The Rozdon wireless charging car mount will not only work with wireless charging at home but gives you the ability to wirelessly charging your iPhone in the car.
It ships with both a telescopic arm base and a vent clip base, meaning you can choose to secure it to your dash, windshield, or vent. The sides of the cradle can extend to 6.5 inches wide, which is more than enough room to fit an iPhone 8 Plus or an iPhone X.
When your iPhone is resting in the mount, the Rozdon will charge your iPhone up using wireless charging, allowing you to top up as you're on the go for about $30. You will need a power source going to the stand through a microUSB cable which is not included in the box.
What do you use?
If you've got a favorite car mount for your iPhone, even if it didn't make this list, let us know all about it in the comments!
Master your iPhone in minutes
iMore offers spot-on advice and guidance from our team of experts, with decades of Apple device experience to lean on. Learn more with iMore!
Mick is a staff writer who's as frugal as they come, so he always does extensive research (much to the exhaustion of his wife) before making a purchase. If it's not worth the price, Mick ain't buying.