Fleksy keyboard is now free, with previous owners bagging $8 worth of in-app gifts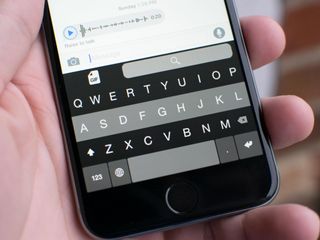 The Fleksy virtual smartphone keyboard was already a popular product when it was priced at $0.99. Now the app is available for free from now on, with its revenue now coming entirely from in-app purchases.
Fleksy explains why they have made this business model change:
People who have already purchased Fleksy have not been forgotten. They will be offered a number of free themes and extension slots for the app that are normally worth $8.
Fleksy is also adding a new feature with this change:
Get the best of iMore in your inbox, every day!
I have been writing professionally about technology and gaming news for 14 years.
I don't know why people want to add a layer that can completely monitor everything you type (think bank passwords). I trust the parent companies, I just don't trust the airways - hackers are always looking for things they can tap into. Better safe than sorry! I am staying away from this or any keyboard app

By default, iOS doesn't allow a keyboard to share data back to its container app so all of your typed data isn't shared anywhere. Not to mention that you can't use any third party keyboards in password fields (it defaults back to the Apple keyboard for those), so that rules out the risk of having passwords stolen.

To each his (or her) own. But you cannot use 3rd party keyboards for password fields. And most bank apps are moving towards touchID authentication anyway for ease and security :)

Paranoid much? Sent from the iMore App

I think people have every right to be paranoid, especially as Google have had to remove a battery app that was sending premium rate text messages without the user knowing. Sent from the iMore App

Sorry, I was not aware that Apple defaults back in the password field. I just decided not to try at all.