Google Mobile App updated to include push notifications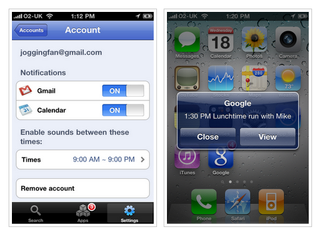 We have good news for those of you not taking full advantage of Google Sync on your iOS device and prefer to use the Google Mobile App [iTunes Link (opens in new tab) - Free]. You will be happy to know that an update has been rolled out that allows for push notifications. You will now receive an icon badge that displays a message saying you've got new mail along with calendar event reminders that will appear on your home screen.
So now let us ask, do any of our readers actually prefer to use this application over Google Sync set up via Exchange?
[Google]
The only benefit I see is to use the app's option to enable sounds during certain times so you don't get woken up in the middle of the night by a spam email. This way, you can disable the native app's sound in settings and rely on the Google app's notification system. You could still use the native app to check your email. Kind of a convoluted process just to make my iphone do something so simple :(

The problem is, the notifications aren't coming through. The push takes 3 to 5 minutes in my tests, and I have not gotten one pop-up notification or sound alert. Everything is configured correctly. Is there a bug in this app?

Can't get it to work right. I get the icon badges when a new email comes in, but no sound or popup. The icon badge updates when I delete an email outside of the app so the push is working. Something is borked in the app itself. Sounds seem to be muted.

The big problem is that if another notification comes in after the Google apps one, it'll get replaced like any other push notification. Apple really really needs to find a better way to do them.

There must be a bug because i'm not getting notifications either. I would strongly prefer to use the web version of google but, i kinda need to know when my emails come through...

Keeping Google Sync as it works great. Also, no retina display support in an update is lame.

Does this offer anything that Exchange doesn't offer (other than a better price)?
Also, I've been wondering: Is it possible on the iPhone to compose a message in Gmail using another account? For example, in Gmail on the desktop, I have several non-Gmail accounts configured so I can compose messages using those identities -- but they don't seem to be available when composing in Gmail on the iPhone. Am I missing something?

Question regarding google sync....I had it setup, but it would only display 11 messages at a time and wouldn't save sent emails or trash. I had to go back to regular gmail fetching every 15 minutes so i had access to my entire inbox and messages would save. Anyway I can get my complete inbox with googlesync? Thanks for the help.

Not bad I just don't use push on email.

I don't see the need. If you're using Exchange ActiveSync on your iPhone with the current OS, you already get all this using the existing apps on the device. Using Google Calendar, I can create one or more SMS reminders for an event, which remain in Messages until I delete them. Push Notifications disappear once you view them. Seems like an unnecessary layer of gunk. Reminders become reliant on 2 sets of servers now from both Google and Apple.
What I'd rather see is a Google-made app that gives me an alternate interface to my Google Apps account, especially Contacts & Calendar. They could store the contact and calendar data locally, or have it work real-time with your account -- getting around alternate UI's touching Apple's databases. It'll wind up in the native iPhone apps via Exchange ActiveSync anyway... If they threw in email software that let me work with labels, that'd be icing on the cake, but, I do find their Safari email very impressive.
The Safari-based Calendar is another story, creating new appointments has no option for a reminder, much less setting SMS ones. I have found one app that does much of this, including setting SMS reminders for new appointments: Calendars by a company named Readdle. Personally, I prefer the native Calendar App for general use, but if I need to create an appointment with reminders, I use the other app: http://readdle.com/products/calendars
$6.99 for the option to set SMS reminders; I'd rather get it free from Google :)

I don't think you guys have it setup right. You need to go to settings and enter your login and password and turn notifications on after that.

@Matt it's set up right...I'm just not getting sounds in the Google app (keyboard for example) or notification sounds from the app when a new email comes in. Unless there is a sound associated with an incoming email, then this is no better than using the native app for email. Well at least in my case...see comment #1.

I have a work exchange account and personal Google calender that my wife and I share. this will help a lot in making them separate but equal.

Well I do. I have the app on my phone because I love to use voice-search and I don't use the sync thing because I had bad with it before. Now with this I made it to only put alerts, no badges, so I'll get a notification whenever I get an email. Perfect for me.experience.

I wonder if you have to set your gmail account to use imap?
Does this app include google talk (chat )?
Gtalk has pretty much replaced sms for me.

I kinda gave up on push emails due to the large quantity of mail i receive. I don't want to be alerted to every email - just the ones I want.
I tried forwarding to another account and just pushing those but then you have duplicated emails in two accounts. In the end i settled for IM+with selected emails sent to the email address IM+ monitors .. it notifies you when you get new mails with a summary so you can even decide whether its worth viewing it or not. Best of both worlds

After looking at the setup screens, I see calendar/email/notes but no contacts. Exchange has everything needed and works perfect for me, I'm sticking to Exchange for now.

Am I missing something major? I really don't see the issue that needs fixing!
I have my Gmail mail coming though as a standard Gmail account in the inbuilt app (as well as a separate Exchange account for work).
I also have my personal Gmail calendar showing (read/write) in the inbuilt app as well as my work Exchange calendar and a few read only CalDev subscribed calendars.
I get notifications for them all, no add ons needed!
Why is it not this simple for everyone else? Why do people feel the need for 3rd party sync apps?

I tried to use this with my school email but it still won't work, email won't work over pop or imap. That's the only email I can't regularly check, are there special settings for settings up google doc email addresses?

There needs to be an update for at least SIX issues:
1) Badges works, but notification does not pop.
2) Cannot listen to music apps simultaneously
3) Gmail, Calendar, etc STILL opens in Safari
4) No link to Google Voice website (which really could use badges & push notifications that work)
5) Google maps link goes web instead of using native app
6) Still no keyboard sound when typing

exchange gmail-problem with activesync in gmail is when u delete a msg, it archives-who wants to archive a message they deleted?
imap gmail-when you delete a msg it deletes...problem is push does not work with imap...this is why you need a third party app...because push does not work with imap!!!!
and no i am not getting sounds or notifications with this new and improved update to google mobile...

I wonder if it uses less battery going with push notifications rather than exchange?

This unique blog is no doubt entertaining and besides factual. I have chosen helluva helpful stuff out of this source. I'd love to come back over and over again. Thanks a bunch!
Get the best of iMore in in your inbox, every day!
Thank you for signing up to iMore. You will receive a verification email shortly.
There was a problem. Please refresh the page and try again.