Google Mobile app updated and renamed Google Search [video]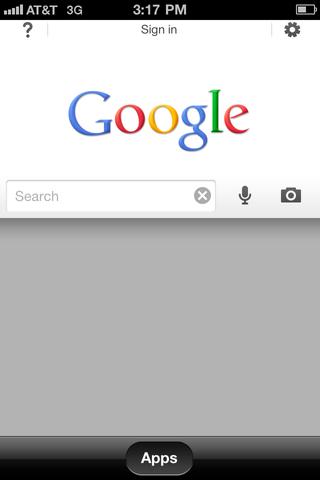 The popular Google Mobile app has just received a major update and a complete name change too. The app will now be known simply as Google Search.
The update offers more ways to interact with the app using swipe gestures. Swiping down in a page will reveal the search bar whilst browsing. There is also a dedicated apps button for quick access to mobile versions of Google Apps. A new toolbar is available to filter search results; again a swipe is initiated to access this toolbar, left to right.
If you leave the app and come back later, you'll be able to either start a new search by typing in the search box, hit the microphone button to do a voice search or tap on the camera icon to use Google Goggles. If you want to get back to exactly where you were before you left the app, you can simply tap the lower part of the page and it will be restored.
Google Goggles, Voice Search, My Location and Gmail have also all been improved in this new app. There is a short video after the break, demonstrating the new features.
[iTunes Link (opens in new tab)]
UK editor at iMore, mobile technology lover and air conditioning design engineer.
Not gonna lie, it looks awesome!

You can type in your search inquiry, speak it, or even use a picture. I hear they got an update coming out this summer where all you'll have to do is simply think your inquiry and Google will do the rest.

But you have to think in Russian...
(Geek points awarded if you can name the reference!)

Mr. Ritchie, you are a Canadian(?). You are a free man. I am not. There is a difference. If I resent the men in London who are ordering my death, then it is a small thing when compared with my resentment of the KGB.

It's from a Clint Easwood movie where he steals a Russian MIG. Sorry the name escapes me right now.

since leaving android this is almost what i've been looking for....i just wish it were beter integrated with spotlight!

Nice. Well done. Gonna try it out.

Come on.....
Since when blacks girls Like Snowboarding ?????????

Since racism and stereotyping fell out of favor with the exception being douchebags on the Internet :D

Just tried it and it is awesome do far. Just earned a first page slot. Really awesome!!

I think he take good step

I like the voice search, I thought it was gonna be easier to type on the iPad cuz of the big keyboard but its actually easier on the iPhone cuz it's so small I can type faster with just one thumb.

I just noticed a charge of $1.38 upon upgrading to the latest Google Search app. Did anyone else get charged for the new version? I thought this was free.

This sucks...I cant click an image and enlarge it...it locks up.

It works pretty nice, its cool Google updates its apps.
I also experiment the bug in the image search, but its more a lag than a bug, after a while, the image loaded in large view

but WHY did they get rid of the auto voice search??? Thats what really separated this app from other for me; all i had to do was launch the app, and then hold the phone to my ear and speak my search. now theres one more button between me and my search, and it's a tiny one!
this used to be a oft used app while driving, right up there with Siri, now it's just like a streamlined google.com
meh.

My brother suggested I might like this website. He was once totally right. This post truly made my day. You cann't imagine simply how a lot time I had spent for this information! Thank you!
Thank you for signing up to iMore. You will receive a verification email shortly.
There was a problem. Please refresh the page and try again.