Google turbocharges Translate, instant translation of voice and text now possible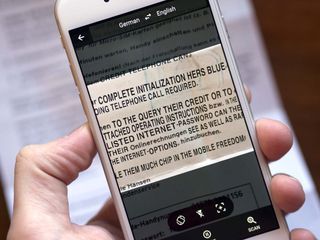 As revealed earlier this week, Google has updated its Translate app for the iPhone and iPad with real-time text and speech translation, made possible by Word Lens integration and improvements to the translation engine.
With Word Lens, you will be able to see an instant translation when you point your smartphone camera at any foreign language text, with the translation overlaid on the screen itself. The feature, which works even when you don't have a data connection, was available in a limited form in previous versions of Translate, but with the update, the process is more seamless.
Translate is also getting voice translations on the fly. Two users conversing in different languages will be able to speak into the app using the microphone, with a live translation occurring instantly. Here's how Google describes the feature:
Source: Google
The clumsiest man in tech.
Impressive update Sent from the iMore App

This is a great update to this app. I love the fact that this one app can now perform the translation tasks of a few separate apps of the past. We all gotta like that.
It'll do what I need it for now, but for other languages hopefully Google can get a broader range of languages in the support lineup soon..
Thank you for signing up to iMore. You will receive a verification email shortly.
There was a problem. Please refresh the page and try again.