Google Voice returning to App Store soon?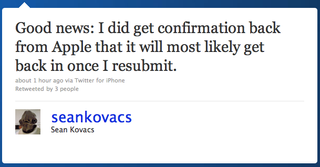 GV Mobile developer, Sean Kovacs, had some good news to share on Twitter saying that his unofficial Google Voice application GV Mobile should now be allowed into the App Store. Since GV Mobile does not violate any of the new rules regarding the app review guidelines that Apple has laid out for developers, Kovacs figured why not resubmit his application and try to finally get it back where it belongs.
GV Mobile made it's first appearance into the App Store back in July of 2009 and was later yanked by Apple due to allegedly duplicating the iPhone's calling and text messaging features. Later it was rumored that Apple laid blame on AT&T was for the removal of the application.
[9to5 Mac]
Been waiting for this app

crazy stuff from apple
someone must have brought the pain

Real news would be Google resubmitting the official app.

Yeah I have used Kovacs version but I really want the official version. I want to see what google can do...

Interesting timing. Apple launches new products including FaceTime and is rumored to be including it on Mac's and PC's in the near future. So, they're moving warp speed to expand the user base of customers with FaceTime and to avoid competition/anti-trust scrutiny they let Google Voice to be introduced as an app. Anyone else see the hand of Steve Jobs at work here?

As much as we might complain, I think Apple has played their hand(s) very well - as far as their best interests are concerned. Appears to work for them!
Kick Butt

I would **** a brick if this happened, and be incredibly excited.
I've worked hard to make the web app work as best as possible, and even installed VoiceCentral Blackswan, but nothing beats a native app fully integrated with local services on the phone. This is the one barrier to me switching my gf to Google Voice on her iPhone. I think I'll have to get the process started in the near future to give her her own GV account now (been saving an invite for her).
Think of the possibilities... what if this app worked on an iPod touch? The mind reels.

Sure I can agree it has worked very well for Apple, but not for the consumers! Apple holds the competition back so it can innovate off of their submissions and features then will let them in so there won't be a backlash.
So why is Google Voice a duplication when Second Line isn't, its whole different phone #, service, and it directly replaces AT&T and your line of service, you can run it on an iTouch over WiFi or 3G data modem.
In either case I find this useful and if it clears I will add it to my iPhone and my wife's new iPhone so she can have a local GV number for her business.

Does that mean Google's app could get approved too?
All you gotta do is say Yesss!

I don't think google will submit. They are all about webapps now

The thought of GV Mobile getting a second "go" by Apple is a nice thought, but Sean needs to update the app. More specifically, it's not even close to be compatible with iOS 4. The last update to the app in Cydia was in May, prior to OS 4 seeing the light of day. It has more bugs than the Santa Monica Pier at noon.
Right now, I just have a shortcut to Google Voice via Safari. Incoming calls to my GV number go straight to my phone anyway, and if I want to make an outgoing call from the GV number, that works pretty well from Safari.

I use the gtxt app to send texts through google voice. It's simple, reliable, and free. I'm now saving $180 a year by cutting my unlimited text plan down to 200 a month. I don't care about the voice part... I don't come close to the 450 mins I get... I currently have almost 3000 min rollover... I wish AT&T offered lower calling plans.

@dan I was doing the same thing but I got tired of mms messages not coming and not getting my push notifications for text. I use push mail for notifications well I did and voice central for the app which never crashes and they update when they feel like it :)

Really great information can be found on weblog bai12abhui8763 .
Get the best of iMore in in your inbox, every day!
Thank you for signing up to iMore. You will receive a verification email shortly.
There was a problem. Please refresh the page and try again.