Grand Theft Auto III for iPhone, iPad hits App Store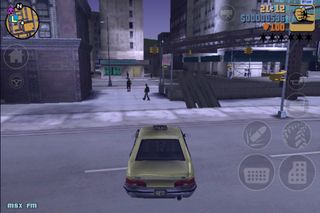 Grand Theft Auto III: 10th Anniversary Edition has hit the App Store. Aside from the menus and loading screens, that have been updated for the '10th Anniversary', the game stays very true to the original. Its a must buy for anyone who wants some good nostalgia.
Visually stunning updated graphics, character and vehicle models
HD quality resolution
Gameplay optimized for touch screen devices
Custom controls for the mobile platform
Countless hours of gameplay
It's also a universal app, so it plays well on both iPhone and iPoud touch, as well as iPad.
[gallery link="file"]
Writer for iMore, YouTube Vlogger, and Host for [TEChBrits]
Quite a few cool apps and games coming out over this couple of weeks, makes me wish I played games like this.

Whoo Hoo!!! While it's gonna take some time to get used to the controlling of the game, I'm really excited that's it's finally released, looks like I'll be killing a lot of time with this game.

Wow! Not played this since 2002. Brings back some memories.
I'm waiting for Vice City though.

With the iPad (2?) there are shadows but not with my iPhone4. How come? It looks very odd without shadows.

Never played this game, since there was Vice City already on my chilhood. I'll certainly get this one... as soon the games are released on the Brazil's app store... Apple had blocked Brazil's credit cards on the Argentinean App store =(

This is a perfect example of why iPhone/iPad can not threaten console games. This game sucks without a physical controller. Just like games like Angry Birds and Cut The rope suck on consoles and play the best on iUnits....

Really, it should be "iPhone/iPad", not "iPhone, iPad". And what about this construction: "How to tethered jailbreak" ? I'm sure something's missing here, it doesn't make sense.

What's an iPoud touch? Some Nigerian knockoff?

care to mention few reasons ?

Eeeep! I <3 Angry Birds since i played it on my friends iPad! :] I'm so glad i found this! yayyyy!
Get the best of iMore in in your inbox, every day!
Thank you for signing up to iMore. You will receive a verification email shortly.
There was a problem. Please refresh the page and try again.