Roller Coaster Tycoon 4: Top 10 tips, hints, and cheats you need to know!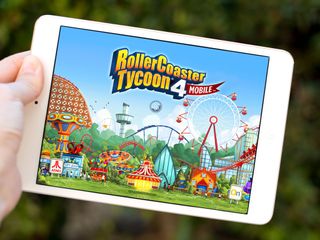 Anyone who grew up playing computer games no doubt remembers the Roller Coaster Tycoon franchise. Now you can build amazing theme parks and attractions right in the palm of your hand in Roller Coaster Tycoon 4 for iPhone and iPad. In order to keep up with customer demand, you'll need to stock your park with plenty of amazing rides, attractions, and food booths. However, coins and tickets are not unlimited and can be rather hard to come by if you don't build and invest your money wisely. That's where iMore can help! These are the top 10 Roller Coaster Tycoon 4 tips, hints, and cheats we think you need to know!
1. Don't waste tickets on speeding up construction
Roller Coaster Tycoon 4 is one of the few games where you really don't have to spend any real life money if you're smart about how you spend your initial coins and where you choose to use your tickets. You only earn tickets for completing quests and as special finds. How many coins you earn is completely up to how well your park performs. One of the biggest wastes of tickets is to spend them on speeding up construction. Instead, be patient and pay attention to how long something takes to build. If it's a long wait, build those things right before you close the game. That way you aren't tying up money you want while playing. You also don't end up spending tickets on rushing the process. It happens while you're gone.
Unfortunately, unlike many other games, Roller Coaster Tycoon 4 doesn't seem to be susceptible to rolling forward time. Many games like Candy Crush, Two Dots, and others are. That means you'll just have to learn some patience and build smarter to avoid spending real money.
2. Add Food Rush and become an ultimate burger master
Food Rush is found under the Build section in Specials. Add it to your park as soon as you can. Tap on it and then tap play. Your job is to serve as many burgers to your park customers as fast as possible. The more you serve, the more cash and XP you earn. There are certain tricks to burger rush such as timing when ingredients must refill. The better you get, the more you earn. If you need some cash or need to burn some time, it's a great way to do it.
3. Build your own coasters, don't waste money on prebuilt layouts
Coasters that are already made for you may be convenient but they're also astronomically expensive. Save your cash and build your own coasters. You can design them anytime and then build them when you have the money and tickets to do so. There's also another advantage to this strategy and it's that you can custom build coasters that fit to your park layout. A lot of times prebuilt coasters are large and bulky on purpose. This is so you're forced to buy more land. Instead, rearrange your park and build to suit. It's cheaper and makes your park more unique than the next guy's.
4. Don't can trees and bushes, transplant them
When you buy more land to expand your park, you may find lots of trees and bushes get in the way of construction. A big mistake many players make is that they remove them. Instead, relocate them to another area of the park. Your guests enjoy looking at nice landscaping and it increases their overall happiness. Happy guests equals thriving park. So let the shrubs stay!
5. Invite friends for free tickets
Like many other games, Roller Coaster Tycoon 4 lets you hook your Facebook in so you can share roller coaster designs, request blueprints, and send each other gifts. The same goes for Game Center. However, if you send invites to your Facebook friends, you'll earn 1 free ticket for each friend you invite. Sure, we all hate Facebook spam, but it's for a good cause, right?!
6. Upgrade attractions whenever possible
Many attractions allow you to spend some coins in order to upgrade them. This increases the buzz around them and keeps your guests happy. Upgrade your attractions whenever you feasibly can. While it's easy to get distracted by building roller coasters and ignoring regular attractions, your park's buzz will suffer if you do so.
7. Food booths and hotels are your biggest money makers
The main way you'll earn money in RCT 4 is by selling food to your park guests. Hotels are important to since they increase your park's holding capacity. The more people you have, the more rooms you book and the more food you sell. Figure out which food booths generate the most money and build a ton of them. I like to do it off in a corner of the game where they aren't in the way. Hotels you can easily upgrade before building more so they take up far less space.
8. Check the parking lot for special deliveries
Sometimes you'll find cargo boxes in the parking lot that contain special gifts your park receives. It's easy to overlook them so be sure you check from time to time as gifts vary from statues to other decorative objects that you can place in your park for free. Your guests enjoy looking at them so it never hurts.
9. Listen to your guests
Every once in a while you'll see guests with thought bubbles over their heads. Tap on them to read their thoughts. Listening to your guests is the number one way to increase park buzz and make people spend more money. If you're meeting their needs, your park will thrive. So before you build another roller coaster, make sure that's what your guests are really asking for.
10. Equip your park with engineering and maintenance staff
Adding an engineering building to your park will minimize the amount of time overall construction takes on rides and attractions. It doesn't cost a lot so be sure you add one. As for maintenance, after you add the building, you can trade tickets to keep it running. As long as the maintenance building is paid, your rides won't break down while you're away. This is a nifty way to make sure you come back to the game with tons of money to collect and a great park buzz.
Your top Roller Coaster Tycoon 4 tips, hints, and cheats?
If you've been building the theme park of your dreams on your iPhone and iPad, what strategies have you used to become a theme park master? Be sure to let me know in the comments below!
Master your iPhone in minutes
iMore offers spot-on advice and guidance from our team of experts, with decades of Apple device experience to lean on. Learn more with iMore!
iMore senior editor from 2011 to 2015.