Grand Theft Auto: Liberty City Stories is now causing carnage on iPhone and iPad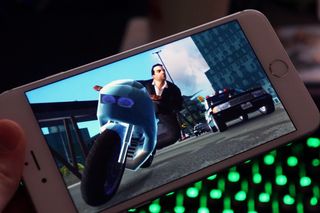 Rockstar has released Grand Theft Auto: Liberty City Stories for iPhone and iPad. The mobile title, listed on the App Store for $6.99, allows players to fire up Liberty City on their mobile device with either touch controls or third-party gamepad support.
There are a bunch of features included with the game that will surely add to the overall experience, including 3D Touch for the iPhone 6s, custom music playlists, 60 FPS gameplay (iPad Pro and iPhone 6s), new high-resolution textures and more.
For those unfamiliar with Liberty City Stories, it's essentially a mobile-friendly version of Grand Theft Auto 3, which was released on the Sony PSP. There's a separate story with shorter, streamlined missions designed with mobile gameplay in mind. It's open-world gaming on your mobile device. Be sure to check supported hardware on the store listing.
I buy almost everything except food and clothing from online auctions most people aren't aware of the almost I unbelievable deals that they can get from online auction sites the site that has the best deals is >>> http://www.saveslam.com/Deals/ I checked with the BBB and was told that it is all legit. How they can sell gift cards, laptops, cameras, and all kinds of goodies that we all want for 50-90% off, I don't know I do know that I bought my son an ipad there for less than $100 and my husband a $250 Loews gift cards for $48. Why would I even think about shopping anyþlace else?
Thank you for signing up to iMore. You will receive a verification email shortly.
There was a problem. Please refresh the page and try again.