Having trouble setting up your Amazon Echo in Canada? You're not alone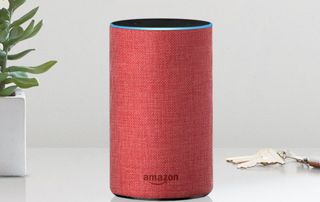 I received an Amazon Echo from the U.S. a couple months ago and was super psyched to hear that some of the devices were coming to Canada today. In my impatience, I tried to set mine up (first-gen Echo) a couple weeks ago. Got a language error, so it wouldn't work. I've tried a few more times since then to no avail. I contacted support last week to ask about the error and the rep said I should wait until December 5.
Well, December 5 is here, and still not Alexa in my home. So I contacted support again and chatted over the phone with a lovely rep. She tried to help me and had me try setting up using the web browser setup wizard instead of the Alexa app. No dice. She then checked on things and it turns out there's a HUGE master ticket in for Canadians who are having trouble registering their devices.
If you're in Canada and have an American Echo or a new Canadian one that you can't set up, don't worry; Amazon is on it and working on a fix right now. If you'd like, you can contact Amazon support and ask for an email when this is resolved. In the meantime, you'll just have to sit tight. Remember when Pokémon Go was released and its servers couldn't handle everything? Think of this scenario kind of like that. It's just gonna take a little time.
We've waited this long — what's a few days more?
Get the best of iMore in in your inbox, every day!
Mick is a staff writer who's as frugal as they come, so he always does extensive research (much to the exhaustion of his wife) before making a purchase. If it's not worth the price, Mick ain't buying.
I had the same issue with an Echo I got as a gift and Amazon actually fixed it. I called Amazon US customer care, and they told me it wouldn't register because the Echo was purchased from Amazon(US) vs. Amazon(CAN). They never told me there was a huge ticket created for this and when they tried to transfer me to Amazon Canada the transfer was refused. After 4 hours of being on the phone over 2 days, a Supervisor fixed it by registering my device to a random US address in Brooklyn, NY. Downside is that most of the features really only work best if it's registered in the country the echo resides in, so not that great of a device unless I can get one from Canada. Amazon offered to take it back and credit my account for the value of the Echo, but they can't put the credit on my Canadian account, so it's kind of limited. They are also unable to take back the US Echo and send me a Canadian one. A little stuck.

This is brutal, I know its new ...but customer service has gone to **** when you have a company that can't replace a product and return it to the US parent for internal credit.
Keep the post going and add to the knowledge base. I am struggling with an Echo I received as a prize drawn at a tax conference in Toronto ...but the vendor was from the US ....eye roll .....

I called Amazon and they told me about the current issue for Canada and that an update will be sent to the Alexa App.
However, he instructed me to use the browser and go to alexa.amazon.ca and do the setup and everything worked fine. I'm using my Echo now :)
Thank you for signing up to iMore. You will receive a verification email shortly.
There was a problem. Please refresh the page and try again.