Hey Apple, where's the iPad mini 6?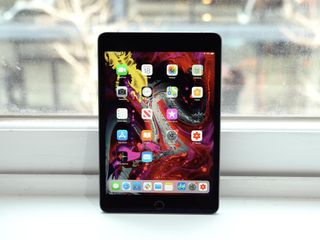 (Image credit: iMore)
The Apple 'Spring loaded' event has come and gone. We got a slew of new products: AirTags, iPad Pro (2021), Apple TV 4K with an updated Siri Remote, colorful new iMacs, and some updated services like Podcasts Subscriptions. Most of this stuff was expected, especially the AirTags and iPad Pros.
Still, some rumors were floating around earlier in the year that we should expect a new iPad mini in 2021. But with an Apple event now in the rearview, there is still no sign of an updated iPad mini, which was last updated in March 2019 — that's over two years at this point.
So Apple, where is the iPad mini 6?
Why iPad mini?
Apple's current updated iPad lineup is diverse and pretty much covers all the bases. The 8th-generation iPad is a great entry-level device with a spacious 10.2-inch display, and it still retains the Home button for those who don't want to switch over to Face ID just yet. The iPad Air 4 is what we call the best iPad for most people because it offers a great balance of power and features for a reasonable price. And for the heavy-hitters, there are two sizes of iPad Pros, which just got even more powerful thanks to the new M1 chip in the refresh.
But who is the iPad mini for?
Well, for one, it's a great size for kids. The last iPad mini 5 still has the 7.9-inch screen that the iPad mini is known for, and this size is perfect for the smaller hands of children. It's also incredibly light and portable, and with a max storage capacity of 256GB, it can hold plenty of games and videos to keep kids busy. So if you want your kid to have some entertainment while you're out waiting for dinner, it's easier to carry the iPad mini — plus, you can still use your iPhone.
And I've always loved the size of the iPad mini for reading eBooks (I have an iPad mini 4 around here). Because it's so much smaller and lighter than the other iPads, it's way easier to carry and hold — you shouldn't experience fatigue in your wrists while holding it up to read (unlike a 12.9-inch iPad Pro, for example). The 7.9-inch size of the iPad mini is a little bigger than a Kindle device, but you get a full-on LED display rather than just an e-paper display. And if you really need to, the iPad mini can do plenty of other things besides eBooks, so you don't need to sacrifice functionality.
It's time for a redesign
Apple has slowly been bringing over the flat-edge design of the iPad Pro to other models of iPad (iPad Air 4), and even other products like the iPhone 12 and new M1 iMacs.
If the iPad mini 6 is going to have a new design, it should have flat edges and no bezels, allowing it to make the most of its limited screen space. After all, a recent rumor about the iPad mini 6 is that it will have an 8.4-inch screen, though it'll keep the Home button for Touch ID. Honestly, Apple should get rid of the Home button, and if they insist on keeping Touch ID on it instead of moving over to Face ID, at least put the Touch ID sensor on the side button like the iPad Air.
Eventually, I believe that the entire iPad lineup will have the same exterior design but just come in different sizes with different internals. The current mix of old and new designs is what I would consider messy, and I want to see a uniform appearance again. Yes, I think even the regular iPad could have those flat edges at some point, too, though I'm not sure if they'll ever remove the Home button for that one.
The iPad mini is outdated
The iPad mini 5 was introduced back in March 2019 with the A12 Bionic. At the time, this was plenty fast and zippy, and for some, it still is. But now that we have iPad Pros with M1 chips inside them, the A12 is just a little...dated, to say the least. And while the 8th-generation iPad (2020) saw the addition of an A12, it's still an entry-level iPad using an older chip — even the iPad mini 5 had the A12 before the iPad. It's time for the iPad mini to get a much-needed spec bump.
Now, I'm not expecting M1 chips to go into the next iPad mini (though that would be awesome). Apple could put at least an A14 chip in the iPad mini 6, or whatever the next A-series chip will be called.
While I don't encourage using an iPad for taking pictures in most situations, the iPad mini 5 still uses an 8MP Wide camera. This is the same spec as the iPad mini 4 before it, which was released in 2015. So technically, the iPad mini 5 is using a camera that is six years old at this point — it's heavily outdated. And with the latest iPad Pro models going with a 12MP front-facing camera, the iPad mini's paltry 7MP is just a potato in comparison.
And let's not forget the display — it's still using a standard Retina Display with True Tone. Now, I understand that the 8th-generation iPad (2020) was also released with a regular Retina Display (even without True Tone), but that's understandable since it's an entry-level tablet. However, the iPad mini 5 still costs $70 more than the base level iPad, and it has a smaller display that is also Retina, so no Liquid Retina like on the iPad Air or iPad Pro. If the iPad mini continues to cost more than the entry-level iPad, then it should at least get a bit of a spec bump, right? I can't be the only one that thinks this.
Are you holding out for an iPad mini 6?
I may not have bought every iPad mini iteration that has come out, but I appreciate having a smaller iPad for certain things. And let's admit it — it's definitely a great size for kids. The iPad mini is often neglected by Apple, as it is normal for a few years to pass between each generation. But with the rest of the iPad lineup becoming more refined, isn't it about time that the small iPad got the same kind of treatment?
What about you? Are you holding out for an iPad mini 6 this year? Let us know in the comments.
Get the best of iMore in in your inbox, every day!
Christine Romero-Chan was formerly a Senior Editor for iMore. She has been writing about technology, specifically Apple, for over a decade at a variety of websites. She is currently part of the Digital Trends team, and has been using Apple's smartphone since the original iPhone back in 2007. While her main speciality is the iPhone, she also covers Apple Watch, iPad, and Mac when needed.

When she isn't writing about Apple, Christine can often be found at Disneyland in Anaheim, California, as she is a passholder and obsessed with all things Disney, especially Star Wars. Christine also enjoys coffee, food, photography, mechanical keyboards, and spending as much time with her new daughter as possible.

An 8.5-9" iPad Mini Air would be a dream for those of us who grew up on moleskins. Apple Pencil 2 support would make it the BEST note taking device, with a screen large enough to do most iPad related tasks, without thinking it should also be a laptop. It would also be the perfect companion device for most Windows laptop users - yes, Windows - because we do not have legitimate <10" tablet device to use with our laptops. Apple would own that market...

I agree with dstrauss! The iPad mini 5 is the best laptop companion for me and yes I am a Windows users. Work on windows, play on iPad. I had the iPad mini 4 for four years and the ONLY reason I upgraded was because I ran out of storage (64GB). I now have an 256GB so this thing will last me a very long time. I love the 7.9 inch display because its so convenient and discreet when I take my mini with me to places. If I'm waiting around I can read, watch videos/movies or browse the web on the go without taking up so much space. I know now and days people use their 6+inch phones to accomplish this, however to have iPadOS in a small package to me beats the Pro Maxs' of the world. I LOVE THIS THING!

That's all I've been waiting for. I actually bought the 11" Pro last fall and worked with it for two weeks to try to get used to it, but I took it back. The form factor of the 8" is perfect for what I use it for. It's perfect for ebooks, browsing and most of all, I use it because I take hand written notes using Apple Pencil instead of typed notes. My 5 isn't holding a charge like it did and I've been patiently waiting for a thin bezel Mini, but no luck. I suppose it's possible that they'll abandon the Mini and replace it with the rumored 8" foldable phone. Not sure how I feel about that, we'll just have to wait and see.

There are a few of us that prefer smaller format over larger for various needs, reasons. iMac, MacBook Air, and iPhone user. iPad Mini sort of died. For vacation travel, e-reader the iPad Mini was the hardware of choice. Compact, light. Just the right size. Still waiting for the next gen iPad Mini. Will continue to wait. Doubt if I will ever purchase a full sized iPad. Not a large enough difference with a case/keyboard compared to the MacBook Air.

Absolutely waiting for a new mini. I wouldn't even be opposed to a bit higher price, if they get rid of the bezels, and maybe go fingerprint unlock. An iPad Air Mini if you will. I think the positioning is hard as I don't think it costs all that much less to make the mini as it does the regular iPad, but people aren't willing to pay more, because of it's size. They seem to get it for the phone. Making things smaller is at times more challenging. Here's hoping for a Fall announcement. Two sales right here Apple, as long as you do more than slap an upgraded processor in the current design and call it a day.

I have an iPad mini 5, which I got for use with my handheld ultrasound. I rarely use it with patients by myself, as my phone works fine. But I use it for teaching residents and students, so they can see larger images. The rest of the time, it makes a good web surfer/YouTube/Kindle reader and trip planner during breakfast or before going to sleep. So I definitely hope they upgrade it. I certainly don't want to have to pay for an iPhone/cell line when all I want is an excellent small wifi iPad! Also, in answer to Sven, the Mini5 does do fingerprint unlock.

I was really hoping for an upgrade. I am a 12.9 inch iPad Pro user and when I am in court for work or working out in the field it is kind of a pain taking it on and off the magic keyboard to do tasks. To me the iPad Pro is way too big and way too slippery to be toting around like a notepad, especially with no case. But, like David Sparks and Steven Hackett, I have paired it with an iPad mini that I bought used on eBay right after the spring loaded event and I realized that it would not see and upgrade. It is a Wi-Fi only and 64 GB model and I could not love it more. I put just what i need on it for work plus a few games. I have an iPhone 12 pro max and although I love the phone itself, trying to view documents that are better suited for a 4:3 ratio screen is so much better on an iPad mini that is just as tall but wider than the iPhone. It also beats the iPhone and the iPad Pro out for playing many games and just sitting on the couch browsing the web or typing out a quick email. If I continue down this path then my next iPhone will definitely not be the larger size again.
Thank you for signing up to iMore. You will receive a verification email shortly.
There was a problem. Please refresh the page and try again.