Hilton's HHonors app now taps into Google Maps to help you select the best room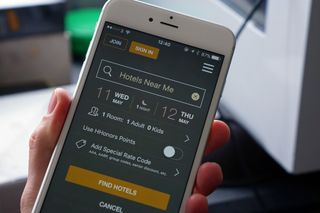 Hilton has teamed up with Google to make it possible for you to inspect and book your ideal room on Google Maps. Exclusively available to HHonors members, Google Maps has now been integrated into the company's app, allowing guests to see details on hotel surroundings as well as what view their selected room will have before making the booking.
Digital floor plans are present within the app that allows guests to almost visualize where their rooms will be in relation to nearby points of interest. Don't wish to have your room window located next to noisy public transportation links? Simply browse for a different room within the same hotel away from the line.
The map feature is now available on the Hilton HHonors iOS and Android apps, and will be available on websites this summer. As noted above, you'll need to be an HHonor member to take advantage of this new tool.
Press Release
MCLEAN, Va.--(BUSINESS WIRE)--More than 13 million times, Hilton HHonors members have used the award-winning HHonors app to choose the exact room they want. Now, in a new benefit available exclusively to Hilton HHonors members, Hilton Worldwide (NYSE: HLT) has integrated Google Maps into the app, giving members the unprecedented ability to see more details about the hotel's surroundings and their room's potential view before making a room selection. With the updated room selection feature, you can now be your family's hero by choosing the room at the Hilton St. Louis at the Ballpark Downtown that faces Busch Stadium, or by picking a room at Hampton Inn Marquette/Waterfront that looks out at Lake Superior.
"Guest preferences continue to evolve and, thanks to our digital innovations and category-leading partners like Google, we're providing even more personalized experiences for our Hilton HHonors members. By continually evolving our Hilton HHonors app, we're empowering our members with more control over their stay experience," said Mark Weinstein, senior vice president and global head of Loyalty and Partnerships, Hilton Worldwide. "Everything we do from a technology standpoint starts with the customer – both the feedback they provide and the experiences we observe. We invest in, anticipate and deliver what we know our Hilton HHonors members most need and want, hopefully delighting them along the way."
The updated digital floor plans include detailed geographical information about the hotel's surroundings. Hilton HHonors members can visualize where available hotel rooms are located in relation to city streets, public transportation, parks, bodies of water and other markers. They can see if an expressway is outside their window or if their room faces east toward the sunrise, for example. Additionally, members will soon be able to see where additional points-of-interest like landmarks or attractions are in relation to their selected room.
"We are the only global hotel company offering this game-changing technology and it is one of the most popular features on the Hilton HHonors app. Our guests love having the ability to choose their own rooms, but they have asked us to provide more detail about the hotel's surroundings, and we have delivered," said Geraldine Calpin, chief marketing officer, Hilton Worldwide. "By working with Google, we're making our guests' feedback reality by providing an exciting, in-app experience that lets our Hilton HHonors members pick their perfect room."
"Google Maps want to make it as easy as possible for people to get the information they need in a simple and intuitive way," said Megan Boundey, Google Maps Product Manager. "With Hilton's spirit of constant innovation, combined with the Google Maps API technology, together we were able to enhance the guest experience by changing the way travelers plan and prepare for their hotel stay."
The feature is a benefit available only to Hilton HHonors members who book direct through Hilton's brand websites, award-winning mobile app, reservation call centers or preferred corporate travel partners and professionals. The map feature is now available on the Hilton HHonors iOS and Android apps and will be available on Hilton's brand websites this summer.
To select a room, Hilton HHonors members can sign into their account via their mobile device, tablet or computer beginning at 6:00 a.m. the day before a booked stay. Upon selecting their arrival time, they are shown a floor plan of the hotel with a green circle denoting available rooms. Along with the enhanced maps, guests can view photos and details of their hotel room, ensuring the room they select matches their preferences. During digital check-in, Hilton HHonors members can also request a Digital Key at participating hotels and head straight to their room upon arrival, using their smartphone as their key.
Digital check-in with room selection is a benefit for Hilton HHonors members, available at more than 4,500 hotels around the globe via the Hilton HHonors app – Hilton Worldwide's 4.7 star mobile app that is the highest rated hospitality app on the Apple App Store. Hilton HHonors is free to enroll and available to all guests. For more information and to join, visit the HHonors site here.
Get more iMore in your inbox!
Our news, reviews, opinions, and easy to follow guides can turn any iPhone owner into an Apple aficionado