HomePod mini vs Nest Mini: Which should you buy?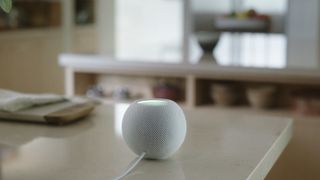 (Image credit: Apple)
Best for Apple

The HomePod mini features seamless integration with your iOS and Mac devices, making it easy to stream your tunes and command your HomeKit home via Siri. A tiny — but powerful speaker system delivers room-filling sound, and extras like Stereo Pairing, AirPlay 2, and Thread Border Router capabilities make it the best smart speaker for those all-in with the Apple ecosystem.
For
Great sound
Easy setup
HomeKit smart home control
AirPlay 2 Multi-room audio
Stereo Pairing support
Against
Expensive
Limited apps and services
No Bluetooth streaming
Best for the rest

Google's Nest Mini offers fun colors, Chromecast, Bluetooth, Multi-room audio, smart home controls, and respectable sound, all at half of the cost of the HomePod mini. More importantly, the Nest Mini is compatible with more services like Spotify and works with iOS and Android devices.
For
Affordable
Wide range of apps and services
Smart home hub capabilities
Chromecast and Bluetooth streaming
Multi-room audio and Stereo Pairing
Against
Average audio
Doesn't work with HomeKit
Privacy concerns
While both options are some of the best smart speakers available, choosing between the HomePod mini and Nest Mini ultimately comes down to the devices in your home and price. If you are all-in with Apple, the HomePod mini's seamless integration and superior sound make picking it over the Nest Mini a no-brainer.
On the other hand, if price is a concern, or if your home includes Android phones, Spotify users, or smart home accessories that don't work with HomeKit, the Nest Mini is the better pick.
HomePod mini vs. Nest Mini: The breakdown
With the HomePod mini and the Nest Mini essentially being slimmed-down versions of more prominent smart home speakers, they both perform the same tasks. Whether answering general knowledge queries, assisting with smart home controls, or playing music on-demand, these smart speakers deliver hands-free convenience in a compact form factor.
However, while core use cases are similar, they go about them in drastically different ways. Interactions with the two speakers rely heavily on whether you are on team iPhone or Android, so you need to consider your mobile phone when deciding on the best for your home's needs. Here's the full-spec breakdown between the two.
Swipe to scroll horizontally
| Header Cell - Column 0 | HomePod mini | Nest Mini |
| --- | --- | --- |
| Price | $99 | $50 |
| Finishes | Two (White, Space Gray) | Four (Sky, Chalk, Charcoal, Coral) |
| Dimensions | 3.3-inches-by-3.9-inches | 1.65-inches-by-3.85-inches |
| Weight | 345 grams | 183 grams |
| Wi-Fi | Yes, 802.11b/g/n/ac (2.4 GHz/5 GHz) | Yes, 802.11b/g/n/ac (2.4 GHz/5 GHz) |
| Bluetooth | Yes, 5.0LE | Yes, 5.0LE |
| Thread | Yes | No |
| Ultra-Wideband | Yes | No |
| Ethernet | No | No |
| Digital assistant | Siri | Google Assistant |
| Speaker | Full-range driver and dual passive radiators | 40 mm driver |
| AirPlay 2 | Yes | No |
| Services | Apple Music, Apple Podcasts, iTunes, iCloud Music Library, TuneIn, Pandora, iHeartRadio | Google Play, Google Music, YouTube Music, Apple Music, Spotify, Pandora, Google Podcasts |
| Microphone | Four far-field array | Three far-field array |
| Stereo Pairing | Yes | Yes |
| Multi-room audio | Yes, AirPlay 2 | Yes, Chromecast |
| HomeKit | Yes | No |
| Intercom | Yes | Yes |
| Personal Requests | Yes | Yes |
| Smart home hub | Yes | Yes |
| Touch controls | Yes | Yes |
| App compatibility | iOS | iOS, Android |
| Audio output | No | No |
As you can see, there are quite a lot of differences between the two speakers — so let's begin with the similarities. Both speakers are incredibly compact compared to their larger siblings and sport a transparent mesh fabric cover that allows them to fit right into most decor. Each speaker also includes a far-field microphone array enabling them to pick up the sound of your voice from across the room and offer on-device touch controls.
The HomePod mini and Nest Mini speakers are entirely wire-free. They utilize Wi-Fi and Bluetooth connectivity and do not feature any Ethernet or audio input/output jacks. Finally, each speaker also works in Stereo Pairs and supports Multi-room audio; however, the implementation varies between the two. With the similarities out of the way, let's move on to the key differences.
HomePod mini vs. Nest Mini: Design
Despite both speakers being available in standard finishes like black and white, Google's Nest Mini one-ups the HomePod mini with two additional color options. The Nest Mini's extra colors: sky and coral, add a touch of personality and fun with a subtle shade of blue and a deep pink that look great in the home and make for an excellent option for kids' rooms.
On-device control options also vary between the two. At the top of the HomePod mini rests a larger, more familiar, capacitive touch surface complete with dedicated playback buttons. The touch surface on top of the HomePod mini also lights up with various colors during music playback or when responding to requests. Google's speaker also has capacitive controls and LED indicators. Still, they lack clear labels, are considerably smaller, and don't have the dynamic-like playback effect that you get with HomePod mini.
Another design difference to consider is how each speaker fits into your specific space. The Nest Mini includes a slot on its base that allows for wall mounting right out of the box. It may not seem like much, but mounting a smart speaker on the wall is incredibly handy for areas where counter space is at a premium or in wet areas like bathrooms or kitchens.
Now, there are accessories for HomePod mini and several third-party options that can help get Apple's speaker up and out of the way. Still, they only add to the considerably more expensive cost of admission. Along the same lines, the HomePod mini is also around two inches taller than the Nest Mini. The additional height on the HomePod mini makes it stand out more.
HomePod mini vs. Nest Mini: Smart home integration
Another convenience that smart speakers like the HomePod mini and Nest Mini offer is controlling your smart home accessories. Using just your voice, your can start your next movie night off right by dimming your smart lights, closing your blinds, and setting your TV to the correct input automatically.
However, with "smart" things being a free-for-all with no cohesion between vendors, picking your next smart speaker may depend on your accessories. Suppose your smart home revolves around HomeKit specific accessories; the HomePod mini is the only smart speaker that can give you hands-free voice controls through Siri.
The HomePod mini also plays a critical role within the smart home by acting as a HomeKit hub. HomeKit hubs enable out-of-home remote controls, automation, scenes, and advanced features like HomeKit Secure Video. Thread networking technology in the HomePod mini allows the smart speaker to act as a Border Router for accessories that rely on the hot new IP-based protocol.
Unlike HomeKit, compatibility with the Google Assistant — which the Nest Mini relies on, is almost universal. There are thousands of devices that support Google's platform, so there's a good chance that your existing accessories or those cheap smart plugs on Amazon will work with it. The Nest Mini even acts as a smart hub for select accessories like the C By GE line, so you won't need to worry about plugging another hub into your Wi-Fi router.
HomePod mini vs. Nest Mini: Audio and services
What really sets the HomePod mini and the Nest Mini apart is audio quality and services. While the Nest Mini and other compact speakers have gotten considerably better over the years, they all pale compared to the HomePod mini.
Inside the HomePod mini are a set of dual passive radiators and a single full-range driver that pumps out incredible sound for its size. HomePod mini's vocals are crisp and clean, and it packs in enough bass to easily best most dedicated Bluetooth speakers in its price range.
The Nest Mini — and its single 40-mm driver simply doesn't match up to the power of the HomePod mini. Bass, in particular, is a sore spot for the Nest Mini; it lacks at higher volumes, which can make the tunes sound a little lifeless.
Vocals are on par with the HomePod mini as they come through loud and clear, and as a whole, the Nest Mini is undoubtedly better than older smart assistants like the first-generation Echo Dot. Make no mistake about it though, neither speaker will replace your existing home theater setup, but they are more than capable of supplying good enough sound for rooms where larger speakers aren't a good fit.
Of course, audio quality goes out the window if you cannot play your music library or stream the latest releases via your service of choice. This is where the Nest Mini shines. Google's speaker runs circles around the HomePod mini by offering compatibility with tons of music services like Google Music, Google Podcasts, Spotify, Pandora, TuneIn, iHeartRadio, YouTube Music, Deezer, and even Apple Music.
The Nest Mini also supports streaming or casting music directly from your phone through Bluetooth and Chromecast capabilities. Through Chromecast, you can use the Nest Mini alongside other compatible speakers and devices, creating a multi-room audio experience or speaker groups. Bluetooth support enables effortless streaming directly from iOS and Android phones, which is great when guests or family members want to share their faves without going through a whole setup process.
Apple's HomePod mini is extremely limited when it comes to apps and services. The HomePod mini only supports a handful of services and stations currently — Apple Music, Apple Podcasts, iTunes, Pandora, iHeartRadio, and TuneIn being the most notable. The HomePod mini also doesn't support direct music playback over Bluetooth, so sharing your speaker with others isn't as seamless as the Nest Mini.
The HomePod mini does make up for some of its limitations, though, through AirPlay 2. AirPlay 2 allows beaming content from your iOS devices or Mac wirelessly so you can play your Spotify playlists and more — but it does take away the convenience of voice controls. AirPlay 2 also allows you to create a Stereo Pair using two HomePod mini's to enhance the listening experience, as well as Multi-Room audio, so you can traverse your home without missing a beat.
HomePod mini vs. Nest Mini: Which should you buy?
When it is all said and done, picking your next smart speaker depends heavily on your phone preferences. If you are all about that Apple life and your home is filled with iPhones, Macs, Apple TVs, and HomeKit accessories, then the HomePod mini is the best fit. The HomePod offers seamless integration with all of your devices and delivers room-filling sound that bests most Bluetooth speakers.
However, if you aren't particularly tied to the Apple ecosystem or have others in your home that rely on services like Spotify, the Nest Mini is the better option. While not as impressive as the HomePod in the audio department, the Nest Mini is good enough for smaller spaces, and its incredibly affordable price allows you to put one in every room of your home without breaking the bank.
Best for Apple
Seamless integration

The HomePod mini is the smart speaker for Apple fans thanks to its seamless integration with iOS, Apple TV, and HomeKit. It may be mini, but the HomePod mini delivers room-filling sound on-demand using just your voice.
Best for the rest
More services and more affordable

While it doesn't quite match the HomePod mini in audio quality, the Nest Mini more than makes up for it with a wide variety of compatible services. If you are not deep into the Apple ecosystem, then the Nest Mini is the clear choice.
Master your iPhone in minutes
iMore offers spot-on advice and guidance from our team of experts, with decades of Apple device experience to lean on. Learn more with iMore!
Christopher spends most of his time writing and dreaming about all things HomeKit and the Home app. Whether it is installing smart light switches, testing the latest door locks, or automating his households daily routines, Christopher has done it all.