How to use Apple Music with the Apple Watch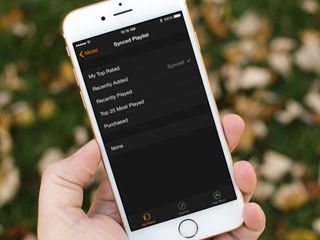 Whether you're heading out for a run, hitting the gym, doing rounds, or doing housework, your Apple Watch can hold up to 2 GB of music all on its own. All you have to do is sync a playlist over from your iPhone. The transfer is wireless and best of all, it's easy to do.
How to download a playlist for offline listening
Before you add a playlist to your Apple Watch, you'll want to make sure it's first locally stored on your iPhone.
Launch the Music app on your iPhone.
Go to the playlist you want to download.
Tap the More button (looks like •••) to the right of the music.
Tap on Make Available Offline



The playlist and its included songs should immediately begin downloading to your device; you can see their progress by tapping the download bar at the top of the screen. After the playlist is finished downloading, you'll find it in your local playlists.
How to sync playlists from your iPhone to your Apple Watch
Launch the Apple Watch app on your iPhone.
Tap on Music.
Tap on Synced Playlist.



Tap on the Playlist you want to sync.
Connect your Apple Watch to its charger to start the sync process.
Once the playlist syncs over, it'll be available for you to play on your Apple Watch.
How to play local music on your Apple Watch
Launch the Music app on your Apple Watch.
Force Press to bring up the options.
Tap on Source.
Tap on Apple Watch.
Pair your Apple Watch with a Bluetooth headset, if you haven't already.
Choose the song you want to play, and enjoy!
Serenity was formerly the Managing Editor at iMore, and now works for Apple. She's been talking, writing about, and tinkering with Apple products since she was old enough to double-click. In her spare time, she sketches, sings, and in her secret superhero life, plays roller derby. Follow her on Twitter @settern.
Tried it and it doesn't work

it doesn't work because WatchOS 1.0.1 doesn't support this, that's a feature for WatchOS 2.

The watch needs to be on the charger to transfer music.

It was on the charger as was my phone. The weird thing it is says the music transferred but when I try to play it without my iPhone I get an error that it can't play.

Thats strange, are you sure that the Apple Music was made available offline? Other than that I haven't had the issue so I"m not gonna be much help.

Might want to add that the Watch needs to be on the charger to accept the music, even though it says that in the Apple Watch App on the phone when you select a playlist. Kind of a strange limitation especially when the watch is fully charged...

Whoops. Thanks for that catch! It was in my notes, but I forgot to add it to the formal steps.

For some reason Smart Playlists will not sync with Apple Watch, tried several times with no joy, the process gets stuck at 99% every time. Ended up adding the same songs to a regular playlist and the watch synced just fine.

I could not see Apple Music playlists (that I downloaded to iPhone) in my Watch app.

Haven't tried this yet. But isn't It a bit cumbersome.
First I need to download the songs to my phone, where I do not want them.
To be able to load them to my watch.
Wouldn't it be nice if I could manage my watch including content and updates from my mac as a second option?

Tried this and didn't work. Watch and phone both charging. Restarted both. Still didn't work. Upaired the watch then paired again. Didn't work. Called apple support.... Following instruction I created a new playlist tried to sync still stopping at 1%. Looked at the first playlist I tried to sync and double checked that the playlist was on the phone. It was two albums so I double checked each album had a choice to remove download. But then I looked at each song and a few of them still had a option to make available offline although based on the album and playlist options to remove download I thought all the songs were on the phone not in cloud. So I made each song available offline and it worked. Buttttt then I made another playlist with each song available offline and that playlist would not sync. The apple supervisor and I are stumped as to why that playlist would not sync. Regardless this seems way to complicated to get songs on the watch.

I have had very similar experience to yours. I didn't contact Apple Support though.

I agree that it seems like it's way too many steps to get it on the watch. I would have thought an option in that long list of options under the *** would be 'send playlist to watch'. The OS knows there is a watch there via the BLE connection, it should be able to send individual songs, albums, or songs tot he watch right from the Music app.
Get the best of iMore in in your inbox, every day!
Thank you for signing up to iMore. You will receive a verification email shortly.
There was a problem. Please refresh the page and try again.