How to connect the Magic Keyboard to your iPad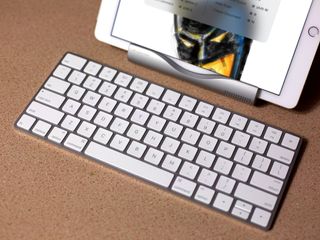 The new Magic Keyboard has a lower profile, smaller footprint, and yet full-sized keys that, thanks to a re-engineered scissor mechanism, enjoy 33% more stability. It may not be the old-school selectric clickity-clacker some still enjoy, but the Magic Keyboard is slimmer and more portable than ever. And while it's sold with the Mac, it also works perfectly well with the iPad.
$99 - Buy now from Apple (opens in new tab)
How to pair the Magic Keyboard to your iPad
The Magic Keyboard can automagically pair with a Mac the first time you plug it in via the Lightning cable charger. For the iPad, however, you have to go through Bluetooth.
Turn the Magic Keyboard on if it isn't already. Otherwise, switch it off and then on to make it discoverable. (The switch is on the back left.)
Launch the Settings app on your iPad.
Tap on Bluetooth.
Make sure Bluetooth is set to On, then let it search for devices.
Tap on Magic Keyboard, when it appears, to pair.
That's it. You're done. No codes, no pins, no fuss, no muss.
Note: For that reason I'd suggest doing the pairing the first time you turn the Magic Keyboard on, and turning it on when you're not around any other devices that might try to grab it first.
How to check the battery charge level for the Magic Keyboard on your iPad.
There's no charge indicator on the Magic Keyboard itself, but you can easily check the power level on your iPad.
Swipe down from the top of the screen to bring down Notification Center.
Scroll down to the Batteries sections.
Read the charge level for Magic Keyboard.
How to discover Magic Keyboard shortcuts on iPad
Once you're connected, iOS 9 lets you quickly and easily find all the available keyboard shortcuts in an app.
Launch the app you want to use.
Hold down the modifier key—shift, alt, or command keys— you want to see the shortcuts for.



How to quickly switch apps using the Magic Keyboard on the iPad
When using your iPad by itself, double-clicking the Home button is how you bring up the fast app switcher. Once you're connected to the Magic Keyboard, however, you can switch apps without your fingers ever leaving the keys.
Hold down the command key and hit the tab key.
Keep hitting the tab key until you get to the app you want to switch to.
Let go of the command key.



If you're thinking that's exactly like command-tab on the Mac, and alt-tab on Windows, you're thinking right!
How to disconnect or un-pair the Magic Keyboard from your iPad
If you want to revert back to the virtual keyboard, you can simply turn your Magic Keyboard off. If you want to disconnect it, or have your iPad forget about it entirely, you can do that in Settings.
Launch the Settings app on your iPad.
Tap on Bluetooth.
Tap on the Info button to the right of the Magic Keyboard entry.




Tap on Disconnect to temporarily stop your iPad from detecting the Magic Keyboard. (You have to reconnect later to use it again.)
Tap on Forget This Device to sever the pairing between your iPad and the Magic Keyboard. (You'll have to re-pair later to use it again.)
How to pair your Magic Keyboard with other devices
$99 - Buy now from Apple (opens in new tab)
Luke Filipowicz has been a writer at iMore, covering Apple for nearly a decade now. He writes a lot about Apple Watch and iPad but covers the iPhone and Mac as well. He often describes himself as an "Apple user on a budget" and firmly believes that great technology can be affordable if you know where to look. Luke also heads up the iMore Show — a weekly podcast focusing on Apple news, rumors, and products but likes to have some fun along the way.
Luke knows he spends more time on Twitter than he probably should, so feel free to follow him or give him a shout on social media @LukeFilipowicz.
Nice! Very nice. Thanks Rene.

Thank you Rene. I was interested in the keyboard from my iPad Air 2. I am guessing it will also work with my iPhone--Yes? One last thing: To disconnect and use the virtual keyboard, shouldn't I just turn off the Magic Keyboard? Sent from the iMore App

It does indeed: How to pair your Magic Keyboard with your iPhone Apple TV as well: How to pair your Magic Keyboard with your Apple TV I've added links for both, above, as well.

Rene, as ever, the problem with all external keyboards on the iPad is that autocorrect features are disabled. I fear the same will be true with the iPad Pro and Smart Keyboard. Having used it briefly, can you confirm this? Also, do you know why Apple insists on disabling autocorrect when using external keyboards?

I neglected to ask but I'll try to find out!

I'm slightly disappointed that Apple didn't make the new keyboard backlit. It's rechargeable now, you don't have to worry about eating through batteries. There doesn't really seem to be any downsides to having a backlit keyboard. And it would have given people that already have the old keyboard more incentive to buy the new one.

It would reduce battery life by an amount that was likely greater than they were willing to accept this generation. My guess is when it can do over a month with backlight, we'll get it.

I have one more 'how to' for you to include Rene, 'how to' win a new keyboard and track pad for you Mac from imore. Hahaha I would be grateful for such a gift, wink wink. Sent from the iMore App

Thank you Rene! I was pouring over Apple's site last night trying to find any mention of this but to no avail.
This is just the excuse I need to get one of these. Now I just need to find a carry case to protect the keys when I'm mobile.

I'm looking for one as well; hopefully Origami will update soon!

Hi Rene,
Does the magic keyboard work with the iPad via th Lightning port like Jason Snell reported it does with older macs? In other words, could I use the plugged in keyboard while my iPad Air 2 is in airplane mode via a lightning cables and the USB adapter? Until Apple finally releases the Lightning to lightning charger cable for charging the Apple pencil that is.

I was wondering this too. Can you plug the keyboard into the iPad via a lighting to USB adapter and standard lightning cable? Seems a great way to keep it charged when necessary.

How does the new Apple keyboard stack up against the Typo keyboard? Sent from the iMore App

Rene, which iPad stand is the one in the header??

If this keyboard is magical, a mouse that actually connects to iPad would be Jesus juggling chainsaws.

Please introduce a keyboard which can be easily viewed in low light. Really? This long and nothing for the thousands of artists who use Apple products? Sent from the iMore App

Hi! I hold down the modifier keys but the shortcuts don't come up as per your example, any tips? Also, do you know how to trigger the keyboard on screen to go down when you're using the wireless keyboard? Would be great to gain back half the screen! Thanks for any tips you can share! Great article!

I have exactly same the question.. some features don't respond such as command + tab . Does my software have to be US to work out?because it is not.

Ι will now reply to my previews reply because as it seems my problem is solved. I didn't do anything special but after 4 hours of usage right now my keyboard is starting to respond on the pc features...it just needed time to '' unlock'' them on ipar air 2 :)
Thank you for signing up to iMore. You will receive a verification email shortly.
There was a problem. Please refresh the page and try again.