How to disable access to certain areas of the screen with Guided Access for iPhone and iPad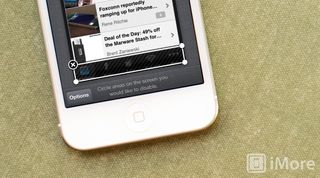 If you've got an iPhone or iPad running iOS 6 or higher, you've got Guided Access. This feature is especially great to use with small children that you don't want to have access to certain apps. Once you've launched them into the app they are allowed to be in, you can take it one step further by disabling touch for certain areas of the screen you may not want them having access to.
Follow along and we'll show you how.
Open the app you do want them to be able to access.
Triple tap the Home button to launch Guided Access. If nothing happens, make sure you have Guided Access enabled within Settings first.
You can now circle areas on the screen that you don't want them to have access to. Once you've circled areas you can use the anchors in the corners of each box to refine exactly where you don't want them to be able to tap.
Now tap the Start button in the upper right hand corner to enter Guided Access mode.
That's all there is to it. Whoever is using the iPhone or iPad will not be able to exit that app or tap on the areas of the screen that you've specified during setup.
Get the best of iMore in in your inbox, every day!
iMore senior editor from 2011 to 2015.
I gave up on this feature. I have no idea how she does it, but my 2yo daughter is able to circumvent guided access within a couple of minutes.

add a password to guided access, without one all you need to do is triple click the home button to turn it off

Of course I added a password to guided access. She can consistently get past this. Either she has learned my password or her random barrage of taps and button presses circumvents the pass code protection.

Nice!! Will have to try it out the next time some kid demands to play Where's My Water on my phone. Will have to wait and see how it pans out. Thanks

I live these kind of tips. Thanks for the information.

As an adult without child that I would even consider the idea of handling my phone. Heck if its an emergency I wouldn't trust anyone other then myself to call for help. Barring the 'unforeseen emergency ' which would most probably be related to any minor with the nerve approach me about sharing my device. How can I use the function of disabling screen effectively in an adult world . I ask because often I don't consider many of the simplest uses and would appreciate being informed. I would lord the info over anyone willing to concede they were in the dark about the function and especially over people who reproduce, can afford smart phones yet fail to understand the possible danger they put their spawn by way of unbridled access to the world. I'll start at home with my own mother who is young enough to utilize technology yet so old she cannot grasp the danger and perversion of multitudes. I'm not above adult ideas and sites as long as people control access by minors. The childs parent and 'village' necessary to raise kids, not the government or Internet. Sorry I'm ranting but would appreciate the info
Thank you for signing up to iMore. You will receive a verification email shortly.
There was a problem. Please refresh the page and try again.