How to follow Euro 2016 on iPad or iPhone in the UK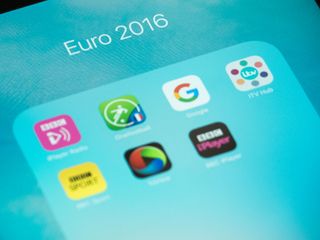 UEFA Euro 2016 is one of Europe's biggest sporting events, with 24 teams clashing over the next month in France. As with all major sporting events, your iPhone and iPad can be an invaluable resource for helping you not only watch matches themselves, by staying up-to-date when you're away from the sofa, the desk or the pub.
We've rounded up a few top choices for following Euro 2016 in the coming weeks.
Onefootball
The Adidas-sponsored Onefootball app is a great way to stay informed about all the teams and competitions you follow, not just Euro 2016. The app is split between a dedicated news feed for your teams, upcoming fixtures, a competition browser and a dedicated tab for the European championship. You can also set up push notifications for important alerts relating to your favorite teams.
Better still, there's also an Apple Watch app for keeping up-to-date on scores and upcoming games when you're out and about.
BBC iPlayer + iPlayer Radio
The BBC has broadcast rights to a good chunk of the tournament, and the BBC iPlayer app is the best way to watch the Beeb's output live. Alternatively, matches in their entirety are available to watch after the fact if you're unable to tune in at the time — though downloads are unavailable, so you'll need to stream over Wifi or mobile data.
If you're not able to watch, or just prefer a different style of commentary, the iPlayer Radio app gives you a high-quality audio stream of 5 Live's Euro 2016 coverage.
ITV Hub
ITV's apps have improved significantly of late, and the ITV Hub gives you all the corporation's channels wrapped an attractive, responsive UI. Games can be streamed live from ITV1, and you can also find matches you've missed later on by scrolling back through the listings.
As you'd expect from ITV, the app is ad-supported, including pre-roll ads when watching catch-up content.
ToView
ToView isn't quite as elegant as the BBC or ITV's first-party apps, but this ad-supported app does let you stream just about all free-to-air UK TV channels for free, provided you're using a supported ISP and have a UK TV license. There's no catch-up option, and the picture quality isn't always as good as the official streams, but you'll be able to hop between BBC and ITV coverage within a single app.
BBC Sport
The BBC's dedicated Sport app gives you access to the corporation's live streams and text updates, along with useful features for keeping track of developments around key games. By adding Euro 2016 to "My Sport" and selecting your teams, you can receive updates for kick-off times, half-time scores, goals and full-time results. And if you really want to keep on top of things, you can enable notifications when specific team line-ups are announced too.
And if you're out and about and unable to watch live video, 5 Live's radio stream is just a tap away.
Google
Whatever you think of Google itself, it's pretty good at serving up the information you need. And the ability to track sports scores and fixtures has been part of Google Now, the firm's predictive search feature, since the very beginning. This can be a great way to make sure you don't miss an important game. Just search for "Euro 2016" or your home team to start receiving card updates for upcoming fixtures and live scores.
Of course Google is also smart enough to directly answer a lot of Euro 2016-related questions, like "When is France's next game," or "group B fixtures," if you've already searched for Euro 2016.
Don't forget about Siri!
Though not technically a separate app, Siri is a great option for quickly checking sports scores. Check out our guide for more on using Siri to keep up to date with the latest Euro 2016 scores.
How are you following Euro 2016 on your iPhone or iPad? Shout out in the comments!
Get more iMore in your inbox!
Our news, reviews, opinions, and easy to follow guides can turn any iPhone owner into an Apple aficionado