How to get Drifloon and Drifblim in Pokémon Brilliant Diamond and Shining Pearl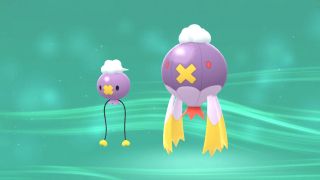 (Image credit: iMore)
There's plenty of Pokémon to acquire in Pokémon Brilliant Diamond and Shining Pearl, some of which are more straightforward than others. Drifblim isn't too bad to grab, assuming you know precisely what to do. If not, you'll be running around in frustration for awhile. Don't worry, we're here to help. Assuming trades aren't an option, there is another path towards getting a Drifblim, but first, you'll need a Drifloon.
It's not one of the Pokémon Brilliant Diamond and Shining Pearl version exclusives, but there's a unique trick to getting this floaty Pokémon in one of the latest Pokémon games.
Pokémon Brilliant Diamond and Shining Pearl: How to get Drifloon
Without the option of just being directly traded a Drifblim, you'll need to evolve a Drifloon. Unfortunately, this Pokémon can't be found in a wide variety of locations like the vast majority of other Pokémon in the Sinnoh region. Instead, you'll need to go to one particular spot. Annoyingly, you'll also have to do it at a specific time. Drifloon only shows up at the Valley Windworks on Friday, and only after you've cleared out Team Galactic as part of the story.
You can see the location of Valley Windworks on the map above. If you're there on Friday, you'll see Drifloon. Walk up and go through the process of capturing it like any other Pokémon.
Pokémon Brilliant Diamond and Shining Pearl: How to get Drifblim
Drifloon evolves when it reaches level 28, so put it in your party and level it up until it evolves into Drifblim. It's that simple. Just to recap, we're going to list all the steps, from beginning to end:
Wait until Friday.
Head to Valley Windworks.
Capture Drifloon.
Level up Drifloon until it evolves into Drifblim.
While this timing is frustrating to deal with, it's the only thing making it extremely difficult. Now that you know how to get Drifloon, you know where to check moving forward, assuming you want to get more than one. Sooner or later, you'll fill up that Pokédex, though you should keep in mind that trading using Pokémon HOME won't be available until 2022.
Keep on going!
Pokémon Brilliant Diamond and Shining Pearl aren't perfect remakes, but they provide new and returning players a great way to experience the Sinnoh region and Generation 4 of Pokémon. If you're having trouble getting started in the game, consider consulting our Pokémon Brilliant Diamond and Shining Pearl beginners tips and tricks.
Squad up
(opens in new tab)
Pokémon Brilliant Diamond and Shining Pearl
Balloon on deck

Drifblim is one of the more confusing Pokémon to acquire in Brilliant Diamond and Shining Pearl thanks to the timing gimmick, but once you have Drifbloom, you're well on your way.
Get the best of iMore in in your inbox, every day!
Samuel Tolbert is a freelance gaming writer who started working for iMore and its sister sites Windows Central and Android Central in July 2019. He handles news, previews, reviews, and exclusive original reporting, and has also been featured on TechRadar.

With a background studying engineering before he shifted his focus to gaming journalism, he's skilled at identifying technical advantages and disadvantages provided by different hardware. If he's not writing something, he's off playing video games, spending time with his pets, exercising, or reading. He's also fond of trying to draw things with his iPad.
Thank you for signing up to iMore. You will receive a verification email shortly.
There was a problem. Please refresh the page and try again.