How to make and answer phone calls on your Apple Watch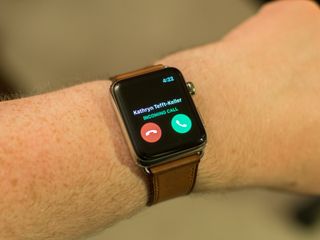 While you might not even use your iPhone as a phone, did you know that you can use your watch as a phone? If you've got an Apple Watch, you can do just that, placing and answering calls right from your wrist.
Use this guide to get started with calls on your Apple Watch.
How to make a phone call with Siri on the Apple Watch
The quickest way to start a phone call from your Apple Watch is to call out to Siri.
Say Hey Siri or press and hold the Digital Crown on your Apple Watch to activate Siri.
Tell Siri who you want to call (For example: "Call Joe.")
Tap the number you want to call, if there's more than one option.
How to make a phone call from the Phone app on the Apple Watch
Of course, you can also use the built-in Phone app to scroll through your Favorites, Recents, or even your whole contact list.
Open the Phone app from the Home screen of your Apple Watch.
Choose from Favorites, Recents, Contacts, or Keypad.
Tap on the name or number of the contact you want to call, or dial a number manually if you're using the keypad
Tap the green phone button to place your call if you're using the keypad.
How to answer a phone call on the Apple Watch
When a call comes in, you can leave your phone in your pocket and answer it with a single tap.
Raise your wrist or tap your screen to view your incoming call.
Tap the green answer button.
Tap the mute button if you need to mute a call.
Turn the Digital Crown to change the volume of the call.
Tap the red disconnect button when your call is over.
How to send an away message instead of answering a call with watchOS 6
Apple occasionally offers updates to iOS, iPadOS, watchOS, tvOS, and macOS as closed developer previews or public betas (opens in new tab). While the betas contain new features, they also contain pre-release bugs that can prevent the normal use of your iPhone, iPad, Apple Watch, Apple TV, or Mac, and are not intended for everyday use on a primary device. That's why we strongly recommend staying away from developer previews unless you need them for software development, and using the public betas with caution. If you depend on your devices, wait for the final release.
Just like you can on iPhone, you can use your Apple Watch to send a pre-made text message to a caller if you're unable to speak with them at the moment
Tap the ... button when a call comes in.
Tap one of the pre-made messages if you can't talk with the person right away.
Accessories for your Apple Watch
(opens in new tab)
Apple AirPods 2 (opens in new tab) (From $159 at Apple)
The best Apple accessory has gotten betting with AirPods 2. Now offering a wireless charger case, the popular earbuds feature the new Apple H1 headphone chip that delivers a faster wireless connection to your devices, as well as support for "Hey Siri."
(opens in new tab)
Fullmosa metal band (opens in new tab) ($16 at Amazon)
Get the metal band look for a lot less than Apple's first-party option with this band that's available in multiple colors. It includes extra connectors.
Questions?
If you have any questions about placing or answering a phone call using your Apple Watch, let us know in the comments.
Joseph Keller is the former Editor in Chief of iMore. An Apple user for almost 20 years, he spends his time learning the ins and outs of iOS and macOS, always finding ways of getting the most out of his iPhone, iPad, Apple Watch, and Mac.
I don't have the watch so forgive the question. Can I actually **** (short name for Richard is blocked?? REALLY?! ) Tracy the call or am I just on my iPhone speakerphone?

Yep you can totally **** Tracy it lol. I actually use it quite a bit. Works well.

OK... Confession. I just found out you could make calls on the Apple Watch by accident. I forgot my phone at home 1 day and my watch rang at the office. I knew you could take a call and use it as a "speakerphone" with you phone near. But I didn't know it would work with the phone far away and the watch connected to Wifi. Now at the office I just leave the phone on my desk... Pretty badass.

Tip... I've found reversing the Watch (wearing on my left wrist, but oriented for right wrist) promotes call use via the Watch as the mic is now on the watch's right side, making it easier to speak more directly into the mic. ...Such use is a trade-off as the digital crown & side button are now on watch's left-side; but I've not encountered real issues as result and much prefer the mic orientation.

The speaker is terrible. Volume is way too low. Not sure what the attraction is. Sent from the iMore App

Weird... I was surprised how well it did sound. Perhaps your speaker is clogged up with boogers or tangled up arm hairs.

Is the speaker on the Series 2 any louder? My first gen only works in a really quiet environment.

Yes there's an extra speaker hole and it does seem louder than first gen

I have used it with wifi and you can use a Bluetooth headset with it as well without the phone if you don't want the speaker phone it

One annoyance that has popped up I believe w Watch OS 3 is that if I'm in my car and I use Siri to make a call from the Watch, audio stays on the Watch and doesn't route to car's Bluetooth. Seems weird bc if I use Siri to start a call from the phone it does switch to my car

I never tried pairing my car to my Watch. My car Bluetooth only handles phone calls, no music. And I always have my phone. I'll test it out today out of curiosity. I hate to assume it's your car as Apple has a seasoned history of breaking things with every update. Sent from the iMore App

It's worth mentioning AT&T Number Sync. This goes beyond Apple's phone continuity. With NS enabled, one may place & receive phone calls with their Watch, iPad or iMac etc with their phone out of Bluetooth & Wi-Fi range, or completely turned off, as long as your watch etc is connected to Wi-Fi. So, if you're out & about with your watch, if you're in range of a previously joined Wi-Fi network, you can make & take calls, as well as messages. The only issue is that you can't join a NEW Wi-Fi network from your watch, without first joining it with your phone. Hopefully this will be possible soon. With Scribble, it would be too easy to enter a password to join a network. Sent from the iMore App

The speaker is awful for calls and barely audible. It's fine if you really MUST use it for a quick call. Hopefully the Apple Watch 3 will have a much better speaker if the rumours about including sim card/cellular capability are true Sent from the iMore App

I found the speaker to be quiet but not barely audible unless you're outside where there's a lot of noise or in a noisy room. I've used it for calls when not in these situations, but I agree I hope the Apple Watch 3 has a much better speaker so it can be used in pretty much any situation
Get the best of iMore in in your inbox, every day!
Thank you for signing up to iMore. You will receive a verification email shortly.
There was a problem. Please refresh the page and try again.