How to Make your Older iPhone Wireless Charging-compatible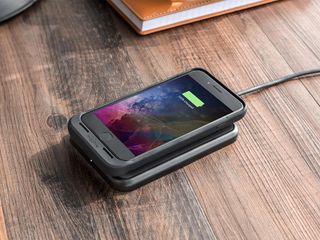 The glass-back iPhone8 and 8 Plus and the iPhone X support wireless charging, but you don't actually need to upgrade to benefit from wireless charging. With the right case and the right charging pad, you'll be cordless in no time!
Mophie Charge Force Case
The Mophie Charge Force case is a super-thin leather case that protects your iPhone and gives you the ability to charge your device wirelessly. To use the case, you simply plug the Lightning connector into the Lightning port on your iPhone, slip on the case, and set it down on a compatible charging pad. Wondering what counts as a compatible charging pad? Nearly all of 'em! Thanks to the tech inside this case, Mophie says you're good to charge up using almost any charging pad:
It's also worth noting the case includes a pass-through port so you can use the Lightning port for traditional charging methods or connecting a pair of Lightning headphones. This svelte case with a built-in wireless charging receiver retails for $59.95 on Amazon and comes in four colors: black, blue, red, and tan.
See at Amazon (opens in new tab)
Mophie Charge Force Mounts
Mophie also makes several wireless charging mounts and accessories:
Charge Force Wireless Charging Base: Think of this as a wireless charging pad. It's a base on which to lay your iPhone and get it all charged up (provided you're using a wireless charging receiver).
Charge Force Desk Mount: This accessory turns your wireless charging base into a desk mount. You can attach the included charging base to the desk mount and lay your iPhone against it — the magnets inside the charging pad and case will keep your iPhone mounted and viewable from your desk.
Charge Force Vent Mount: This accessory (which includes the necessary car adapter), turns your wireless charging base into a vent mount. You can attach the included charging base to the vent mount and lay your iPhone against it — the magnets inside the charging pad and case will keep your iPhone mounted and viewable while you're on the road.
Charge Force Powerstation: This accessory is a battery pack (Mophie calls them powerstations) that features wireless charging capabilities. It's a mobile wireless charging pad.
Even if you decide you don't want a Mophie Charge Force case, these wireless charging mounts can be used with other wireless charging receivers. Check 'em out on Amazon for around $35.
See at Amazon (opens in new tab)
Antye Qi Wireless Charging Case
This charging case is two things: inexpensive and very thin! It includes a built-in wireless charging receiver that works with the Qi wireless charging standard.
Although it doesn't offer pass-through connection for the Lightning port, the case features a flexible Lightning connector that slides out and plugs in to your phone. If at any time you need access to the Lightning port on your iPhone, it's easy to pop it out and move it out of the way.
Best of all, this case is available on Amazon for between $16 and $18. If you want to give wireless charging a try but don't want to break the bank, Antye's case might just be what you're looking for!
See at Amazon (opens in new tab)
Invitian Wireless Charging Receiver
Some folks don't like the idea of having to ditch their favorite phone case to add wireless charging capabilities. Good news: You (probably) don't have to!
Although this wireless charging receiver isn't guaranteed to work through every case (especially those super-thick, ultra-protected cases), you can stick this receiver to the back of your iPhone, slide on your reasonably thin and fashion-forward case, and charge up your device with a compatible charging pad. The flexible Lightning connector plugs into your iPhone, the included adhesive fastens the receiver to the back of your device, and suddenly you've got a phone that's ready for wireless fuel!
Invitian says its wireless charging receiver is compatible with most inductive charging pads, so you should be able to use it on the go (at certain coffee shops, airports, hotels, etc.) and in your home. The receiver is available for about $14 on Amazon.
See at Amazon (opens in new tab)
Anker Fast Wireless Charging Pad
Newer phones and cases feature faster charging modes. Anker's fast wireless charger will send power to your device up to two times faster than typical wireless charging pads.
Anker's wireless charging pad puts safety first, packing in temperature control technology and overcurrent/overvoltage protection. The series of blue LEDs on the charging pad can tell you when your phone has finished charging up.
Snag a wireless charging case or receiver and this $26 Anker charging pad and you're on your way to a wireless future!
See at Amazon (opens in new tab)
What about you?
Do you use a wireless charging case and mount with your iPhone? Are you waiting for an iPhone with wireless charging? We want to hear your experiences, so give us a shout in the comments!
Updated January 2018: This article has been updated with new pricing and links to help you find the best methods for adding wireless charging to your older iPhone.
Get the best of iMore in in your inbox, every day!
Mikah Sargent is Senior Editor at Mobile Nations. When he's not bothering his chihuahuas, Mikah spends entirely too much time and money on HomeKit products. You can follow him on Twitter at @mikahsargent if you're so inclined.
I've been using something similar to the Invitian Qi receiver since a couple weeks after getting my iPhone 7 Plus. With my 6S Plus I had a case similar to the Antye Qi case. The main downside with wireless charging on the iPhone 7 is the lack of headphone jack means you can't charge and listen to wired headphones at the same time, and unless you figure out wireless audio solutions you'll be plugging and unplugging the lightning Qi cable all the time, and they're not built to stand up to that kind of wear and tear.

Isn't this the same kind of wear and tear you'd get if you kept plugging and unplugging headphones? 🤔

All of these solutions work with existing standards. Here's hoping Apple do the decent thing and ensure that the iPhone 8's rumoured wireless charging capabilities also work with the likes of Qi, and not some proprietary system.

I really thought I wanted it until I got it. I often use my devices while charging. I do not want to put them down to charge them. I also have a case for holding (5) credit cards on the back of my iPhone case. I do not want to take those cards out to charge nor expose them to what is for all practical purposes a mag-stripe eraser. As much as I hate the mag-stripe, I still need it for when and where I cannot use Apple Pay.

I have been using a wireless charging case on my iPhone 6S for the past year and a half and I love it. I have a wireless charging phone mount in my truck and a wireless charging stand at home that were relatively inexpensive so I just put my phone on the mount when I'm in the truck and likewise when I'm at home and I never have to worry about plugging my iPhone in to charge or really even think about charging it. I absolutely love it.

Hello, just wanted to jump in and say I have been using the Mophie wireless charging system since it was first released and used their battery cases for many years before going wireless. They are simply the best. The case itself is well made and hold up well. I have had many accidental drops over the years and the case protects the phone. Now add the wireless charging and the ability to just get the phone close to the charging base and have it magnetically center itself and start charging is almost magical. On a scale of 1 to 10, I would give Mophie an 11 Frank

My family got a wireless charger for Christmas, for their Samsung phones. I felt a bit left out with my iPhone 7 Plus, so I got a wireless charger case after seeing this article. Works great 🙂
Thank you for signing up to iMore. You will receive a verification email shortly.
There was a problem. Please refresh the page and try again.