How to Recycle Your Old iPhone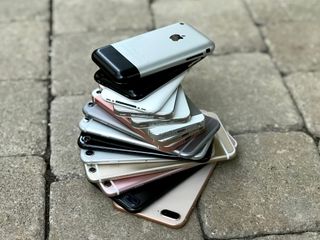 (Image credit: iMore)
Millions of people upgrade their iPhone once per year or every other year. If you're lucky, your old iPhone is still worth a cool mint and you can sell it to help recoup the cost of your new one. Sometimes, though, your old iPhone isn't worth the materials its made out of. If you're holding onto a many years-old iPhone that would be more trouble than it's worth to sell it, you should consider recycling instead. It's better for the environment and very easy to do.
Before you let it go
If you have an iPhone that you want to discard, you probably know that you should erase it first. It's not quite as easy as simply tapping an erase button, but it's not hard, as long as you follow the right steps. Here's how:
If you have an Apple Watch paired to your iPhone, you'll need to unpair it. Use the Watch app on your iPhone to do the unpairing; doing so ensures that your Watch's data will be backed up to your iPhone before the unpairing occurs.
Back up your iPhone. This step is important because all of your iPhone's data that isn't already being synced or stored in iCloud will have a safe home in iCloud. If you plan to replace your soon-to-be-discarded iPhone with a new one, you'll be able to restore the data from your discarded iPhone to your new one via iCloud. The restored data will also include your Watch data, which can then be restored from your new iPhone to your Watch.
On the iPhone, sign out of iCloud and the iTunes & App Store. Rather than erase data on the iPhone, following these steps breaks the connection between the iPhone and iCloud, preserving your data in iCloud.
Once all your data is backed up, you're ready to erase your iPhone. Tap Settings.
Tap General.
Tap Reset.
Tap Erase All Content and Settings.
If you enabled Find My iPhone, you might need to enter your Apple ID and password.
If you're prompted for your iPhone's passcode or a restrictions passcode, enter it. Then tap Erase iPhone.
Where to recycle your old iPhone
At this point you should have an iPhone with no data on it. You have several options for recycling it.
Apple is extremely environmentally conscious and operates its own recycling program. You can drop off Apple-made devices at any retail Apple Store or visit Apple's Renew webpage to have it email you a prepaid mailing label. The company and its third-party vendors will accept smartphones and other devices from other manufacturers. Apple's web page also includes links to free recycling programs in 15 states in the U.S.
E-Waste charity fundraisers
Local service organizations (such as Rotary or Lion's Clubs) and non-profits (for example, schools, churches, and scouting organizations), often schedule e-waste collection days. For a small fee these organizations will take your e-waste, make sure it is recycled, and use the fees collected to support their activities.
Check with your carrier to see if it has a recycling program for old mobile phones. The AT&T Trade-in Program allows consumers to bring unwanted wireless phones, smartphones, accessories, and batteries) regardless of the manufacturer or carrier) to AT&T company-owned retail stores for recycling. Like Apple, AT&T offers a free mail-in program.
Your town, city, or county probably has an e-waste recycling program that it either manages on its own or contracts with a third party to provide; check their websites.
Any other leads?
Have you recycled an old iPhone with a company the than those listed above? Let the world know in the comments below.
Master your iPhone in minutes
iMore offers spot-on advice and guidance from our team of experts, with decades of Apple device experience to lean on. Learn more with iMore!
Mike Matthews is a writer at iMore.com. He has used Apple products all the way back to the Apple II+. He appreciates no longer having to launch apps by loading them from a cassette tape recorder.